Barbara Jordan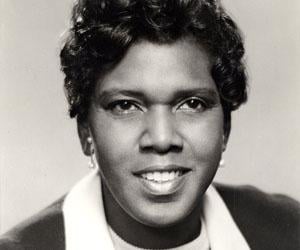 Quick Facts
Birthday: February 21, 1936
Nationality: American
Famous: Quotes By Barbara Jordan African American Men
Died At Age: 59
Sun Sign: Pisces
Born in: Houston
Famous as: Lawyer
political ideology: Democratic
Family:
father: Ben Jordan
mother: Arlyne Jordan
Died on: January 17, 1996
place of death: Austin
Ideology: Democrats
City: Houston, Texas
U.S. State: Texas
More Facts
education: Boston University, Texas Southern University, Wheatley High School
awards: 1992 - Spingarn Medal
1993 - Elizabeth Blackwell
1994 - Presidential Medal of Freedom

1995 - United States Military Academy's
1995 - Sylvanus Thayer Award

Continue Reading Below
Barbara Jordan had a lot of firsts in her career and life. She was the first African-American to be elected to the Texas Senate after Reconstruction, the first southern black female to be elected to the United States House of Representatives, and the first African-American woman to deliver the keynote address at a Democratic National Convention. Furthermore, she became the first black woman to be buried in the Texas State Cemetery. An active politician and leader of Civil Rights Movement, she dedicated her living working for the rights of the blacks. Influential and hardworking, Jordan strived for excellence right from a young age. Since high school days, she showed a talent for debating and oratorical skills. She soon became active in politics and carved a niche for herself and went on to become a member of the United States House of Representatives.
Recommended Lists:
Recommended Lists:
Continue Reading Below
Childhood & Early Life
Barbara Charline Jordan was born to Benjamin and Arlyne Jordan in Houston, Texas. While his father was a black Baptists minister, his mother worked as a domestic help.

Academically brilliant, she attained her formal education from Roberson Elementary School after which she attended the Phillis Wheatley High School.

It was at high school that her gift for language and building arguments was reckoned, when she won an award for debating..

Inspired by a speech from Edith S Sampson, she thought of taking up the vocation of a lawyer. She attended the Texas Southern University, majoring in political science and history.

At the university, she became a national champion debater crushing down all her opponents from prestigious universities - be it Yale or Brown. Graduating with a magna cum laude in 1956, she enrolled at the Boston University School of Law. Three years henceforth, she graduated with a degree in law.

Continue Reading Below

Recommended Lists:

Recommended Lists:

Career

She initiated her career as a teacher of political science at the Tuskegee Institute in Alabama. She continued in the profile for a year before returning to Houston to pass the bar and start a private law practice in 1960.

Soon, she became active in politics campaigning for the Democratic presidential candidates John F Kennedy and Lyndon B Johnson. This helped her to launch herself in public life.

In 1962, she unsuccessfully campaigned for a seat at the Texas House of Representatives. She campaigned yet again in 1964 but did not get success. However, her persistence paid off in 1966, when she finally won herself a seat in the Texas Senate, thus becoming the first African-American state senator since 1883 and the first black woman to serve in the position.

During her term as a senator, she worked hard to augment the standard of life of people by guiding through the state's first law of minimum wages. Her spectacular performance led to re-election for a full second term which she served from 1968 to 1972.

In 1972, she created history yet again by becoming the first African-American female to be voted to serve as president pro tem of the state senate. Thus, on June 10, 1972, she worked as an acting governor of Texas.

The same year, her career witnessed another landmark as she won an election to the US House of Representatives. With this, she became the first woman to represent Texas in the House.

With the support of President Lyndon B. Johnson, she became a member of the House Judiciary Committee. She gained a national spotlight during the Watergate scandal.

Continue Reading Below

In 1974, she called for the impeachment of President Richard Nixon in an influential television speech for his illegal political enterprises. She refused to be a part of the destruction of the Constitution undertaken by the Nixon regime.

The following year, she was appointed to the Democratic Steering and Policy Committee by Carl Albert, the then Speaker of the United States House of Representatives.

In 1976, at the Democratic National Convention, she was a possible running mate of Jimmy Carter. In the convention, she caught the public attention by becoming the first African-American woman to deliver the keynote address.

Her keynote address was far more seizing than the fact that she was the first African-American woman to deliver the same. The speech went on to rank at number 5 on the Top 100 American Speeches of the 20th Century. Furthermore, some historians dubbed it to be the best ever convention keynote speech in history.

Though she was the best possible candidate for the position of the US Attorney General at the Jimmy Carter's administration, the seat was later offered to someone else.

In 1979, she retired from active politics after three terms of service in the Congress. She then took up the position of an adjunct professor teaching future generations of politicians and public officials at the University of Texas at Austin Lyndon B Johnson School of Public Affairs.

The same year, she penned a work entitled, 'Barbara Jordan: A Self Portrait', which provided a highlight of her political career and her life. In 1982, she was given the Lyndon B. Johnson Centennial Chair of Public Policy.

Continue Reading Below

While continuing as an academician, she never gave up on public life completely and instead made appearances in public. In 1991, she served as a special counsel on ethics for Texas Governor Ann Richards. The subsequent year, she gave her second keynote speech at the Democratic National Convention.

From 1994 until 1996, she chaired the US Commission on Immigration Reform, voting for heightened restriction on immigration. She was strictly against providing citizenship for illegal immigrants so as to serve the national interest. Furthermore, she increased penalties on employers who violated U.S. immigration regulations

Recommended Lists:

Recommended Lists:

Awards & Achievements

Over her lifetime, she received numerous awards including the Spingarn Medal, Elizabeth Blackwell Award, United States Military Academy's Sylvanus Thayer Award and so on.

In 1994, she was conferred with the prominent Presidential Medal of Freedom

She was inducted into the Texas and National Women's Hall of Fame;

Recommended Lists:

Recommended Lists:

Personal Life & Legacy

Her health started deteriorating in the 1970s. In 1973, she was diagnosed with multiple sclerosis, which lessened her physical mobility considerably. She found it difficult to climb stairs and eventually moved about in a wheelchair.

Her health kept declining further and she later suffered from leukaemia. She breathed her last on January 17, 1996 due to complication of pneumonia.

Posthumously, several schools, college, airports and parks have been named after her. She was also felicitated with a fellowship, Barbara Jordan Health Policy Scholars.

Her life was portrayed in the play, 'Voice of Good Hope' in the Victory Garden Theatre in Chicago, Illinois.

Recommended Lists:

Recommended Lists:

Trivia

She was the first African-American congresswoman to be elected to the United States House of Representatives.

Recommended Lists:

Recommended Lists:

Translate Wiki

to Spanish, French, Hindi, Portuguese

Article Title

- Barbara Jordan Biography

Author

- Editors, TheFamousPeople.com

Website

- TheFamousPeople.com

URL

-

https://www.thefamouspeople.com/profiles/barbara-jordan-4241.php

Last Updated

- November 03, 2017

---

---

---