George Joseph Stigler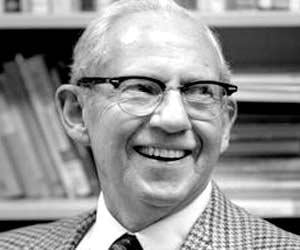 Quick Facts
Birthday: January 17, 1911
Nationality: American
Famous: Economists American Men
Died At Age: 80
Sun Sign: Capricorn
Born in: Seattle
Famous as: Economist
Family:
Spouse/Ex-: Margaret L. Mack
father: Joseph Stigler
mother: Elizabeth Hungler
children: David, Joseph, Stephen
Died on: December 1, 1991
place of death: Chicago
U.S. State: Washington
City: Seattle, Washington
Founder/Co-Founder: Mont Pelerin Society
More Facts
education: University of Chicago, University of Washington, Northwestern University
Continue Reading Below
George Joseph Stigler was a renowned American economist. He won the Nobel Memorial Prize in Economics in 1982 "for his seminal studies of industrial structures, functioning of markets and causes and effects of public regulation". Along with Milton Friedman, he was a key leader of the Chicago School of Economics. He was a diligent student and graduated from the University of Washington in 1931. Later, he did his M.B.A at Northwestern University and earned a Ph.D. degree in economics at the University of Chicago. He then began his teaching career at Iowa State College and followed it up by teaching at the University of Minnesota, Brown University, Columbia University, and the University of Chicago. At Chicago, he established the Center for the Study of the Economy and the State which was renamed to The Stigler Center after his death. Apart from being an economist, he was also a gifted teacher who inspired his students and instilled in them a respect for economics as a subject, which finds solution to real problems. His list of contributions were so long that it created a long lasting influence on the economic thought and industrial organisation and industrial regulation, two areas which he helped to develop. It was no wonder that the Nobel Committee acknowledged his contributions and lauded his precise and clear thinking style. He also penned numerous books and essays, which are considered groundbreaking in economic science.
Recommended Lists:
Recommended Lists:
Continue Reading Below
Childhood & Early Life
George Joseph Stigler was born on 17 January 1911 in Renton, a suburb of Seattle, Washington. He was the only child of Elizabeth and Joseph Stigler, who had moved to the USA towards the end of the previous century. Joseph was from Bavaria while Elizabeth was from Austria-Hungary.

His father was initially a brewer by profession. He then did various odd jobs before venturing into the real estate business. Thus the Stigler family, along with young George, changed several houses. Notwithstanding the frequent house changes, the family enjoyed a comfortable life.

He received his early education from public schools in Seattle and graduated with a Bachelor of Arts degree from the University of Washington in 1931. He then spent a year at Northwestern University from where he received his M.B.A degree in 1932. It was at Northwestern University that he discovered his love for economics and decided to pursue an academic career.

He then returned to the University of Washington for an extra year of graduate study. Around this time, he won a scholarship to study economics at the University of Chicago.

He joined the University of Chicago in 1933 and went on to receive his doctorate degree in 1938 under Professor Frank H. Knight. His thesis covered the history of neoclassical production and distribution theories from 1870 to 1915, and explored it as a vital link in the chain of economic thought.

During his research period at the University of Chicago, he was greatly motivated by three outstanding economists: Jacob Viner, Henry Simons and his professor Knight. He was also likewise influenced by fellow students, W. Allen Wallis and Milton Friedman.

Continue Reading Below

Recommended Lists:

Recommended Lists:

Career

Stigler's teaching career began in 1936 at Iowa State College, where he taught for the next two years. By then, he had started working and publishing writings in price theory.

In 1938, he joined the University of Minnesota and also became part of the National Bureau of Economic Research, followed by the Statistical Research Group of Columbia University, a team directed by Allen Wallis.World War II had begun by the late 1930s and these groups were involved in war research for the armed forces.

Once the war ended in 1945, he returned to the University of Minnesota following an intermittent break. In the 1940s, he also began his experiential work in price theory. In 1946, he published an early work on linear programming, 'The Cost of Subsistence'.

In 1946, he also moved to Brown University and a year later, to Columbia University where he remained from 1947 until 1958. In the 1950s, he put forward the survivor method of deciding the competent sizes of enterprises, and worked on delivered price systems, vertical integration, and similar subjects.

From 1957-58, he also served as a Fellow at the Center for Advanced Study in Behavioural Sciences in Stanford. In 1963, he was elected as a Fellow of the American Statistical Association.

In 1958, he moved to the University of Chicago and almost twenty years later in 1977, he established there the Center for the Study of the Economy and the State. After his death, it was renamed The Stigler Center in his honour.

He intentionally avoided administrative responsibilities at his places of work and concentrated more on his subject and research topics. From 1971 to 1991, he was a Fellow at the Hoover institution at Stanford.

Continue Reading Below

All through his career, he was also involved in various legislative activities, such as being a member of the Attorney General's National Committee to Study the Antitrust Laws in 1954-55, Chairman of the Federal Price Statistics Review Committee in 1960-61, Vice-Chairman of the Securities Investor Protection Corporation during 1970-73, and Co-Chairman of the Blue Ribbon Telecommunications Task Force and of Illinois Commerce Commission in 1990-91.

Major Works

George Joseph Stigler is best remembered for developing 'The Theory of Economic Regulation' through which he gave evidence for his 'capture theory'. The theory states that interest groups use the authoritarian powers of government to outline laws and policies that are advantageous to them. In other words, governments do not create monopoly in industries by chance. He made this an acceptable mainstream viewpoint in economics.

Another one of his important contributions to economics was mentioned in his landmark article called 'The Economics of Information'. In this article, he emphasized on the importance of information and created a new area of study for economists. He also carried out detailed research on the history of economic thought.

His 1962 article 'Information in the Labour Market' put forward the theory of search unemployment. It also defined the parameters for further studies on unemployment.

Awards & Achievements

In 1964, Stigler became the President of American Economic Association and in 1977 he became the President of History of Economics Society.

In 1975, he was selected to the National Academy of Sciences. He was a founding member of the Mont Pelerin Society (an international organization composed of economists) and was President from 1976 to 1978.

Continue Reading Below

He won the prestigious Nobel Memorial Prize in Economics in 1982 "for his seminal studies of industrial structures, functioning of markets and causes and effects of public regulation".

He received the National Medal of Science in 1987 from Ronald Reagan.

Personal Life & Legacy

Stigler met his wife, Margaret L. Mack at the University of Chicago. They married in 1936 and the couple had three sons, Stephen (a statistician), David (a lawyer), and Joseph (a social worker). His wife Margaret died untimely in 1970 and he never married again.

He died on 1 December 1991, at the age of 80 at Chicago, Illinois, U.S.A

Trivia

The 'Stigler Diet' was named after him.

He was an assiduous book collector.

Translate Wiki

to Spanish, French, Hindi, Portuguese

Article Title

- George Joseph Stigler Biography

Author

- Editors, TheFamousPeople.com

Website

- TheFamousPeople.com

URL

-

https://www.thefamouspeople.com/profiles/george-joseph-stigler-274.php

Last Updated

- November 18, 2016

---

---

---