Gal Gadot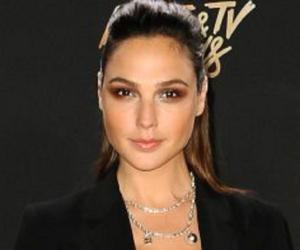 Quick Facts
Nationality: Israeli
Age: 33 Years, 33 Year Old Females
Sun Sign: Taurus
Also Known As: Gal Gadot-Varsano
Born in: Rosh HaAyin, Israel
Famous as: Actress
Height: 1.78 m
Family:
Spouse/Ex-: Yaron Versano
children: Alma Versano, Maya Versano
Net worth: $10 M as of Apr 10, 2017
Continue Reading Below
Gal Gadot is a famous Israeli actress and model, best known for her character of Gisele Yashar in the 'Fast & Furious' film series. Listed at number 5 on the Shalom Life's 50 most talented, intelligent, funny, and gorgeous Jewish women in the world, she is an iconic figure to be reckoned with in the Jewish world of entertainment. She started off her career as a model and went on to become the country's leading model, winning the prestigious Miss Israeli pageant as well. She also represented the country at the Miss Universe crown. Following her super successful stint as a model, she tried her hand at acting. Gadot's killer looks, never-say-die military spirit and artistic determination to excel helped her become a top-rated actress. She soon found roles in prestigious Hollywood projects. She was a part of 'Fast & Furious' film series and portrayed the role of a superwoman in the movie 'Batman vs Superman: Dawn of the Justice'.
Recommended Lists:
Recommended Lists:
Continue Reading Below
Childhood & Early Life
Gal Gadot was born on April 30, 1985, in Rosh Haayin, Israel, to Irit and Michael Gadot. While her mother was a teacher, her father was an engineer by profession.

She did her high school major in biology and was also excelled in basketball in school due to her height.

After completing high school, Gadot studied law twice at the Reichman Law School and at the Interdisciplinary Center Herzliya.

Recommended Lists:

Recommended Lists:

Career

At the age of 18, Gadot competed in the 2004 Miss Israeli pageant. She won the coveted title and represented Israel at the prestigious Miss Universe crown held in Ecuador.

She served her mandatory two years of service in the Israeli Defence Forces from the age of 20. Military training brought a lot of self-discipline in her life which she states became a valuable lesson in her future career pathway.

Following her military service, Gadot studied law. It was after her first year in law school that a casting director, Justin Lin, spotted her. He called her to audition for the role of Camille Montes, the Bond girl in 'Quantum of Solace'; but she lost it to Olga Kurylenko.

Knowing the potential that Gadot had and not willing to lose her, Lin offered her the role of Gisele in the fourth instalment of the 'Fast & Furious' franchise. During the same time, she made her television debut in the Israel drama 'Bubot'.

In 2010, Gal Gadot played a minor role in the action adventure flick 'Knight and Day'. Prior to this, she played Natanya, the girlfriend of Mark Wahlberg's character in the film 'Date Night'.

Gadot reprised her role as Gisele in the fifth and sixth instalments of the 'Fast & Furious' series.

In 2016, she bagged the role of Wonder Woman for the film 'Batman vs Superman: Dawn of Justice'. Such impressive was her 'superhero' performance that her character became known as the best role in the film. Despite it being her debut performance as a superhero, Gadot nailed it to perfection.

Continue Reading Below

Following the stupendous success of 'Batman vs Superman', she signed two sequels including 'Justice League' and a solo 'Wonder Woman', both of which are expected to release in 2017. For the role, she has trained in swordsmanship, Kung Fu kickboxing, capoeira and Brazilian jiu-jitsu.

Apart from her superhero series, Gadot picked up small roles in 2016, including John Hillcoat's crime-thriller 'Triple 9'. In the movie, she shared screen space with the very talented, Kate Winslet, and Aaron Paul. She also co-starred in the thriller film 'Criminal' as the wife of Ryan Reynolds' character and in the comedy 'Keeping Up with the Joneses', wherein she capped the role of a secret agent, alongside Isla Fisher and Jon Hamm.

Apart from being an actress, Gadot is also an active model. She took part in the Maxim photo shoot 'Women of the Israeli Army' and was featured on the cover of the New York post. She has led various international ad campaigns including Captain Morgan rum, Gucci fragrances, Vine Vera skincare ranges, Jaguar Cars and so on. She has been the face of Gucci's Bamboo perfume brand, Huawei smartphones, and of Miss Sixty.

From 2008 to 2016, Gadot served as the main model for the fashion brand 'Castro'. During this time, she featured as the cover girl of various popular magazines, such as Cosmopolitan, Glamour, Bride Magazine, Entertainment Weekly, UMM, Cleo, Fashion, Lucire and FHM.

Recommended Lists:

Recommended Lists:

Major Works

Gal Gadot's biggest breakthrough in her career came in when she was roped to play the character of Giselle for the 'Fast & Furious' franchise. Debuting at the fourth instalment of the movie franchise, she became a regular and reprised her role for the fifth and the sixth instalment.

Gadot earned a lot of appreciation and acclamation for her role of 'Wonder Woman' for the film 'Batman vs Superman: Dawn of the Justice'. Her brilliant role play of a superwoman was much liked by the audience and critics alike and earned her two sequels including a solo 'Wonder Woman' superhero film that is slated for a June 2017 release.

Marriage

Gal Gadot married Israeli real estate developer, Yaron Varsano, on September 28, 2008. They welcomed their first daughter in 2011 and their second one in March 2017.

Trivia

Gadot's character 'Wonder Woman' for the 'Batman vs Superman' film series was named Honorary Ambassador for the Empowerment of Women & Girls by the United Nations. Subsequently, Gadot was invited to give a speech at the UN in New York City.

She is an avid motorcycle rider and owns a black 2006 Ducati Monster-S2R.

1. Wonder Woman (2017)

(Sci-Fi, Adventure, Fantasy, War, Action)

2. Fast Five (2011)

(Crime, Thriller, Action)

---

3. Furious 6 (2013)

(Thriller, Crime, Action)

4. Furious Seven (2015)

(Action, Thriller, Crime)

---

---

5. Batman v Superman: Dawn of Justice (2016)

(Sci-Fi, Adventure, Action)

6. Fast & Furious (2009)

(Thriller, Action, Crime)

---

---

---

7. Justice League (2017)

(Sci-Fi, Fantasy, Adventure, Action)

8. Criminal (2016)

(Sci-Fi, Thriller, Action, Drama, Mystery, Crime)

---

---

---

---

Translate Wiki

to Spanish, French, Hindi, Portuguese

Article Title

- Gal Gadot Biography

Author

- Editors, TheFamousPeople.com

Website

- TheFamousPeople.com

URL

-

https://www.thefamouspeople.com/profiles/gal-gadot-13356.php

Last Updated

- May 08, 2018

---

---

---