Francis Drake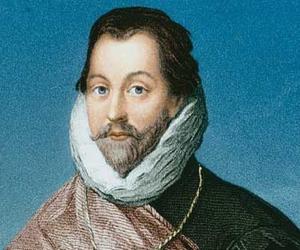 Quick Facts
Nick Name: El Draque , Draco
Born: 1540
Nationality: British
Famous: Quotes By Francis Drake Explorers
Died At Age: 56
Also Known As: Sir Francis Drake
Born in: Tavistock, Devon
Famous as: Navigator
Family:
Spouse/Ex-: Elizabeth Sydenham, Mary Newman
father: Edmund Drake
mother: Mary Mylwaye
Died on: January 27, 1596
place of death: Portobelo, Colón
Continue Reading Below
The first Englishman to sail around the world and see the Pacific, Francis Drake sailed in some of the earliest of English voyages, buying slaves in Africa. He was a skilled privateer, sea captain and slaver. He was awarded the knighthood by Queen Elizabeth I and was revered as a legendary hero in England. However, for the Spanish people, he was regarded as a pirate. They gave him the name, 'El Draque'. Till date, he is hailed as one of the greatest navigators of his time. His life is an a example of how a common man manages to rise to the level of a great war hero and politician, a feat which was a rare accomplishment in the bygone era for a commoner. He played a pivotal role in establishing the supreme position of England over the Spanish forces and also seized large amounts of gold and silver from Spanish colonies. He was appointed the Mayor of Plymouth and also served as a Member of Parliament.
Recommended Lists:
Recommended Lists:
Childhood & Early Life
Francis Drake was born in Tavistock, Devon, England as the eldest son of a Protestant farmer, Edmund Drake and Mary Mylwaye. Since there is no accurate record of his birth, his date of birth is assumed.

His father worked on the estate of the second Earl of Bedford, Lord Francis Russell, who became his god father, after whom he was named. In 1549, his family relocated from Devonshire into Kent due to the Prayer Book Rebellion, a revolt of religious conflict.

At the age of 13, he went aboard a merchant ship as an apprentice and sailed to the seas. The ship he boarded sold goods between England and France. His shipmaster was impressed by his skills and manner.

Continue Reading Below

Later Life

Around the 1560s, he commanded his own ship named, 'Judith'. He had a small fleet and his cousin, John Hawkin with him. He sailed the ship to Africa, where he pursued slave trade.

From Africa he set sail to New Spain to sell the captured slaves to the various settlers there. However, this action was against the laws of New Spain.

In 1568, he and his cousin, Hawkins were trapped in the Mexican port of San Juan de Ulua. The duo managed a dangerous escape, but other men who accompanied them were killed. This made him hate the Spanish land.

In 1572, Queen Elizabeth I granted him a privateer's commission, after which he went on his first solo voyage to Panama. He captured the town of Nombre de Dios and its treasure but was wounded during a raid.

They stayed in Nombre de Dios till his wounds healed and he returned to good health. They later looted gold and silver from various Spanish settlements and returned to Plymouth in 1573.

In November 1577, after the success of the Panama mission, Queen Elizabeth commissioned him to the Pacific coast of South America, where he was accompanied by two other men, John Wynter and Thomas Doughty.

After they raided many Spanish settlements, he took command over the mission. This did not go well with Thomas Doughty and the two did not share a harmonious relationship all through their journey across the Atlantic.

After he arrived off the coast of Argentina, he speculated that Thomas Doughty was planning a mutiny. He immediately arrested him, after which there was a trail held. Doughty was convicted and executed

Taking full command of the mission, he set sail to the Strait of Magellan, from where he aimed to reach the Pacific Ocean. They were caught up in a storm and the ship commanded by John Wynter returned back to England.

Continue Reading Below

In 1578, he reached the Pacific and continued his journey aboard his flagship 'Golden Hind'. His ship sailed through the Pacific coast of South America and later attacked Spanish ports and towns.

He sailed to the coast of Chile and Peru and obtained gold and silver from unattended Spanish merchant ships. By 1579, he landed in California and claimed it in the name of the English Crown.

In 1580, he sailed back to Plymouth, after sailing across the Pacific, through the Indian Ocean and around the Cape of Good Hope and England. With this, he became the first Englishman to circumnavigate the world.

In 1581, he was appointed as the Mayor of Plymouth and at the same time he also served as a Member of Parliament.

In 1585, during the war between Spain and England, the Queen of England sent him to capture various parts of North and South America. This forced Spain's King Philip II to invade England and thus vast Armada ships were constructed for the purpose.

In 1588, he was appointed as the vice admiral of the English Navy. While the English troops were bravely fighting against King Philip II's Armada ships, he managed to capture a Spanish ship. They eventually defeated the fleet of Spanish Armada.

He was one of the commanders and leaders during the Battle of San Juan, in which he was defeated. The loss led to the victory of the Spanish forces. He was later shot by a cannonball while he was on his flagship, but managed to stay alive.

Awards & Achievements

On 4 April 1581, he was awarded the knighthood by Queen Elizabeth.

Personal Life & Legacy

In 1569, he married Mary Newman, who died after twelve years of their marriage.

In 1585, he married his second wife, Elizabeth Sydenham.

He died at the age of 55 while he was at the Battle of San Juan, after he contracted dysentery and eventually died of fever. He was buried at sea in a lead coffin.

He did not have any children all his life. After his death, his property and titles were passed on to his nephew, who was also named Francis.

In 1961, a British TV series titled, 'Sir Francis Drake' was made. Actor Terence Morgan played his role.

In 2009, a made-for-television movie titled, 'The Immortal Voyage of Captain Drake', was directed by Rafael Jordan.

This British navigator has been a source of inspiration for many writers and filmmakers. His execution of Thomas Doughty inspired Robert E. Howard's Solomon Kane poem, 'The One Black Stain'.

He has been the inspiration behind the video games, 'Uncharted: Drake's Fortune' and 'Uncharted 3: Drake's Deception'.

Several places in the UK have been named after him, including, HMS Drake, Drake's Island the roundboat and Drake Circus.

Translate Wiki

to Spanish, French, Hindi, Portuguese

Article Title

- Francis Drake Biography

Author

- Editors, TheFamousPeople.com

Website

- TheFamousPeople.com

URL

-

https://www.thefamouspeople.com/profiles/francis-drake-3795.php

Last Updated

- September 18, 2017

---

---

---