Dick Cheney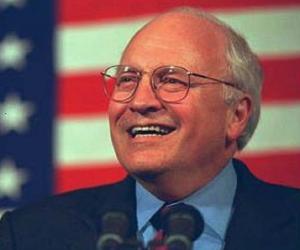 Quick Facts
Birthday: January 30, 1941
Nationality: American
Famous: Quotes By Dick Cheney Political Leaders
Age: 78 Years, 78 Year Old Males
Sun Sign: Aquarius
Born in: Casper
Height: 1.73 m
political ideology: Republican
Family:
Spouse/Ex-: Lynne Cheney (m. 1964)
father: Richard Herbert Cheney
mother: Marjorie Dickey
children: Elizabeth Cheney, Mary Cheney
religion: Methodist
Ideology: Republicans
Notable Alumni: University Of Colorado At Boulder
Net worth: $90 Million as of Jan 15, 2017
More Facts
education: University of Wisconsin-Madison, University of Colorado at Boulder, Colorado College
awards: 1991 - Presidential Medal of Freedom
Continue Reading Below
Known to be one of the most influential vice-presidents in the history of the United States of America, Dick Cheney is an illustrious politician and businessman and has been an active in world politics for over three decades now. Although he was a Democrat initially, he became a Republican, so that he could be associated with former president George W. Bush, whom he adored. He started out as an intern and went on to don many hats during the presidential terms of Ford, Nixon and Bush. He influenced the decisions of the Department of Defence and has advocated many of Bush's administrative policies. However, the most significant period in his political career was his partnership with Bush during the Gulf War, the war on terrorism, the war in Afghanistan and Iraq. He left office after Barrack Obama came to power and has since, openly expressed his contempt and disagreements with Obama's administrative policies. His political career was largely defined by Bush and his policies, which shaped the course of America's future in both; positive and negative manner. He is also currently active in his business endeavours. Scroll further for more interesting information on this personality.
Recommended Lists:
Recommended Lists:
Continue Reading Below
Childhood & Early Life
Born in Lincoln, Nebraska, Richard Bruce 'Dick' Cheney's parents were Marjorie and Richard Herbert Cheney. He is of Irish, Welsh, English and French Huguenot descent.

He studied at Calvert Elementary School, before moving to Casper, Wyoming where he joined Natrona Country High School.

He studied at Yale University and later attended the University of Wyoming earning a B.A. and M.A. in political science. Eventually, he joined the University of Wisconsin-Madison for doctoral studies, which he did not complete.

Continue Reading Below

Recommended Lists:

Recommended Lists:

Career

In 1969, during the Richard Nixon Administration he started serving as an intern to the Congressman, William A. Steiger. Over the course of the following year, he also worked for Donald Rumsfeld.

From 1971 to 1975, he then held a number of posts including, White House Staff Assistant and Deputy Assistant to the President.

He was then made Assistant to the President under Gerald Ford, and was allocated the position of campaign manager for the 1976 presidential campaigns.

From 1978 to 1989, he was consecutively elected to represent Wyoming in the U.S. House of Representatives. During this time, he was also elected as the Chairman of the Republican Policy Committee and was elected to the House Republican Conference as the Chairman.

In 1989, he was also elected as the Director of the Council on Foreign Relations and was nominated for the office of Secretary of Defence by President George H. W. Bush; a position he served for the next five years.

He played an important role during the Gulf War from 1990-1991 and actively oversaw and was involved in 'Operation Desert Storm' under President George Bush.

After Bill Clinton came to power in 1993, he joined the American Enterprise Institute, quitting the Department of Defence.

Continue Reading Below

In 1995, he joined 'Halliburton' as the Chairman of the Board and Chief Executive Officer.

In 2000, he headed the Vice-Presidential Search Committee for George W. Bush, who was the Governor of Texas at the time.

During his first term as Vice-President, the September 11, 2001 attacks occurred. He decided to keep a safe 'physical' distance from Bush, but nevertheless, agreed with the president on the 'War on Terror' campaign and remained resolute in his advocacy for the war.

On June 29 2002, he served as the acting president of the United States, while Bush was undergoing colonoscopy.

Five years later on July 21, 2007, he served as the acting president once again, when president Bush underwent a medical procedure. On both the occasions, he was acting president for just a few hours.

He quit his office and his position as the vice-president in 2009, during Barack Obama's term as the president.

Despite being a strong opponent to Obama's views and administration, he commended the president's efforts that resulted in the capture and killing of the most-wanted terrorist, Osama bin Laden, in 2011.

Continue Reading Below

In July 2012, Cheney organized a private fund-raiser for Republican presidential candidate Mitt Romney and contributed to his presidential campaign.

Awards & Achievements

In 1991 he received the 'Presidential Medal of Freedom' by President Bush.

Brigham Young University presented him with an honorary doctorate of public service, in April 2007.

Personal Life & Legacy

In 1964, Cheney married Lynne Vincent, whom he knew since the age of 14. They have two children; Elizabeth and Mary and have seven grandchildren.

Cheney's vice-presidency was turned into a four-part series by the Washington Post in 2007. The series won the Pulitzer Prize.

He wrote his memoir titled 'In My Time: A Personal and Political Memoir' outlining his experiences of the Gulf War, terrorism and Afghanistan. The book was published in August 2011.

After a history of cardiac diseases, he underwent a heart transplant in 2012 in Virginia.

Trivia

This American politician shot Attorney, Harry Whittington during a quail hunt in Kenedy County, Texas, in 2006.

Translate Wiki

to Spanish, French, Hindi, Portuguese

Article Title

- Dick Cheney Biography

Author

- Editors, TheFamousPeople.com

Website

- TheFamousPeople.com

URL

-

https://www.thefamouspeople.com/profiles/dick-cheney-1230.php

Last Updated

- July 31, 2017

---

---

---