Daniel Webster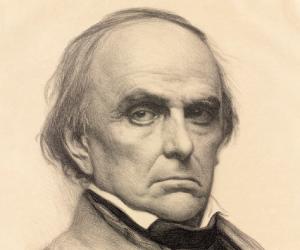 Quick Facts
Birthday: January 18, 1782
Nationality: American
Famous: Quotes By Daniel Webster Political Leaders
Died At Age: 70
Sun Sign: Capricorn
Born in: Salisbury, New Hampshire, United States
Famous as: Former United States Senator
Family:
Spouse/Ex-: Caroline LeRoy Webster (m. 1829), Grace Fletcher (m. 1808–1828)
father: Ebenezer Webster
mother: Abigail Webster
siblings: Ezekiel
children: Fletcher Webster
Died on: October 24, 1852
place of death: Marshfield, Massachusetts, United States
U.S. State: New Hampshire
Cause of Death: Drug Overdose
More Facts
education: Dartmouth College, Phillips Exeter Academy
Continue Reading Below
Daniel Webster was a renowned American Senator and politician. Famous for his gift of the gab ability, he vehemently criticised the War of 1812 and the violation of New England's shipping rights at a public speech. Moreover, this speech was also his protest against the extremism of New Englanders who supported the idea of the region's secession from the Union. As a member of the House of Representative, he openly criticised President James Madison's administrative and wartime policies. He expressed his disapproval of the 'tariff of 1816' and 'American System', an economic plan of House Speaker Henry Clay. Based on his briefs, John Marshall, the fourth Chief Justice of the United States gave several court decisions. Apart from that, he also interpreted matters of constitutional law to a number of justices. All these activities earned him the name of the Great Expounder of the Constitution. During his tenure as the Secretary of State, he was a key supporter of "Jury nullification" law about which he stated in his famous "Seventh of March" speech. It was Webster who, as chief American diplomat, wrote the Hulsemann Letter by defending America's right to participate in the internal politics of Hungary.He was a strong supporter of the idea of the establishment of commercial relations with Japan.
Recommended Lists:
Recommended Lists:
Continue Reading Below
Childhood & Early Life
Born to Ebenezer and Abigail Webster, Daniel Webster grew up with his nine siblings in Salisbury, New Hampshire, USA. His father was a farmer and tavern keeper who also served during the American Revolution.

In 1794, he studied at Phillips Exeter Academy, a preparatory school in Exeter, New Hampshire. Later, he attended Dartmouth College where he drew attention for his oratory power.

After finishing graduation from Dartmouth in 1801, he studied law and worked as an apprentice to Thomas W. Thompson in Salisbury. Within a brief period, he resigned from the law office and worked as the headmaster of the Fryebug Academy, Maine for one year.

Continue Reading Below

Recommended Lists:

Recommended Lists:

Career

In 1804, he accepted a position under prominent attorney Christopher Gore, a renowned attorney in Boston. It was during this time, when he became aware about various legal and political subjects and made acquaintance with a number of New England politicians.

In 1805, he was accepted into the bar. After his return to New Hampshire, he planned to set up a practice in Boscawen. It was during this period when he developed an interest towards politics.

In 1806, he handed over his practice to his brother Ezekiel and in the next year, he shifted to Portsmouth to start law practice. In 1812, his public speech at the Washington Benevolent Society regarding his opposition of the War of 1812 was a turning point of his career.

The speech earned him wide recognition and as a result of this, he was selected to the Rockingham Convention. He acted as a member of the drafting committee of this assembly and composed the "Rockingham Memorial".

Due to his notable contribution to New England Federalism, shipping interest and constant opposition to war, he was chosen to the House of Representatives in 1812. He served here till 1817.

Later, he moved his practice to Boston. For his wide recognition as a constitutional lawyer, he acted as a delegate to the 1820 Massachusetts Constitutional Convention. During this Convention, he spoke against universal suffrage of men and expressed his support for the districting of the State Senate.

In 1832, he opposed the economic policies of Andrew Jackson. Jackson's campaign against the Second Bank of the United States (1816–1841) was one of these policies.

Continue Reading Below

As one of the four Whig Party members, he played a vital role in running the office of the President in 1836. Later, he rejected the Party's offer of vice presidency when it nominated William Henry Harrison as its president.

In 1841, he acted as the Secretary of State. In the next year, he played an important role in the formation of the Webster-Ashburton Treaty that resolved the Caroline Affair.

In the month of May 1843, he left the cabinet under the pressure of the Whig Party.

In 1845, after his election to the Senate for the second time, he strongly opposed the Texas Annexation and Mexican-American War.

On March 7, 1850, he delivered his famous "Seventh of March" speech on the Compromise of 1850. As a result of this, he faced severe criticism by abolitionists in New England.

In 1850, he resigned from the Senate and resumed his role as the Secretary of State under Whig President Millard Fillmore. In this context his strong campaign for the Fugitive Slave Law deserves special mention. He made his final campaign for the Presidency in 1852.

Recommended Lists:

Recommended Lists:

Personal Life & Legacy

In 1808, he got married to Grace Fletcher and they had four children. His son Fletcher Webster worked as a Union Amy infantry colonel during the Civil War.

He was seriously injured after falling from his horse at his home in Marshfield. At that time he was suffering from cirrhosis of liver which resulted in cerebral haemorrhage and he passed away.

Trivia

During the Panic of 1837, this influential politician went through a personal debt from which he never recovered. His situation worsened due to his extravagant lifestyle, alcoholism and interest towards gambling.

Translate Wiki

to Spanish, French, Hindi, Portuguese

Article Title

- Daniel Webster Biography

Author

- Editors, TheFamousPeople.com

Website

- TheFamousPeople.com

URL

-

https://www.thefamouspeople.com/profiles/daniel-webster-1132.php

Last Updated

- October 15, 2017

---

---

---