Cody Simpson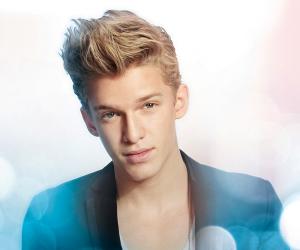 Quick Facts
Birthday: January 11, 1997
Nationality: Australian
Famous: Pop Singers Rhythm & Blues Singers
Age: 22 Years, 22 Year Old Males
Sun Sign: Capricorn
Also Known As: Cody Robert Simpson
Born in: Queensland, Australia
Famous as: Singer
Height: 1.83 m
Family:
father: Brad Simpson
mother: Angie Simpson
siblings: Alli Simpson & Tom Simpson
More Facts
education: Home schooled
awards: Nickelodeon Australian Kids Choice Awards 2010
Young Hollywood Awards-Role Model Award (2013)
Huading Awards-International Male Artist (2015)
Continue Reading Below
This Australian born singer and song writer has a fairytale story to inspire other aspiring aingers. Cody was just another Australian school boy who loved to swim. He also loved music and formed a small band with a few friends in school and they used to entertain the crowd in their free time. They posted a few videos of Cody singing the covers of his favorite artists, Justin Beiber and Justin Timberlake. He also wrote poetry, so he tried to make his poems into songs and sang one of them titled, 'One'. He is an excellent guitar player and was inspired by his dad who used to play the instrument. His grandma once heard him play and asked him what he was going to choose, swimming or music, since he was good at both. He replied that he did not know what he would choose but that he knew he is going to make it big in either. So when fame came knocking at his door, he seemed to have been mentally prepared.
Recommended Lists:
Recommended Lists:
Continue Reading Below
The Meteoric Rise to Stardom
Cody Simpson was discovered by Shawn Campbell when he was in his pre-teens. Cody posted a couple of songs on YouTube and a few days later, he was called by Shawn Campbell who was blown over by the 12 year old kid's ability to perform instinctively. Shawn was surprised that a kid so young had so much of talent, self-confidence and took to the camera so well. He contacted him immediately but his parents thought it was a hoax. Soon they figured out that Shawn was a real deal and that their son had hit the jackpot every aspiring musician dreams of! Cody went for his first audition when he was 12 and everyone was blown away with his talent and his mature behavior in the studio while recording. He left for Los Angeles with his family in June 2010, when he was just 13 years old, in order to focus on his music career.

Recommended Lists:

Recommended Lists:

Continue Reading Below

What Makes Cody Simpson So Special

He rose to fame with the album '4U' which had songs like 'iYiYi' featuring rapper Flo Rida, and 'All Day.' He has quite a versatile voice which used to be slightly high pitched but has now become deep and melodious. Besides, he is also good with the guitar as is evident in his repertoire of songs like 'Summertime' and 'Pretty Brown Eyes'. These established him to be a force to reckon with in the world of pop music. His acoustic, 'So Listen' featuring rapper T-Pain also has him playing pretty decent guitar.

Recommended Lists:

Recommended Lists:

Beyond Fame

His song 'Thotful' from the album 'Free' received some flak from the media since the word is a slang and a derogatory term for a sexually active woman. But Cody maintained that it was originally spelt as 'thoughtful'. "My job as a storyteller is to start conversations", he said. He went on to explain that the woman in the song 'shares everything with everyone else and never thinks about me'.

In 2015, one of the pictures he posted of himself and his buddy Justin Beiber in snapchat caused controversy because of a yellow pipe on the table. Some speculated that this pipe is typically used to smoke crystal meth or weed. Since Beiber is famous for his trysts with drugs, it was supposed that the session had more than just jamming going on. But Cody was quick to defend himself by saying that it was just 'another ol' pipe' and they wouldn't do drugs' as it won't do anything for their careers. There was also a photo of eight cones of marijuana posted on his twitter handle that was automatically deleted, but not before fans quite disappointedly commented that he shouldn't be using such stuff. Cody has a clean image but such glimpses do sow seeds of doubt.

Behind The Curtains

Like every teen heart throb, Cody has had many girlfriends. His longest continuous relationship was for two years with Joanne Heraghty when he was in Australia. He was linked to several celebrities but had very short insignificant link ups with them. Cody and Gigi Hadid, model and daughter of Yolanda Foster, were dating from 2013 to 2015 though they took a break in between. It is alleged that after Gigi heard the song 'New Girls, New Problems' and realized the song was about their relationship, she felt he monetized his emotions. This is said to have led to the end of their relationship.

He released his autobiography, 'Welcome to Paradise: My Journey' besides doing many TV shows notably 'The Today Show, Live!' with Kelly. He has also acted as Pete, a guest star in the TV show, 'Cougar Town'. Currently, he is more focused on getting the pitch right for his own label and his first album to be released under it.

He has a solid family life with his parents staying in the U.S with him and supporting him in his career. His younger sister, Alli Simpson is also a musician and Cody is currently helping her with her career. His youngest sibling, Tom, is a science nut who loves to discover more about the how things work. His mother is trying to make a cut in the world of acting.

Translate Wiki

to Spanish, French, Hindi, Portuguese

Article Title

- Cody Simpson Biography

Author

- Editors, TheFamousPeople.com

Website

- TheFamousPeople.com

URL

-

https://www.thefamouspeople.com/profiles/cody-simpson-7812.php

Last Updated

- December 29, 2017

---

---

---