Carly Fiorina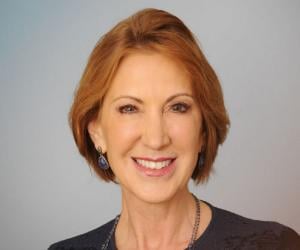 Quick Facts
Birthday: September 6, 1954
Nationality: American
Famous: Business Women American Women
Age: 65 Years, 65 Year Old Females
Sun Sign: Virgo
Also Known As: Cara Carleton Fiorina
Born in: Austin
Famous as: Former CEO of Hewlett-Packard
Height: 5'6" (168 cm), 5'6" Females
political ideology: Political party - Republican
Family:
Spouse/Ex-: Frank Fiorina, Todd Bartlem
father: Joseph Tyree Sneed, III
mother: Madelon Juergens Sneed
children: Lori, Traci
Ideology: Republicans
Notable Alumni: School Of Management
U.S. State: Texas
More Facts
education: Stanford University, University of Maryland, College Park, Massachusetts Institute of Technology, MIT Sloan School of Management, University of Toronto Mississauga, University of California, Los Angeles, Robert H. Smith School of Business, UCLA School of
Continue Reading Below
Carly Fiorina is the former Chief Executive Officer (CEO) of Hewlett-Packard (HP) and the current Chair of the non-profit philanthropic organization Good360. A highly accomplished former business executive, she became the first woman to head a company listed on the Dow Jones Industrial Average, when in 1999 she was chosen as the CEO of Hewlett-Packard (HP). The first woman to lead one of the top twenty U.S. companies, she was instrumental in achieving the merger of HP with rival computer company Compaq which resulted in HP becoming the world's largest personal computer manufacturer. The daughter of a prominent judge, Fiorina had decided to follow in her father's footsteps and enrolled at the law school at the University of California. However, she soon realized that a legal career was not for her and dropped out, much to the chagrin of her father. Eventually she earned an MBA and embarked on a corporate career. Blessed with innate business acumen, she found much success, rising to become one of the most powerful women in American business. She also delved into politics and was once touted as a possible candidate for vice president. Fiorina, however, has higher ambitions and in May 2015, she announced her candidacy for the Republican nomination in the 2016 presidential election.
Recommended Lists:
Recommended Lists:
Continue Reading Below
Childhood & Early Life
She was born as Cara Carleton Sneed on September 6, 1954, in Austin, Texas, U.S. to Joseph Tyree Sneed III and Madelon Montross. Her father was a judge and law professor while her mother was an artist. She has two siblings.

The family moved frequently due to her father's job and she received her schooling from many different schools, finally graduating from Charles E. Jordan High School in Durham, North Carolina.

She studied philosophy and medieval history at Stanford University and graduated with a Bachelor of Arts in 1976.

She aspired to become a lawyer like her father and enrolled at the UCLA School of Law. However, she soon realized that law was not her calling and dropped out after just one semester.

She worked at different jobs before deciding to further her education. She went on to earn a Master of Business Administration in marketing from the Robert H. Smith School of Business at the University of Maryland, College Park, in 1980.

Recommended Lists:

Recommended Lists:

Career

Carly Fiorina joined AT&T as a management trainee in 1980. She joined the Network Systems division due to her interest in the emerging field of network communications. The field was primarily a male-dominated one, but the feisty young woman soon carved out a niche for herself in the company.

Over the next decade she steadily rose through the ranks in AT&T and was named the division's first female officer. She eventually became the head of North American sales.

During the mid-1990s AT&T decided to spin off its Western Electric and Bell Labs divisions into a new company called Lucent. Fiorina was selected to lead the efforts and she played a key role in planning and implementing the company's initial public offering (IPO) in 1996 which became one of the most successful IPOs in U.S. history.

In late 1996, she was appointed president of Lucent's consumer products business and in 1997, she was appointed chair of Lucent's consumer communications joint venture with Philips, namely, Philips Consumer Communications.

By the late 1990s she had become one of the most prominent business executives in America and was aggressively courted by several top companies. She joined Hewlett-Packard Company (HP) in July 1999 as the CEO, succeeding Lewis Platt, and becoming the first woman to lead a Fortune 20 company.

Following this appointment she became highly visible in the American and international business scenario. In September 2001, Fiorina announced the merger with Compaq, a leading competitor in the industry. This decision was contested by Walter Hewlett and David Packard, the sons of HP's cofounders. However, Fiorina prevailed and the merger took place in 2002.

The deal did not produce the expected results and Fiorina was held responsible for this debacle. She was forced to resign as the CEO of HP in 2005. Her departure was widely covered in the media and she was criticized for changing HP's culture and ending the company's profit-sharing program. However, some business analysts also praised her risk-taking abilities and felt that the merger would be successful in the long term.

Continue Reading Below

In 2006, she worked for Senator John McCain's presidential campaign and a couple of years later she became the fundraising chair for the Republican National Committee's "Victory" initiative.

In 2009, Fiorina decided to run for the U.S. Senate and easily secured the Republican nomination. In the 2010 Senate election she ran against incumbent Barbara Boxer and was defeated by her. Fiorina continued to be politically active following this defeat.

Carly Fiorina became chairman of Good360, a charitable organization, in 2012. The organization aims to help companies donate excess merchandise to charities instead of destroying it. It is considered to be one of the largest charities in the United States.

In May 2015, she announced that she was bidding for the Republican presidential nomination to run for the U.S. presidential election in 2016.

Recommended Lists:

Recommended Lists:

Major Works

Carly Fiorina's biggest achievement as a business executive is the role she played in the 2002 merger of HP with Compaq, a leading competitor in the industry. The merger created the world's largest personal computer manufacturer by units shipped. The merger however did not prove to be much successful and she was soon forced to resign from HP.

Awards & Achievements

She became the recipient of Appeal of Conscience Award in 2002.In 2003, Carly Fiorina received the Seeds of Hope Award from Concern International and was also named by 'Fortune Magazine' as the most powerful woman in business.

Continue Reading Below

She was included in the Time 100 ranking of "most influential people in the world today" in 2004, and named tenth on the Forbes list of The World's 100 Most Powerful Women the same year.

The Private Sector Council presented her with its Leadership Award in 2004.

Personal Life & Legacy

She married Todd Bartlem, a classmate at Stanford, in June 1977. The couple divorced in 1984.

She married AT&T executive Frank Fiorina in 1985. Frank had two daughters from a previous marriage but the couple did not have any children of their own. Her husband has always been supportive of Carly's high-profile career.

Carly Fiorina was diagnosed with breast cancer in 2009. She underwent surgery, radiation and chemotherapy and was ultimately given an excellent prognosis for a full recovery.

Net Worth

Carly Fiorina and her husband are reported to have a net worth of $59 million.

Top 10 Facts You Did Not Know About Carly Fiorina

Carly Fiorina became the first woman to lead a Fortune 20 company when in 1999 she was appointed the CEO of Hewlett Packard.

Continue Reading Below

During her reign as CEO of Hewlett Packard, she presided over the largest high-tech merger in history when she merged HP with Compaq.

When she was in college she worked as a secretary at Hewlett-Packard.

Carly Fiorina received a $21.4 million severance package and another $21.1 million in stock options after she was forced to resign as CEO of HP in 2005.

Fiorina has prior experience of running a presidential campaign. She was an advisor to John McCain during his 2008 presidential run.

She contested for one of California's senate seats in 2010, but lost to Democrat Barbara Boxer.

Carly Fiorina is a cancer survivor. She was detected with breast cancer in 2009 and underwent a double mastectomy and chemotherapy treatments. Today, she is cancer free.

Fiorina is a strong opponent of same-sex marriage.

She founded the international women's empowerment group One Woman Initiative (OWI) in 2008.

Fiorina has authored an autobiography called "Tough Choices" and additionally two biographies have been written on her, namely, "Backfire" and "Perfect Enough: Carly Fiorina and the Reinvention of Hewlett-Packard."

Translate Wiki

to Spanish, French, Hindi, Portuguese

Article Title

- Carly Fiorina Biography

Author

- Editors, TheFamousPeople.com

Website

- TheFamousPeople.com

URL

-

https://www.thefamouspeople.com/profiles/carly-fiorina-6444.php

Last Updated

- September 19, 2017

---

---

---