Jeff Bezos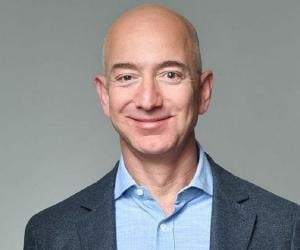 Quick Facts
Birthday: January 12, 1964
Nationality: American
Famous: Quotes By Jeff Bezos Philanthropists
Age: 55 Years, 55 Year Old Males
Sun Sign: Capricorn
Also Known As: Jeffrey Preston Bezos
Born in: Albuquerque, New Mexico, U.S
Famous as: Founder of Amazon.com
Height: 1.71 m
Family:
Spouse/Ex-: Mackenzie Bezos (m. 1993)
father: Ted Jorgensen
mother: Jacklyn Gise Jorgensen
Partner: Lauren Sánchez
Personality: ISTJ
U.S. State: New Mexico
Founder/Co-Founder: Amazon.com, Inc.
Net worth: $83.3 billion as of 2017
More Facts
education: Princeton University (1986), River Oaks Elementary School, Miami Palmetto High School
awards: 1999 - Time Person of the Year
Continue Reading Below
Jeff Bezos is an American technology entrepreneur and founder of e-commerce giant Amazon.com. Born to Jacklyn Gise and Ted Jorgensen, he was adopted by Miguel Bezos, a Cuban immigrant, after his mother married him. As a child, he spent his summers laying pipes, vaccinating cattle and fixing windmills at his grandfather's Texas ranch. He attended Miami Palmetto Senior High School, and took his B.Sc. degree in Electrical Engineering and Computer Science from Princeton University graduating 'summa cum laude'. He worked on Wall Street in companies such as Fitel, Bankers Trust and D. E. Shaw & Co, New York. He became the youngest Vice President at D. E. Shaw & Co. In spite of success, he decided to quit the field of finance. He founded Amazon.com, an online book store, and later introduced features including one-click shopping, customer reviews, and e-mail order verification. He expanded it to include various other items including clothes, CDs, toys, jewellery, watches, electronics and shoes. He has constantly been improving his web site, and introducing improved facilities for his customers. His childhood dream of space travel spurred the founding of Blue Origin, an aerospace company that is developing technologies to offer space travel to customers. Bloomberg Billionaires Index listed Bezos as one of the wealthiest people in the world with an estimated net worth of $28 billion.
Recommended Lists:
Recommended Lists:
Continue Reading Below
Childhood & Early Life
Jeff Bezos was born on January 12, 1964 to Jacklyn Gise and Ted Jorgensen. His mother's ancestors were settlers who lived in Texas, and had acquired a 25,000-acre ranch near Cotulla over the generations.

Bezos' mother was a teenager when she married his father. After marriage with Ted Jorgensen ended, she married Miguel Bezos, a Cuban immigrant who studied at the University of Albuquerque.

After marriage, Miguel Bezos legally adopted Jeff. The family then moved to Houston, Texas, where Miguel became an engineer for Exxon. Jeff attended River Oaks Elementary School, Houston, from fourth to sixth grade.

Continue Reading Below

Recommended Lists:

Recommended Lists:

Career

Bezos family moved to Miami, Florida. He attended Miami Palmetto Senior High School. He also attended the Student Science Training Program at the University of Florida, and received a Silver Knight Award in 1982.

While in high school, he started his first business venture, the Dream Institute, an educational summer camp for fourth, fifth and sixth graders. He graduated as high school valedictorian.

In 1982, he entered Princeton University, where he studied computers. He was elected to the honor societies Phi Beta Kappa and Tau Beta Pi at Princeton.

He used to take up summer jobs. In June 1984, he took a summer job as Programmer/Analyst in Norway, and the following year, he improved an IBM Program in California.

He served as the President of Princeton' Students for the Exploration and Development of Space. In 1986, he graduated summa cum laude, with a B.Sc. in Electrical Engineering and Computer Science.

After graduation, he worked at several firms on Wall Street, such as Fitel Bankers Trust, and the investment firm D.E. Shaw.

He joined D. E. Shaw & Co, New York, in 1990. He became the youngest Vice President there. His career in finance was extremely lucrative, but he decided to quit after four years.

Continue Reading Below

In 1995, he founded Amazon.com, an online bookstore. Market analysts were initially sceptical about its success vis-a-vis the traditional stores, but he soon outpaced his competitors. In 1997, the company went public

With time, Amazon started to diversify its portfolio. In 1998, it started offering CDs and videos and, in 2002, it also included clothes to its portfolio.

In 2003, Amazon formed A9, a commercial search engine focusing on e-commerce web sites. He also launched an online sporting goods store that offered up to 3,000 different brands.

The year 2007 saw Amazon introduce a handheld electronic reading device, the Kindle, which uses E-Ink to render text with adjustable font size to enhance ease of reading.

In 2010, Amazon signed a deal with The Wylie Agency who gave Amazon the digital rights to works of authors. Publishers were bypassed, and felt angered. However, readership and sales increased, thereby benefitting authors.

Competing with Apple iPad, Bezos introduced Kindle Fire, a color touch screen mini tablet computer. With Kindle Paperwhite, Amazon gave e-readers comfort and convenience with illuminated touchscreens that enabled reading in the dark.

He launched Amazon Studios apart from Amazon Local, LivingSocial and Amazon Web Services. Amazon plans to present the television programs through an online video service.

Continue Reading Below

On August 5, 2013, he purchased The Washington Post and other publications affiliated with The Washington Post Co., for $250 million cash marking the end of the four-generations of reign by the Graham family.

In December 2013, Bezos revealed an experimental initiative called Amazon Prime Air that uses drones capable of carrying weight up to 5 pounds, and travelling 10-miles to provide delivery services to customers.

Recommended Lists:

Recommended Lists:

Major Works

Bezos has played a seminal role in the development and growth of e-commerce. He founded Amazon.com, an online book store, in 1995. The company has ushered revolution in online shopping by introducing innovative features, such as one-click shopping, customer reviews, and e-mail order verification.

In 2004, he founded Blue Origin, an aerospace company that is developing technologies to offer space travel to customers, kept a secret until land was purchased to build a launch and test facility.

Recommended Lists:

Recommended Lists:

Awards & Achievements

Bezos was awarded an honorary doctorate in Science and Technology from Carnegie Mellon University in 2008. He was also selected by U.S. News & World Report as one of America's best leaders.

In 2011, The Economist gave Bezos and Gregg Zehr an Innovation Award for the Amazon Kindle. The following year, he was named Businessperson of The Year by Fortune.

In December 2012, the National Retail Federation named Amazon as the top retailer of the year, and awarded him the Gold Medal Award, given to an individual who has served the industry with distinction.

Recommended Lists:

Recommended Lists:

Family & Personal Life

Jeff Bezos married MacKenzie Tuttle in 1993. He met her while working at the investment firm D.E. Shaw. Together, they have four children. On January 9, 2019, Bezos and MacKenzie announced their intent to divorce. According to the couple, they were living separately for a long time.

The founder of Amazon.com is reportedly dating Lauren Sanchez, a former new anchor, TV show host, and helicopter pilot.

Bloomberg Billionaires Index listed Bezos as one of the wealthiest people in the world. Harvard Business Review ranked him the second best CEO in the world.

Trivia

This innovator funded an expedition that recovered two powerful Saturn V first-stage F-1 rocket engines from the Atlantic Ocean identified as belonging to the Apollo 11 mission's S-1C stage in July 2013.

Translate Wiki

to Spanish, French, Hindi, Portuguese

Article Title

- Jeff Bezos Biography

Author

- Editors, TheFamousPeople.com

Website

- TheFamousPeople.com

URL

-

https://www.thefamouspeople.com/profiles/jeff-bezos-4868.php

Last Updated

- January 12, 2019

---

---

---