Caillou Pettis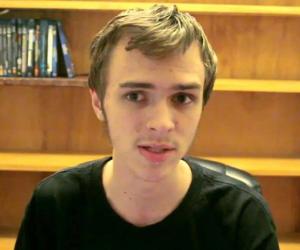 Quick Facts
Nationality: Canadian
Famous: Actors Canadian Men
Age: 18 Years, 18 Year Old Males
Sun Sign: Cancer
Born in: Calgary, Alberta, Canada
Famous as: Social Media Influencer, Actor, Film Critic
Height: 1.75 m
Family:
father: Darren Pettis
siblings: Jeremy (brother)
City: Calgary, Canada
Continue Reading Below
Caillou Pettis is a Canadian actor, film critic, filmmaker, and social media influencer. He is best known for his YouTube channel 'TwistedFalcon' where he posts reviews of both old and new films. Having been active since January 2012, he talks about movies from a unique perspective, which first and foremost is that of a fan. Aided by his natural comedic instincts, Pettis' deep knowledge of cinema and filmmaking definitely enhances the value of his content. In 2014, he teamed up with his friend Nicholas Favel to create and host two popular web shows 'FalconCast' and 'Brewer Breakfast'. He rose to prominence in 2015 following his open letter to singer Taylor Swift and her subsequent response. He is currently working on an independent project, 'Batman Unveiled', which is supposed to be the sequel to the 1989 feature film 'Batman', but a prequel to 1992's 'Batman Returns'.
Recommended Lists:
Recommended Lists:
Continue Reading Below
Career
At the age of 11, Caillou Pettis set up his first YouTube channel, 'TwistedFalcon', focusing on reviewing both old movies and new releases. Publishing two videos a week, the channel has since accumulated 242k views and 4.5k subscribers. Pettis frequently corresponds with some of the top YouTube film critics, including Chris Stuckman and the Screen Rant team.

In March 2014, he created the comedy talk show 'FalconCast' in collaboration with his long-time friend Nicholas Favel. Since its launch, the show has released 43 episodes, making up three seasons. Often joined by their friend Kadin Brimacombe as co-host, Pettis and Favel discuss and debate about the world of cinema, often bringing news from the Tinseltown to their audience.

They also simultaneously launched a second web series titled 'Brewer Breakfast', which is inspired by 'Good Mythical Morning' and features fun games, trivia, and challenges. Caillou made two appearances on Rhett and Link's famous daily comedy talk web series, on the October 30, 2014 episode, 'Full Body Duct Tape Mummy' and on the April 2, 2015 episode, 'Five Nights at Freddy's IRL'.

In the following year, he and his brother hosted 'Majora's Cast' which focused on news about 'The Legend of Zelda' video games. In April, he started his own situational comedy 'Fancy Boys', drawing inspiration from NBC's 'Seinfeld'. He himself starred as Aaron and Dawson Haase played Barry.

Pettis took on his most ambitious project yet in 2016: the independent film 'Batman Unveiled'. Currently in its production stage, the film is a sequel to Tim Burton's 'Batman.' Pettis is the writer and director of the movie, and would also be playing Bruce Wayne/Batman while Haase has been cast as Joker, Jade Robinson as Harleen Quinzel / Harley Quinn, and Tanner Johnson as Alfred Pennyworth. The film is set for a 2018 release.

Since July 2017, Caillou has become a regular contributor to the film publication website 'Daily Film Fix'. He has reviewed movies such as 'Transformers: The Last Knight', 'A Ghost Story', 'Spider-Man: Homecoming', 'War for the Planet of the Apes', 'Dunkirk', and 'Kingsman: The Golden Circle' for the site.

Recommended Lists:

Recommended Lists:

Continue Reading Below

Interaction with Taylor Swift

In January 2015, Pettis reached out to pop star Taylor Swift in an open letter on Tumblr where he candidly wrote about his experience with bullying. He stated that he had been a fan of Swift for as long as he could remember and admired her for her inspiring relationship with her fans. He went on to reveal that he had been bullied and beaten up at school, primarily for his name and his appearance.

Much to his surprise, Swift responded, praising him for his courage. She reasoned that people criticised and bullied him because he was different from them and they did not know how to deal with the things that set him apart. She advised him to embrace those differences because one day they might turn out to be his strengths. She even told him to contact the police the next time someone hit him, as "there's no direct penalty for bullying with words (except karma) but no one is allowed to hit anyone".

Personal Life

Caillou Pettis was born on June 28, 2000, in Calgary, a city in Alberta, Canada to Darren Pettis and his wife. He has a brother named Jeremy. He was very intrigued by the entertainment industry from the time he was nine years old. He attended Airdrie's Muriel Clayton Middle School in Airdrie, Alberta, from where he graduated in 2014. Nicholas Favel, his future partner and co-star, studied there as well.

Trivia

Pettis spends about 5 to 8 hours on editing an episode of 'FalconCast'.

His favourite Hollywood actress is 'Suicide Squad' star Margot Robbie.

Translate Wiki

to Spanish, French, Hindi, Portuguese

Article Title

- Caillou Pettis Biography

Author

- Editors, TheFamousPeople.com

Website

- TheFamousPeople.com

URL

-

https://www.thefamouspeople.com/profiles/caillou-pettis-34420.php

Last Updated

- October 17, 2017

---

---

---