Bruno Sammartino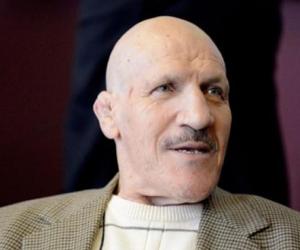 Quick Facts
Nationality: American, Italian
Famous: Wrestlers WWE Wrestlers
Died At Age: 82
Sun Sign: Libra
Also Known As: Bruno Leopoldo Francesco Sammartino
Born Country: Italy
Born in: Pizzoferrato, Abruzzo
Famous as: Wrestler
Height: 5'10" (178 cm), 5'10" Males
Family:
Spouse/Ex-: Carol Sammartino (m. 1959)
father: Alfonso
mother: Emilia Sammartino
children: David Sammartino
place of death: Pittsburgh, Pennsylvania
More Facts
education: Schenley High School
Continue Reading Below
Bruno Leopoldo Francesco Sammartino was an Italian-American professional wrestler known for his tenure with World Wide Wrestling Federation (WWWF, now WWE). He is regarded as a true pioneer in his industry and is often listed among the greatest professional wrestlers of all time. Dubbed as "The Living Legend" during his lifetime, he had several other monikers throughout his career, including "The Italian Strongman" and "The Strongest Man in the World". Sammartino grew up in Italy and in 1950, moved to Pittsburgh, Pennsylvania. He took up weightlifting pretty early in his life after being bullied at school and even almost made it to the US Olympic team. He also performed strongman stunts which ultimately led to his first television appearance. That, in turn, garnered him the attention of a local professional wrestling promoter. Sammartino began his career as a professional wrestler in December 1959 in Pittsburgh and had his first match in Madison Square Garden in the following month. Since the early days, he worked with legendary promoter Vince McMahon, Sr. and when McMahon, Sr. formed WWWE, Sammartino became its biggest star. His first reign as the WWWF World Heavyweight Champion would last nearly eight years. After his retirement, Sammartino continued to be involved with the industry and was inducted into the WWE Hall of Fame in 2013.
Recommended Lists:
Recommended Lists:
Childhood & Early Life
Born on October 6, 1935, in Pizzoferrato, Abruzzo, Italy, Sammartino was the youngest of the seven children of Alfonso and Emilia Sammartino. Four of his siblings died in infancy. In 1939, his father immigrated to the US and eventually settled in Pittsburgh.

The rest of the family members had to look after themselves as the World War II broke out. Sammartino's mother would hide her children from the German soldiers in a mountain called Valla Rocca and often furtively venture into the German-occupied territories for food. In 1950, Sammartino, along with his mother and remaining siblings, moved to Pittsburgh as well.

Following his immigration, Sammartino experienced a massive cultural shock as an adolescent. He could not speak English and the war had left him sickly. He attended Schenley High School where he was constantly bullied by other students. In response, he started to lift weights and took wrestling lessons.

In 1953, when he graduated, he weighed around 225 lbs. He became so good at weightlifting that he was seriously considered for the 1956 US Olympic team.

Recommended Lists:

Recommended Lists:

Career

After graduating high school, Bruno Sammartino started taking lessons under the University of Pittsburgh's wrestling coach, Rex Peery. During his time as a performer doing strongman stunts in the Pittsburgh area, he landed his first television appearance. The show he appeared on was hosted by sportscaster Bob Prince. Professional wrestling promoter Rudy Miller spotted him on the show and subsequently recruited him.

On December 17, 1959, in his hometown Pittsburgh, Sammartino began his professional wrestling career and defeated Dmitri Grabowski in 19 seconds. A few weeks later, on January 2, 1960, he wrestled at Madison Square Garden for the first time and won the match against Bull Curry in five minutes.

Despite the fact that his career was undoubtedly on an upward trajectory, Sammartino started to believe that National Wrestling Alliance's (NWA) Buddy Rogers was being promoted as the real star of professional wrestling while he was being held back.

He contacted Capitol Wrestling Corporation (CWC) owner Vince McMahon Sr. informing him that he was going to quit the promotion and expressed his desire to work for Roy Shire in San Francisco.

While he was travelling to California, Sammartino could not wrestle in Baltimore and Chicago and because of this, he was served with suspensions in these territories. California, in response, upheld the suspension, resulting in Sammartino not having any work.

In his autobiography, he blamed McMahon Sr. for the incident, stating that the latter had intentionally double booked him and never told him about his match in Baltimore. He further speculated that McMahon Sr. did this to punish him for leaving.

After this, for a brief period, he went back to Pittsburgh and worked as a labourer. He eventually travelled to Toronto, Canada, to work for promoter Frank Tunney. He soon became immensely popular among the thriving Italian population of the city. The new immigrants loved the fact he could speak fluent Italian.

In September 1962, Sammartino won his first professional wrestling championship when he became the local tag team champion.

On realising the phenomenon that Sammartino had become in Canada, McMahon Sr. helped in clearing up the suspension by paying his $500 fine, which effectively freed him to wrestle in the US again. After the initial reluctance, Sammartino said "yes" on the condition of a title match against the-then WWWF World Heavyweight Champion Rogers. On May 17, 1963, he won the match against Rogers in the first 48 seconds.

Continue Reading Below

In the next few years, Sammartino also won the WWWF United States Tag Team Championship with Spiros Arion in July 1967 and the WWWF International Tag Team Championship with The Battman (Tony Marino) in December 1969.

He was one of the longest reigning heavyweight champions in the history of professional wrestling. On January 18, 1971, 2,803 days after he had won the championship, he lost it to Ivan Koloff. When Koloff successfully pinned him, Sammartino feared that his ears were damaged, as Madison Square Garden, where the match was being held, had become completely silent.

He would win the WWWF International Tag Team Championship a second time after he and Dominic DeNucci defeated the Mongols in a 2-out-of-3 falls match in June 1971. Sammartino reclaimed the WWWF Heavyweight Championship, defeating Stan Stasiak on December 10, 1973.

He suffered a legitimate neck fracture while wrestling Stan Hansen at Madison Square Garden on April 26, 1976, and he could not wrestle for the next two months. He soon realised that he could not be the champion anymore because of his injuries. He told this to McMahon Sr. and on April 30, 1977, he lost the title to Billy Graham after reigning for over three years.

Sammartino continued to wrestle until 1981 and had a memorable feud with former protégé Larry Zbyszko in 1980. His last match as a full-time wrestler in North America took place in 1981 at Meadowlands Arena in East Rutherford, New Jersey. Sammartino won by pinning his opponent George "The Animal" Steele. He subsequently went on a tour in Japan and retired from full-time professional wrestling.

After his retirement, Sammartino discovered that McMahon Sr. had not paid him the percentage of all the gates as he was promised right before his second reign as the Heavyweight Champion began. He sued McMahon and his Capitol Wrestling Corporation. The lawsuit was eventually settled out of court by Vince McMahon. In return, Sammartino had to promise to return as a commentator.

He returned to the promotion, now rebranded as WWF, in 1984. In the inaugural WrestleMania, he was at his son, David's corner during his bout against Brutus Beefcake. Sammartino continued to be part of professional wrestling storylines and even once feuded with "Macho Man" Randy Savage.

On August 29, 1987, at Baltimore, he teamed up with Hulk Hogan to defeat King Kong Bundy and One Man Gang, in what was to be the final match of his career.

Besides being inducted into the WWE Hall of Fame in 2013, he also received the Bronze Statue from the promotion. Furthermore, he had been inducted into Professional Wrestling Hall of Fame and Museum in 2002 and International Sports Hall of Fame in 2013.

Recommended Lists:

Recommended Lists:

Major Works

Over the course of his illustrious career, Sammartino had several memorable matches. After losing the WWWF Heavyweight title to Graham in April 1977, Sammartino faced Graham in a second rematch for the title in August. He would go on to lose the match and would never become a Heavyweight Champion again.

This bout was an important milestone in the history of professional wrestling as it encapsulated what the sports entertainment form essentially is about, a struggle between the good men and bad, with Sammartino being the classic face and Graham being the ideal heel.

Family & Personal Life

Bruno Sammartino married Carol Teyssier in 1959. Carol gave birth to their first child, a son whom they named David, on September 29, 1960. Their other children, fraternal twins Danny and Darryl, were born in 1968. David followed his father's footsteps and became a professional wrestler.

Sammartino spent nearly all his adult life, save for the long bouts of travelling because of work, in Pittsburgh. From 1965 onwards, he lived in Ross Township, Allegheny County, Pennsylvania near Pittsburgh.

In 1960, Sammartino, with the help of author Bob Michelucci, published his autobiography.

In 2011, he had a heart surgery. Sammartino passed away on April 18, 2018, after suffering from multiple organ failure due to heart issues. He was 82 years old.

Translate Wiki

to Spanish, French, Hindi, Portuguese

Article Title

- Bruno Sammartino Biography

Author

- Editors, TheFamousPeople.com

Website

- TheFamousPeople.com

URL

-

https://www.thefamouspeople.com/profiles/bruno-sammartino-10011.php

Last Updated

- June 28, 2019

---

---

---