Yasser Arafat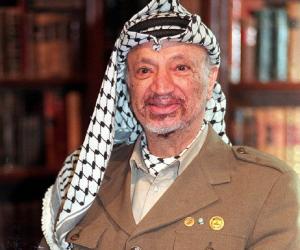 Quick Facts
Nationality: Palestinian
Famous: Nobel Peace Prize Political Leaders
Died At Age: 75
Sun Sign: Virgo
Born in: Cairo
Famous as: 1st President of the Palestinian National Authority
political ideology: Fatah
Family:
Spouse/Ex-: Suha Arafat (m. 1990–2004)
father: Abdel Raouf al-Qudwa al-Husseini
mother: Zahwa Abul Saud
siblings: Fathi
children: Zahwa Arafat
Died on: November 11, 2004
place of death: Clamart
More Facts
education: University of King Fuad I,
awards: 1994 - Nobel Peace Prize
- Time's Person of the Year
- Jawaharlal Nehru Award
Continue Reading Below
Yasser Arafat was a leader of the state of Palestine and 1st President of the Palestinian National Authority. Arafat always referred to himself as the son of Jerusalem although some believe Cairo to be his actual place of birth. Indoctrinated into Arab nationalism early in his life, he started working for the Palestinian cause while he was still in his teens; later moving to Kuwait, where he cofounded Fata, being elected to its central committee at the very inception. By the age of 44, he became a full time revolutionist, organizing raids into Israel from their camps along Jordan-Israel border. Later, he became the Chairman of the PLO (Palestine Liberation Organization), which under his guidance emerged from being a puppet organization in the hands of Arab governments to an independent nationalist organization, based in Jordan. Waging relentless war against Israel, later on he took up diplomacy as a tool for achieving his ends and signed Oslo Accord in early 1990s. In 1994, Yasser Arafat was awarded the Nobel Peace Prize along with Shimon Peres and Yitzhak Rabin for his endeavor to bring peace into the region. Later when the Palestinian National Authority was formed, he was elected its President. Adored by his followers and hated by his detractors, Yasser Arafat remained an enigma till his death in 2004.
Recommended Lists:
Recommended Lists:
Childhood & Early Years
Mohammed Yasser Abdel Rahman Abdel Raouf Arafat al-Qudwa, popularly known as Yasser Arafat, was born on 24 August 1929 most probably in Cairo. Some also claim that he was born in his maternal uncle's house in Jerusalem where his mother, Zahwa Abul Saud, used to go for child-birth.

His father, Abdel Raouf al-Qudwa al-Husseini, was originally from Gaza City in Palestine; but later moved to Cairo to claim the legacy of his Egyptian mother. Although he failed to achieve his objective, he became a successful textile merchant, having his establishment in Cairo's religiously mixed Sakakini District.

Yasser Arafat was born sixth of his parents' seven children, having a younger brother named Fathi Arafat. Among his older siblings were two brothers named Jamal and Mustafa and two sisters named Inam and Khadija.

In 1933, when he was four years old, his mother died from kidney ailment. Unable to raise his younger children by himself, his father sent him and his younger brother Fathi to live in Jerusalem with his childless maternal uncle, Salim Abul Saud.

In 1937, Yasser Arafat was brought back to Cairo. However, his father, by then married to an Egyptian woman, failed to provide any kind of emotional support to his eight year old son, resulting in a distant and often strained relationship between them.

During his school years, he spent his summer holidays at Jerusalem, growing an attachment to the city. In Cairo, he often visited the Jewish colonies and attended their religious ceremonies, wishing to understand them. Even his father's thrashings could not stop this practice.

In 1944, Yasser Arafat entered the University of King Fuad I. Here he continued his association with Jews, engaging them in conversation in order to understand their mental set up. He also read the works of Zionist scholars like Theodor Herzl, one of the promoters of Zionist migration to Palestine.

During this period, he also joined the Federation of Palestinian Students and the Egyptian Union of Students. Taking part in political agitations, he also started a magazine called The Voice of Palestine.

Over time, he became involved with the members of the Palestinian Arab nationalist group, led by his cousins from the Husseini family of Jerusalem. By 1946, seventeen year old Arafat was procuring arms, retrieving weapons left by the Germans in the Egyptian deserts and smuggling them into Palestine.

On 15 May 1948, the British Mandate of Palestine came to an end, resulting in the formation of the State of Israel and subsequent Arab-Israeli War. Although Arafat set out to join the war, he was probably stopped on the way. Another report says, he fought in the Gaza region.

On his return home in early 1949, he enrolled at School of Engineering at the University of King Fuad I. In 1950, he joined the Muslim Brotherhood. Two years later, he was elected President of the General Union of Palestinian Students with their help, a position he held till 1956.

In 1956, he graduated with a degree in civil engineering. Later in the same years, as the Suez Crisis erupted, Arafat joined the war, fighting with the Egyptian Army against Israel, United Kingdom and France. Thereafter, he worked briefly in Egypt before settling in Kuwait.

Recommended Lists:

Recommended Lists:

Forming Al-Fatah

In Kuwait, Yasser Arafat was first employed in the department of public works; later, he opened his own contracting firm. Concurrently, he continued being involved in politics, contributing the profit from his business to the Palestinian cause.

In 1958, Arafat, along with Khalīl al-Wazīr, Ṣalāḥ Khalaf, and Khālid al-Ḥassan, he founded a new Palestinian nationalist movement called 'Fatah', a name derived from reverse acronym for 'Harakat al-Tahrir al-Filastinivva'. In the same year, he was elected to its central committee.

Operating both as a political organization and an underground military outfit, Fatah advocated armed struggle against the Israelis. Following the model of guerrillas fighting in the Algerian War of Independence, they started preparing for guerilla warfare as early as in 1959.

In 1959, Arafat launched a magazine called 'Filastin-na' (Our Palestine), which also advocated an armed struggle against Israel. This was also the time, when he first started donning the checkered scarf, kufiyah, and adopted the fighting name 'Abu Amar'.

To work independently, Yasser Arafat refused to take donations from Arab governments without actually alienating them. Instead, he started contacting well-to-do Palestinians living abroad for donations.

Sometime in 1962, Arafat moved to Syria with his closest companions and started recruiting fighters for an armed attack on Israel. By then, he was financially strong enough to afford reasonable salary for his soldiers.

Leader of PLO

In 1964, Arab countries floated an umbrella organization called Palestinian Liberation Organization (PLO). While Yasser Arafat kept in touch with it, he continued to work alone, setting up number of camps along Jordan-Israel border, carrying out his first armed operation on 31 December 1964.

Continue Reading Below

He came to international limelight during the 1968 Battle of Karameh. As his face appeared on the cover of Time Magazine's 13 December 1968 issue, Arafat's position became stronger. Fatah now emerged as a dominant group within PLO, whose creditability was lost due to defeat in the Six-Days-War in 1967.

On 4 February, 1969, Arafat was elected Chairman of PLO. In this position, he had to work closely with other constituents, such as the Popular Front for the Liberation of Palestine and the Democratic Front for the Liberation of Palestine and cope with governmental interference.

By 1970, PLO started having trouble with the King of Jordan, who in September sent forces to raid fedayeen camps along its border, forcing them to migrate to Lebanon. Thereafter until 1982, they continued carrying on guerilla attack from their base in Lebanon.

In 1971, a breakaway group called 'Black September' was formed, who began to carry on terrorist attack in different locations. In reality, they took their orders from Fatah, while maintaining an apparent distance.

Since Lebanon had a weak central government, PLO was able to function more or less independently. During this period, different branches of the organization carried on guerilla attacks on different Israeli targets, both inside and outside the country, most famous of which was their attack at Munich Olympic in 1972.

The Munich incident, in which eleven Israeli players and three German policemen were killed, was criticized by international community. Subsequently, Yasser Arafat not only dissolved Black September, absorbing the members into other groups, but also decided not to attack Israeli targets on foreign soil.

Start of Diplomacy

Sometime in the early 1970s, especially after the Yom Kippur War in October 1973, Arafat realized the importance of diplomacy. He soon gave up the idea of liberating whole of Palestine, instead settling for an independent state comprising the West Bank and Gaza Strip, with East Jerusalem as its capital.

Continue Reading Below

In a summit held in 1973-74, PLO was recognized as the sole representative of the Palestinian people by the Arab countries. As a result, the organization was allowed to open offices in different countries.

In November 1974, sponsored by Arab countries, Arafat addressed plenary session of the United Nations General Assembly as a representative of an NGO. In his speech, he said, "I have come bearing an olive branch and a freedom fighter's gun. Do not let the olive branch fall from my hand."

After the plenary session, a number of European countries began political dialogue with PLO. Israel, along with the USA, not only refused any contact, continuing to call it a terrorist organization, but also relentlessly tried to subdue the movement. On several occasions, they also tried to kill Arafat.

Apart from Israelis, Hafiz al-Assad of Syria was another of Arafat's prime enemies. Assad was able to create a rift in the PLO rank with the aim of reorganizing PLO as a pro-Syrian organization. However, Arafat was able to retain his authority.

In August 1982, driven by an Israeli invasion, Yasser Arafat had to leave Lebanon. He now moved his headquarters to Tunis, Tunisia. He tried to return in the following year; but was stopped by his rival fraction, an action which actually bolstered his support and helped him to reaffirm his leadership.

Peace Process

The intifāḍah (protest) movement, which began in December 1987 and continued for next five years, directed the world's attention to the plight of Palestinians in Israel, further consolidating Arafat's position. He now changed his policies and was ready to negotiate with Israelis.

In November 1988, PLO, under Arafat's leadership, recognized UN General Assembly Resolution 181. Concurrently, Arafat also announced the establishment of an independent Palestinian state, of which he was nominated president. Within days, more than 25 countries extended recognition to the government-in-exile.

Continue Reading Below

Also in 1988, Arafat attended a special United Nations session in Geneva, Switzerland, where he renounced terrorism. He also said that the PLO supported "the right of all parties concerned in the Middle East conflict to live in peace and security, including the state of Palestine, Israel and other neighbours".

Oslo Accord

In September 1993, after series of secret negotiations, PLO Chairman Arafat and Israeli Prime Minister Rabin signed the famous Oslo Accord. According to the accord, Palestinian self-rule was to be implemented in West Bank and Gaza Strip along with removal of Israeli settlements from those areas over a five-year period.

In 1994, Arafat moved to Gaza City, taking control in the name of Palestinian National Authority (PNA), gradually, establishing rule of law. However, his struggle did not end here. Many Palestinian groups, including Hamas, continued to oppose the accord; so did many Israeli leaders.

In January 1996, Arafat was elected President of PNA. In this capacity, he continued to negotiate with world leaders. But his task became progressively difficult, especially after the assassination of Israeli Prime Minister Rabin and resurgence of terrorist attacks by Palestinian groups. Yet, he continued to work for the cause till his death.

Awards & Achievements

In 1994, a year after signing the Oslo Accord, Arafat received the Nobel Prize for Peace jointly with Yitzhak Rabin and Shimon Peres "for their efforts to create peace in the Middle East".

Personal Life & Legacy

On 17 July 1990, at the age of 61, Yasser Arafat married Suha Daoud Tawil, a 27 year old Roman Catholic. After marriage, she converted to Islam. Their only child, Zahwa, was born on 24 July 1995.

On 25 October 2004, Arafat was suddenly taken ill. He was shortly taken to Paris and admitted to the Percy military hospital, where he lapsed into coma on 3 November. He died on 11 November 2004 of a massive hemorrhagic cerebrovascular accident at the age of 75.

On 12 November, his body, draped in Palestinian Flag, was sent to Cairo, where a brief military funeral was held. It was attended by several heads of governments. Egypt's top Muslim cleric Sayed Tantawi led the prayers.

Although Arafat wished to be buried near the Al-Aqsa Mosque in Jerusalem, Israel authorities refused permission. Therefore, he was buried within the Mukataa in Ramallah in Cairo. His last rites were attended by tens of thousands of Palestinians.

On 10 November 2007, President Mahmoud Abbas, President of the Palestinian National Authority, unveiled a mausoleum for Arafat near his tomb.

Translate Wiki

to Spanish, French, Hindi, Portuguese

Article Title

- Yasser Arafat Biography

Author

- Editors, TheFamousPeople.com

Website

- TheFamousPeople.com

URL

-

https://www.thefamouspeople.com/profiles/yasser-arafat-77.php

Last Updated

- August 10, 2017

---

---

---