V. S. Naipaul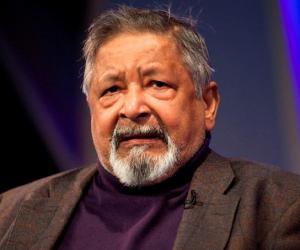 Quick Facts
Nationality: British
Famous: Quotes By V. S. Naipaul Essayists
Died At Age: 85
Sun Sign: Leo
Also Known As: Vidiadhar Surajprasad Naipaul, V. S., Sir Vidia
Born in: Chaguanas
Famous as: Writer
Family:
Spouse/Ex-: Nadira Khannum Alvi Naipaul (1996–2018), Patricia Ann Hale Naipaul (1955–96)
father: Seepersad Naipaul
mother: Droapatie
siblings: Shiva Naipaul
religion: Hinduism
place of death: London, England
More Facts
education: University College, Oxford, University of Oxford, Queen's Royal College
awards: Nobel Prize in Literature - 2001
Man Booker Prize - 1971
Jerusalem Prize for the Freedom of the Individual in Society - 1983
Continue Reading Below
Sir Vidiadhar Surajprasad Naipaul was a Nobel Prize-winning British writer best known for his bleak novels set in developing countries. His writing style was characterized by the use of simple yet strong words woven together in grasping narratives that reflect the dark realities of the world we live in. Born into a family of indentured laborers shipped from India to Trinidad, he struggled a lot in his childhood and was exposed to the stark realities of life from an early age. However, he was determined to rise above the hardships of his early life and worked hard at school in order to build a better future for himself. His hard work paid off and he received a scholarship to study at the prestigious Oxford University. By this time he had realized that his true interest was writing and began writing earnestly. However, his early attempts at writing proved to be unsuccessful. Lonely and insecure, he was on the verge of depression when a chance meeting with a young woman, Patricia Ann Hale, changed the course of his life. Hale, whom he eventually married, encouraged him to write and also served as his first editor. Eventually his writing career took off and he gained much recognition for his narratives which painted an unapologetically candid picture of the life in the Third World countries.
Recommended Lists:
Recommended Lists:
Continue Reading Below
Childhood & Early Life
V. S. Naipaul was born on 17 August 1932 in Chaguanas in Trinidad into a family of indentured laborers shipped from India to Trinidad. He was the second child born to Seepersad Naipaul and Droapatie.

He grew up in a largely peasant Indian immigrant community. Even though his grandparents had worked as indentured laborers, his father managed to get an education and became an English-language journalist. His father's career as a journalist and his admiration for writers inspired Naipaul, and as a young boy he too aspired to become a writer.

In 1939, his family moved to Trinidad's capital, Port of Spain and he took admission at the government-run Queen's Royal College, in Port of Spain. V. S. Naipaul was a good student and his hard work earned him a Trinidad Government scholarship and he left the country to study at the Oxford University in 1952.

He was very confused and unsure about his future as a student at the Oxford. He tried focusing on his writing but was not satisfied with his own efforts. He felt very lonely and depressed and was on the verge of a mental breakdown.

Mentally disturbed, he embarked on an impulsive trip to Spain in 1952 and spent all his savings on the trip. The death of his father the following year was another emotional blow to him. However, one saving grace in his life was a young woman, Patricia Ann Hale, whom he had met in college. She helped him recover and rebuild his life. Both Hale and he graduated from Oxford in 1953.

Continue Reading Below

Recommended Lists:

Recommended Lists:

Career

V. S. Naipaul moved to London in 1954 and was hired as a presenter by Henry Swanzy, the producer of a BBC weekly program called 'Caribbean Voices'. This was a part-time job where he also wrote short reviews and conducted interviews.

In 1955, he wrote 'Bogart', the first story of 'Miguel Street'. He sent it to the publishing company André Deutsch where the owner, though reluctant to publish 'Miguel Street', encouraged him to write another book.

He quickly wrote a novel, 'The Mystic Masseur' which was accepted by André Deutsch for publication and Naipaul was paid £125 for it. Published in 1957, the novel tells the tale of an impoverished writer who aspires to become a successful politician.

He wrote a travelogue, 'An Area of Darkness' in 1964 in which he described his trip through India in the early sixties. It was the first of his acclaimed Indian trilogy which includes 'India: A Wounded Civilization' and 'India: A Million Mutinies Now'.

The year 1979 saw the release of his highly acclaimed novel, 'A Bend in the River'. The book is narrated by an ethnically Indian Muslim shopkeeper in an unnamed African country. The novel received critical reviews and was shortlisted for the Booker Prize.

Much renowned for his fictions and novels, Naipaul was also famous for his works of non-fiction which include 'Finding the Centre: Two Narratives' (1984), 'A Turn in the South' (1989), 'India: A Million Mutinies Now' (1990), and 'Beyond Belief: Islamic Excursions among the Converted Peoples' (1998).

Continue Reading Below

Recommended Lists:

Recommended Lists:

Major Works

His novel 'In a Free State' (1971) is considered one of his masterpieces. The novel consists of three short stories set in three different countries, each exploring the concept of freedom and the price one has to pay for it.

His novel 'Half a Life' (2001), which tells the tale of a fictional character, Willie Somerset Chandran, the son of a Brahmin father and a Dalit mother, who immigrates to England and then Africa borrows considerably from Naipaul's own life as the son of immigrant Indians.

Recommended Lists:

Recommended Lists:

Awards & Achievements

In 1971 he won the coveted Man Booker Prize for his short story, 'In a Free State'.

In 1993 he was presented with the biennial British literary award, The David Cohen Prize for Literature.

V. S. Naipaul was awarded the Nobel Prize in Literature in 2001 "for having united perceptive narrative and incorruptible scrutiny in works that compel us to see the presence of suppressed histories".

Personal Life & Legacy

He met Patricia Ann Hale, a fellow student in Oxford at a college play in 1952. Their relationship was met with disapproval from the families of both yet they remained committed to each other. They got married in 1955 without the knowledge of their families and shared a happy marriage that lasted till Hale's death in 1996.

Thereafter, he got married to a Pakistani journalist Nadira Khannum Alvi Naipaul.

VS Naipaul died on August 11, 2018, at London. He was 85.

Translate Wiki

to Spanish, French, Hindi, Portuguese

Article Title

- V. S. Naipaul Biography

Author

- Editors, TheFamousPeople.com

Website

- TheFamousPeople.com

URL

-

https://www.thefamouspeople.com/profiles/v-s-naipaul-5960.php

Last Updated

- August 12, 2018

---

---

---