Todd Rundgren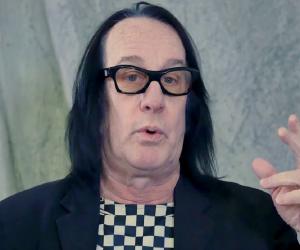 Quick Facts
Nationality: American
Famous: Pop Singers Rock Singers
Age: 70 Years, 70 Year Old Males
Sun Sign: Cancer
Also Known As: Todd Harry Rundgren
Born in: Upper Darby, Pennsylvania
Famous as: Singer
Height: 1.80 m
Family:
Spouse/Ex-: Michele Rundgren (m. 1998)
father: Harry Rundgren
mother: Ruth Rundgren
children: Randy Rundgren, Rebop Rundgren, Rex Rundgren
U.S. State: Pennsylvania
Continue Reading Below
Todd Harry Rundgren is an American singer, songwriter, and multi-instrumentalist who is well-known for developing a diverse range of musical styles, inspired by pop-rock, hard rock, baroque pop, classic rock and roll, Broadway musicals, R&B, and many other genres. He has formed several rock bands in which he performed as a multi-instrumentalist as well. This rock and roll maverick has tasted success with many of his albums. He is known for experimenting with music, starting with straightforward ballads and then departing totally from ballads to embrace progressive rock. When he realized that his initial albums were not technically sound and lacked professional engineering, he felt the need to learn audio engineering and production. Even though Rundgren was initially a teetotaler and refrained from using drugs of any kind, he eventually began using various mind-altering substances at the insistence of his friend in order to enhance his creativity. He is a pioneer not only in the field of electronic music, but also in music video production, computer software, and online music distribution. His career as a record producer has also been a successful one, and many singers have credited him for launching their careers.
Recommended Lists:
Recommended Lists:
Continue Reading Below
Childhood & Early Life
Todd Harry Rundgren was born on June 22, 1948, in Upper Darby, Pennsylvania, to Ruth Rundgren and Harry W. Rundgren. While his father was of Swedish and Austrian descent, his mother was a German.

He attended Upper Darby High School and graduated in 1966. He was quite mischievous during his high school days—he secretly produced a newspaper wherein he mocked his teachers, and was suspended several times for growing his hair long.

He did not pursue higher studies and instead moved to Philadelphia after his graduation to build a career in music.

Recommended Lists:

Recommended Lists:

Career

In Philadelphia, Todd Rundgren joined the blues-rock group called Woody's Truck Stop. However, he left the band even before it could release its first album.

He then formed his own garage rock group, called Nazz, in 1967. He authored the songs 'Open My Eyes' and 'Hello It's Me', which helped the band get some initial recognition. The later versions of both these songs would become even bigger hits.

Nazz's debut eponymous album was released in 1968, followed by 'Nazz Nazz' in 1969, and 'Nazz III' in 1971. However, Rundgren left the group even before the second and third albums were released. The album 'Nazz III' included most of Rundgren's unreleased songs.

Around this time, Rundgren realized he needed to educate himself in audio engineering and production. After leaving Nazz, he moved to New York and signed with Albert Grossman's company Bearsville Records. He performed as a solo artist and also produced videos for many other artists.

In 1970, Todd Rundgren formed a new band, which he named Runt. He wrote, produced, sang, and also played guitars, keyboards, and other instruments for this band. His first solo album 'Runt', which was released in 1970, had the popular song 'Baby Let's Swing', which was strongly influenced by singer Laura Nyro. The band's second album 'Runt: The Ballad of Todd Rundgren,' was released in 1971.

The band Runt was abandoned in 1972, and in the same year, Rundgren released the album 'Something/Anything?' Rundgren played all the instruments and sang most of the vocals in many of the songs in this album.

In 1973, he formed the rock band called Todd Rundgren's Utopia. In the initial three years, the group had a penchant for progressive rock. The members also played on Rundgren's solo albums.

Continue Reading Below

In 1976, he changed the name of the band to Utopia and mainly followed the rock and pop genres. The group was abandoned in 1986, but was briefly reunited in 1992. It once again came together in 2011 under the original name Todd Rundgren's Utopia.

His fourth album, 'A Wizard, a True Star', released in 1973, had a different kind of music which departed from the musical styles in the previous albums. While his previous album 'Something/Anything?' contained ballads, 'A Wizard, a True Star' had a unique idiosyncratic sound, which he credited to his encounter with psychedelic drugs.

In February 1974, he released his fifth album 'Todd', which was also his second double album. He continued his musical experiments with this album as well. He particularly experimented with the synthesizer and how it textured rock music.

His next solo album 'Initiation' was released in 1975. Inclined towards a progressive rock and jazz fusion, it featured cosmic themes. In this album too, he used the synthesized progressive rock sound in more depth.

He released several other albums in the ensuing decades. In 2000, he released his album, 'One Long Year'. It was composed of recordings that were released only to the subscribers to his online Patronet facility. He promoted the album by performing 'I Hate My Frickin' I.S.P.' with Conan O'Brien at an event.

In 2004, he launched his first rock album after more than a decade. Titled 'Liars,' it was a concept record. For a long time, he had been experimenting with new multimedia technologies and new categories of music. Finally, for this album, once again he embraced the eclectic pop music, which had first made him famous. His fans and critics had given him rave reviews for returning to his signature music after a long period of time.

After a brief sojourn, he put out a solo album 'Arena' in 2008. Like many of his earlier albums, it was completely his solo work. He has always tried new technologies, and he produced the album on an Apple laptop—he composed music with Propellerhead's Reason software and recorded with Sonoma Wire Works' RiffWorks.

Continue Reading Below

In April 2011, he released the album 'Todd Rundgren's Johnson', which was a collection of blues musician Robert Johnson covers. It was his tribute to the great musician on his 100th birthday. Although he had recorded the songs in 2010, he released the album a year later. Rundgren played all the instruments except bass, which was played by his long-time friend Kasim Sulton.

He released his album 'State', a solo album, in April 2013. He wrote, performed, and produced most of the songs himself. He added one song 'Something From Nothing' by Rachel Haden on the limited edition of the album.

He released a solo album 'Global' in April 2015; it was a fusion of classic rock, soul, and contemporary dance music. He went on a US tour for two months to promote it. He received mixed response from critics for his studio album 'White Knight', released in 2017, in collaboration with other singers and songwriters like Trent Reznor, Robyn, and Daryl Hall.

Recommended Lists:

Recommended Lists:

Major Works

Todd Rundgren's third album 'Something/Anything?' was his first double album which he recorded and produced single-handedly. The album reached number 29 on the Billboard 200, and was certified gold. The song 'I Saw the Light' and the remake of the Nazz hit song 'Hello It's Me' became particularly popular.

In 2003, 'Rolling Stone' magazine ranked 'Something/Anything?' at number 173 in their list of 500 greatest albums of all time. After this album, he deviated completely from pop ballads and started experimenting with progressive rock.

His fourth album, 'A Wizard, a True Star' was very different from his first three albums. It not only departed from his regular ballads, but also had a unique sound, which some critics described as being better suited for a cartoon soundtrack. However, it was critically applauded, reaching number 86 on the Billboard 200. It was included in the book '1001 Albums You Must Hear Before You Die'.

Recommended Lists:

Recommended Lists:

Personal Life

In 1972, Todd Rundgren began a relationship with model Bebe Buell. After their breakup, Buell had a brief relationship with Steven Tyler which resulted in the birth of a daughter, Liv Tyler, who later became a model and actress.

Buell initially claimed that Rundgren was the biological father of Liv. Even after their breakup, Rundgren remained committed to Liv. However, when Liv was eight years old, she came to know that Steven Tyler, and not Rundgren, was her biological father.

Rundgren had a relationship with Karen Darvin and together they have two sons—Rex, who was born in 1980, and Randy, who was born in 1985. Rex played minor league baseball for nine years.

In 1998, he married Michele Gray, who was a dancer with The Tubes. She had also performed with Rundgren, and had participated as a backup singer on the tour for his album 'Nearly Human'. They have a son, Rebop.

For several years Rundgren abstained from using drugs. However, in 1973, his long-time friend Randy Reed introduced him to cannabis in order to enhance his creativity. Since then, Rundgren has admitted to have tried various mind-altering substances like DMT, psilocybin mushrooms, peyote, etc. However, he claims that he has never taken LSD.

Rundgren and his fans founded the Spirit of Harmony Foundation in 2013. It encourages personal development and self-expression through music.

Translate Wiki

to Spanish, French, Hindi, Portuguese

Article Title

- Todd Rundgren Biography

Author

- Editors, TheFamousPeople.com

Website

- TheFamousPeople.com

URL

-

https://www.thefamouspeople.com/profiles/todd-rundgren-8357.php

Last Updated

- July 30, 2018

---

---

---