Travis Barker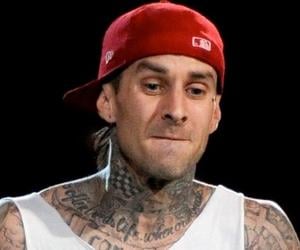 Quick Facts
Nick Name: The Aquabats—Baron Von Tito
Birthday: November 14, 1975
Nationality: American
Age: 43 Years, 43 Year Old Males
Sun Sign: Scorpio
Also Known As: Travis Landon Barker
Born in: Fontana, California
Famous as: Musician
Height: 5'9" (175 cm), 5'9" Males
Family:
Spouse/Ex-: Melissa Kennedy (m. 2001–2002), Shanna Moakler (m. 2004–2008)
father: Randy barker
mother: Gloria Barker
children: Alabama Luella Barker, Atiana de la Hoya, Landon Asher Barker
U.S. State: California
Founder/Co-Founder: Famous Stars and Straps
Continue Reading Below
Not everyone with the drum sticks in the hands can boast of playing the instrument like Travis Barker! Recognized as 'Punk's first superstar drummer' by Rolling Stone magazine, he is the immaculate drumming star of the era, who reaffirmed the status of the music of the drums. A prodigious child, Barker's association with the drums has been since he was four-years-old. As time passed, he only mastered the art and polished his skills to become at par with the world's best drummers. Barker's first outing as a drummer was for Feeble, a school band. The split of Feeble led him to explore more options. Eventually he found a place with The Aquabats. His career took a major turn when a chance inclusion as filler for Rayne in the band, Blink-182 proved to be the momentous occasion as he was soon roped in by the band. Record after record, the band gained much popularity as their songs became hit chartbusters. Apart from his association with the band, Barker has been a frequent performer and collaborator with hip-hop artists, the alternative rock band '+44', the rap rock group 'The Transplants', and the alternative rock band 'Box Car Racer'. In 2011, he even came out with a solo venture titled, 'Give the Drummer Some'. In addition to the drumming he also owns a clothing company and a records label.
Recommended Lists:
Recommended Lists:
Continue Reading Below
Childhood & Early Life
Travis Barker was born on November 14, 1975 to Randy and Gloria Barker in Fontana, California. While his father was a mechanic by profession, his mother babysat.

Young Barker got his hands on the drumsticks when he was four. No sooner, he started learning the drumming skills from the drummer Thomas Hogan, who exposed him to the different styles and rhythms.

Music apart, he was interested in surfing and skateboarding as well. However, deep inside, he found oneness with soul while playing the drums and thus continued to master himself in the same.

Academically, he gained preliminary education from Fontana High School. It was while at school that he joined the marching band and thus was exposed to regional competitions and festivals. In his last year at school, he toured with his first band, Feeble.

Continue Reading Below

Recommended Lists:

Recommended Lists:

Career

Graduating from high school, he worked as a trash man until he found a temporary place in the punk group, The Aquabats in 1994. Eventually, he was recruited full time by the band.

In 1997, he recorded his first album with The Aquabats titled, 'The Fury of the Aquabats!' It was during his tenure with the band that he earned the nickname Baron Von Tito.

He earned his first breakthrough in 1998 when he was recruited to fill-in on the drums for the punk rock group, Blink-182. Remarkably talented, his skill at playing the drums surfaced when he not only learned the drum tracks for 20 songs in 45 minutes but played the same with complete perfection and poise.

Tensions between Scott Raynor, the original drummer of the group, and DeLonge and Hoppus turned profitable for Barker as he comfortably replaced Raynor from the group. Blink-182 received a new high as DeLonge and Hoppus worked hard to play better music so as to match with the perfection of their new drummer.

Throughout 1998, he continued to play for Blink-182. During the year end, he filled in the place of Josh Freese for the band, The Vandals, as well.

Blink-182 received its first professional recording budget by MCA, following which, the trio sat for multiple sessions to complete writing and recording demos for the songs. He recorded the drum tracks at Chick Corea's Mad Hatter Studios in January 1999.

With Jerry Finn's assistance who helped polish the recordings and the sound, the trio released the album, 'Enema of the State' in June 1999. The album was an instant hit and catapulted the band to instant stardom.

Continue Reading Below

The album's three singles titled, 'What's My Age Again?', 'All The Small Things' and 'Adam's Song' were major blockbusters. The song, 'All The Small Things' became a number one hit on the Modern Rock Tracks and peaked at number 6 on the Billboard Hot 100 Chart.

It was after the full-throttle success of the album that the band ventured on its first tour in the fall of 1999. Same year, the band made a guest appearance in the movie 'American Pie'.

The newly found star status and money helped him rope in a lavish lifestyle for himself. Other than playing for the band, he opened up a retail store, and began offering drum lessons and set up a Guitar Center drum clinic.

The swarming popularity of the band saw them perform to packed audiences and sold out shows during their tours worldwide. Together, the trio created a stir in the rock music industry.

Following the overpowering success of 'Enema of the State', Blink-182 released their next venture, 'Take Off Your Pants and Jacket' in 2001. Much like its predecessor, the band met with immediate success and debuted at the number 1 position on the Billboard 200. Within three weeks, the album earned a triple platinum status

He then worked along with DeLonge, who in turn was working on a solo project that was not under the cap of Blink-182. The result was the record, Box Car Racer, which turned out to be a massive hit. It stirred tension between DeLonge and Hoppus. Hoppus who felt betrayed as he was not a part of the project.

Other than his involvement with Blink-182, he recorded tracks for Transplants, a rap/rock band. He also contributed to Dave Carlock's band, The Distillers and appeared in one of the videos of Puff Daddy, 'Bad Boy for Life'.

Continue Reading Below

In 2003, Blink-182 began to work on their next album. Interestingly, they let forgo the conventional recording process and instead turned a home into a studio. After months of working out, they released their fifth self-titled album, 'Blink-182'.

The singles from the album, 'Feeling This' and 'I Miss You' charted high on the Billboard. Though the band met with critical acclaim for their work, fans were disappointed at their mature stance.

In 2005, the band, Blink-182 finally broke up calling for an 'indefinite hiatus'. This was after the band could not come to a single decision regarding their future and recording sessions.

After the breaking up of the band, he was a part of the Transplants new record, 'Haunted Cities'. Thereafter, he collaborated with Hoppus recording music for their newly formed band, '+44'. The duo finally bought their studio titled, Opra Music and began recording in February 2006.

'+44' released its debut album titled, 'When Your Heart Stops Beating'. The album was a moderate success and received average critical and commercial success. Meanwhile, his personal life went through a bad phase as he got addicted to painkillers.

An terrible incident in September 2008 halted his life as he barely survived a plane crash. Following weeks of treatment and surgeries, he resumed to playing the drums by November 2008.

The ill-fated accident however had a positive result as DeLonge, Hoppus and Barker swished aside their differences to reunite. Blink-182 reappeared for the first time at the 2009 Grammy Awards.

Continue Reading Below

In 2011, the reunited band came up with their sixth studio album, 'Neighborhoods'. The fate of the new album was much like its predecessors as it peaked at number two on the Billboard 200 charts and was commercially and critically well received.

Meanwhile, he came up with the much awaited and postponed solo debut, 'Give the Drummer Some' the same year. Apart from working on his solo projects and with Blink-182, he has collaborated with various other artists and bands.

Furthermore, musical aspirations apart, he has a clothing and accessory company, 'Famous Stars and Straps', his own recording company, 'LaSalle Records' and a restaurant in California, 'Wahoo's Fish Taco'. He collaborated with Rob Dyrdek to own the clothing label named 'Rogue Status' and 'DTA'. Additionally, he also has his own line of drumming products, sponsored by Zildjian

Recommended Lists:

Recommended Lists:

Major Works

'Enema of the State' released by Blink 182 in June 1999 became a major hit and catapulted the status of the band to become the biggest pop punk band of the era. The three singles released were major commercial blockbusters. The band went on to receive multiple awards for the singles. The album sold over 15 million copies worldwide and had a considerable effect on pop punk music thereafter.

Personal Life & Legacy

He twice married in his lifetime. The first was to Melissa Kennedy, which lasted for a mere nine months. He then married actress Shanna Moakler, with whom he fathered two children.

Despite several attempts of rekindling their marriage, their divorce was finalized on February 11, 2008.

It was after the tragic and fortuitous plane crash that he experienced a 360 degree turn in his life. He turned to be a complete vegan and overcame the painkiller addiction from which he suffered prior to the accident.

Trivia

This famous American musician and drummer of the Blink-182 fame has a fear of flying. What's worse, he is one of the two survivors of a plane crash in 2008, which only worsened his phobia to flying.

Translate Wiki

to Spanish, French, Hindi, Portuguese

Article Title

- Travis Barker Biography

Author

- Editors, TheFamousPeople.com

Website

- TheFamousPeople.com

URL

-

https://www.thefamouspeople.com/profiles/travis-barker-5190.php

Last Updated

- September 25, 2017

---

---

---