R. D. Laing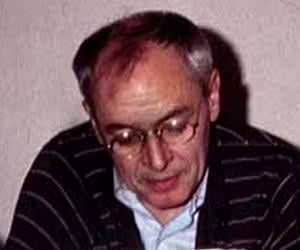 Quick Facts
Famous: Writers Psychiatrists
Died At Age: 61
Sun Sign: Libra
Also Known As: Ronald David Laing
Born Country: Scotland
Born in: Govanhill
Famous as: Psychiatrist
Family:
Spouse/Ex-: Anne Laing, Jutta Werner
father: David Park MacNair Laing
mother: Amelia Glen Laing
children: Adam Laing, Adrian C. Laing, Susan Laing
place of death: Saint-Tropez
Diseases & Disabilities: Depression
Founder/Co-Founder: UK charity the Philadelphia Association
More Facts
education: Sir John Neilson Cuthbertson Public School, Hutchesons' Grammar School, University of Glasgow
Continue Reading Below
Ronald David Laing was a Scottish psychiatrist born in Glasgow. He was an exceptional analyst who worked extensively on a number of mental illnesses like psychosis and schizophrenia. He blazed his own unique trial in the field of psychiatry and based his diagnosis and treatment on the feelings expressed by his patients. This was a truly unique approach, since in his times; such patients were treated only with drugs and other traditional remedies like electroshock or electroconvulsive therapy and insulin coma therapy. This famous therapist always opined that the treatment of mentally ill patients must be based on interpersonal therapy. He said the patient must be allowed to speak freely to the analyst, and the latter must spend time talking to the one affected; all in a social setting. A student of medicine, he also mastered Greek and Latin while in school. He also studied the classics thoroughly and was adept even at music. Besides being a psychiatrist, Laing was also attracted towards philosophy. During his early years, he studied the works of illustrious philosophers such as Marx, Nietzsche, Freud and Kierkegaard. This extraordinary personality had a tumultuous personal life though.
Recommended Lists:
Recommended Lists:
Continue Reading Below
Childhood & Early Life
Ronald David Laing was the only son of David Park McNair Laing and Amelia Glen Laing (n�e Kirkwood).

In 1932, he began his primary education at Sir John Neilson Cuthbertson Public School, in Glasgow, the place of his birth.

From 1936 to 1945, he studied at Hutcheson's' Grammar School, where he excelled in academics.

From 1945 to 1951, he went to the University of Glasgow to study medicine. Here, he became an important member of the university's Mountaineering Club and the Debating Club.

Recommended Lists:

Recommended Lists:

Career

From 1951 to 1953, he served the Royal Army Medical Corps as an officer. He was initially sent to the British Army Psychiatric Unit, Netley, near Southampton, before being posted to the Military Hospital at Catterick, Yorkshire.

In 1953, he left the army and completed his psychiatric training at the Gartnavel Royal Mental Hospital in Glasgow, where he became the 'youngest consultant' in Scotland.

While working at Gartnavel Royal Mental Hospital, he set up the "Rumpus Room". In this setting, both the staff and schizophrenic patients wore normal clothes, and were made to spend time in a comfortable atmosphere. They were allowed to get involved in normal activities like cooking and art, so that they could respond to the staff in a social environment. As a result, the analyst noted significant improvements in their behavior.

On the January 1, 1956, Laing qualified as a psychiatrist, and started working on his renowned book, 'The Divided Self', which was published in 1960.

Subsequently, he joined the Tavistock Clinic in London as senior registrar and studied the families of schizophrenics. This research formed the basis for the book 'Sanity, Madness and the Family', published in 1964.

He was the co-founder and chairman of the UK charity, the Philadelphia Association, in 1965. He collaborated with Aaron Esterton, David Cooper and other people to open the Kingsley Hall project. The distinctive feature of this experimental community was that schizophrenics were given the time to work out of their psychoses, while treatments involving surgery, ECT and drugs were not resorted to. However, the project came to a close in 1970.

In March 1971, Laing travelled to Sri Lanka along with his family to understand the art of meditation from Buddhists. Then, they travelled to India where he learnt Sanskrit and met Govinda Lama, a guru of Timothy Leary and Richard Alpert.

Continue Reading Below

In February 1985, he published his autobiography, 'Wisdom, Madness and Folly'.In January 1988, he had to discontinue his practice as he was suffering from clinical depression and alcoholism.

Recommended Lists:

Recommended Lists:

Major Works

R. D. Laing published his famed book "The Divided Self' in 1960. Though the initial sales of the book were poor, it did receive encouraging reviews. It was reprinted in 1965 by Penguin Books, and this time, it became an instant bestseller.

In 1967, this brilliant psychiatrist came out with "The Politics of Experience and The Bird of Paradise" which was rated as his most 'commercially successful book'.

Recommended Lists:

Recommended Lists:

Personal Life & Legacy

R. D. Laing, also known as 'Ronnie', was the father of ten children through his relationships with four women. He had six sons and four daughters in all.

The celebrated psychiatrist suffered a heart attack while playing tennis in France.

Trivia

This Scottish psychiatrist and analyst of 'The Divided Self' fame, made an astonishing claim that he remembered his moment of birth.

Translate Wiki

to Spanish, French, Hindi, Portuguese

Article Title

- R. D. Laing Biography

Author

- Editors, TheFamousPeople.com

Website

- TheFamousPeople.com

URL

-

https://www.thefamouspeople.com/profiles/ronald-david-laing-2606.php

Last Updated

- October 31, 2017

---

---

---