Paul Volcker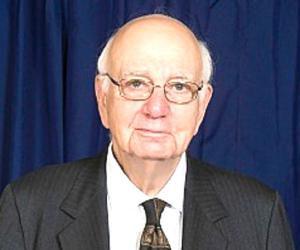 Quick Facts
Birthday: September 5, 1927
Nationality: American
Famous: Economists American Men
Age: 92 Years, 92 Year Old Males
Sun Sign: Virgo
Also Known As: Paul Adolph Volcker Jr.
Born Country: United States
Born in: Cape May, New Jersey, United States
Famous as: Former Chair of the Federal Reserve
Height: 6'7" (201 cm), 6'7" Males
Family:
Spouse/Ex-: Anke Dening (m. 2010), Barbara Marie Bahnson (m. 1954–1998)
father: Paul Adolph Volcker
mother: Alma Louise Volcker
children: James Volcker, Janice Volcker
U.S. State: New Jersey
More Facts
education: Princeton University (BA), Harvard University (MA), London School of Economics
awards: Arthur S. Flemming Award
Continue Reading Below
Paul A Volcker is an American economist who served as the chairman of the 'Board of Governors of the Federal Reserve System' from 1979 to 1987. He introduced several measures that brought down the high inflation rate to moderate levels. He has served under several presidents, including John F Kennedy, Richard Nixon, Jimmy Carter, Ronald Reagan, and Barack Obama in various capacities. Many international organizations, such as the 'United Nations' and the 'Trilateral Commission' have utilized his expertise in the field of economics. He has rendered his services to numerous non-profit organizations working towards effective governance, better management of government funds, and budget. He is the founder of 'The Volcker Alliance,' a non-profit organization that works towards solving matters that concern the citizens.
Recommended Lists:
Recommended Lists:
Continue Reading Below
Childhood & Early Life
Volcker was born on September 5, 1927, in Cape May, New Jersey. He is the son of Alma Louise (née Klippel) and Paul Adolph Volcker. He is of German descent. He was raised in Teaneck, New Jersey.

In his childhood, he regularly attended Lutheran church along with his mother. In 1945, he graduated from 'Teaneck High School.' From a very young age, he was interested in politics.

Volcker graduated with flying colors from 'Princeton Univesity's Woodrow Wilson School of Public and International Affairs' in 1949. His dissertation in the senior year was critical of policies adopted by the 'Federal Reserve' after World War II that failed to tackle the rising inflation.

He earned an M.A. in political economy from 'Harvard University's Graduate School of Arts and Sciences and Graduate School of Public Administration' in 1951. During his graduation and post-graduation courses, he did summer jobs at the 'Federal Reserve Bank of New York.' As a Rotary Foundation Ambassadorial Fellow, he went to the 'London School of Economics' from 1951 to 1952 on Rotary Ambassadorial Scholarship.

Recommended Lists:

Recommended Lists:

Career

He returned from London and started working with the 'Federal Reserve Bank of New York' as a full-time economist from 1952 to 1957. He quit this job and landed the role of the financial economist with the 'Chase Manhattan Bank.'

In 1962, he was hired for the position of director of financial analysis with the 'Treasury Department' and became the deputy under secretary for monetary affairs. 'Chase Manhattan Bank' welcomed him back as vice-president and director of planning in 1965.

During Nixon's tenure, he was appointed as the Under Secretary of the 'Treasury' for international monetary affairs from 1969 to 1974. In this period, he was instrumental in Nixon's decision-making process to suspend the gold convertibility of the dollar on August 15, 1971, which brought the end of the Bretton Woods System. He treats this as the most significant highlight of his career. Courtesy, the position of Under Secretary, he was the member of boards of Overseas Private Investment Corporation and Fannie Mae (Officially, Federal National Mortgage Association)

After his tenure as the under secretary, he served for a year as a senior fellow at 'Princeton's Woodrow Wilson School.' He returned to the 'Federal Reserve Bank of New York' in 1975 as its President. He relinquished this post after he became the 'Chair of the Board of Governors of the Federal Reserve System' in 1979 and served in this positing for two terms ending in 1987.

As the Fed Chair, his monetary policies brought down inflation drastically, for which he has been highly appreciated. On the flip side of the reforms, it led to the recession of the early 80s, the worst that the U.S. faced after the Great Depression. The hike in the federal funds rate led to an increase in prime rates, which resulted in a contraction of the manufacturing, farming, and construction sectors. Eventually, the unemployment rate shot up and created a lot of unrest leading to protests and stirs against the government.

Although by 1983 the overall economy recovered, labor-intensive industries such as farming, mining, manufacturing, and construction were yet to gain momentum. The 'Federal Reserve's' stand and Reagan administration's generous moves tax cuts and resulted in federal budget deficits. This situation was overcome in 1986 when the 'Federal Reserve,' helmed by Volcker and Reagan's office proposed the Plaza Accord and signed with major economies such as Japan, France, West Germany, and the United Kingdom.

While serving as Fed Chair, he was bestowed with 'U.S. Senator John Heinz Award for Greatest Public Service by an Elected or Appointed Official,' an annual award given by 'Jefferson Awards.'

Continue Reading Below

As he was not appointed for the third term as 'Fed Chair,' he moved on to become the chairman of 'Wolfensohn & Co.,' a well-known investment bank in New York.

He also has chaired a lot of other committees like 'Group of 30,' a consultative group on international economic and monetary affairs, 'Independent Committee of Eminent Persons,' also called 'Volcker Commission,' which looked into dormant Swiss accounts of Jewish victims of Holocaust, 'International Financial Reporting Standards,' the not-for-profit wing of International Accounting Standards Board (later called IFRS), 'International House - New York,' also known as 'I-House,' a non-profit boarding and learning centre for graduate students, research scholars, trainees, and interns, 'Trilateral Commission,' a non-governmental forum of industrialised countries to promote free enterprise, democratic government, rule of law, and freedom of speech, 'Economic Recovery Advisory Board,' under Obama, and 'National Commission on the Public Service.'

In the wake of the Enron scandal, he was hired by its audit firm 'Arthur AndersEn' in February 2002 to reform the organization and regain the trust of the stakeholders.

In 2004, the United Nations General Secretary, Kofi Annan, appointed him the head of the 'Independent Inquiry Committee,' also called the 'Paul Volcker Committee,' to investigate the malpractices of Oil-for-Food program. This scheme was originally designed to help Iraq but later became a scam on a global scale.

He was also honorary chairman of the 'National Committee on American Foreign Policy' and 'World Justice Project,' an international civil society organization founded in 2006.

As a result of chairing the 'President's Economic Recovery and Advisory Board,' the section 619 of the Dodd-Frank Wall Street Reform Act of 2010 was named Volcker Rule. The purpose of the rule is to regulate the banks in the United States.

He serves on the board of directors of 'Committee for a Responsible Federal Budget,' a non-profit public policy organization.

Continue Reading Below

By founding 'The Volcker Alliance,' in 2013, a non-profit organization, he is on a mission to influence the government and implement policies and projects that concern the citizens.

He has recorded his life's learnings and observations in books such as 'Good Intentions Corrupted,' 'Changing Fortunes,' and 'Keeping At It.' Also, a lot of works have been published based on him including, 'Volcker: The Triumph of Persistence,' 'Paul Volcker: The Making of a Financial Legend,' 'The Volcker Rule: A Complete Guide to the Final Rule.'

Not only has received honorary degrees from his alma maters but also other reputed universities, such as 'University of Notre Dame' 'Princeton University,' 'Dartmouth College,' 'New York University,' and 'Brown University,' etc.

Family & Personal Life

Volcker's father was the first municipal manager of Teaneck. He served in this capacity for two decades and played a vital role in the economic growth and efficient governance of the town.

He has three sisters: Ruth, Louise, and Virginia.

He was married to Barbara Marie Bahnson on September 11, 1954, and were together for nearly 44 years until her death. They had a daughter, Janice, and a son, James, and four grandchildren.

He is an avid fly fisherman and even took his wife on a flyfishing trip for their honeymoon, which he regrets.

Ten years after the death of his wife, he got engaged to Anke Dening, a long-time assistant, and got married to her in 2010.

Trivia

Due to Volcker's height of 6 feet 7 inches (2.01 m), he is also called "Tall Paul."

He is politically affiliated to 'Democratic Party.'

He has appeared in 'Inside Job,' a documentary movie by Charles Ferguson.

Translate Wiki

to Spanish, French, Hindi, Portuguese

Article Title

- Paul Volcker Biography

Author

- Editors, TheFamousPeople.com

Website

- TheFamousPeople.com

URL

-

https://www.thefamouspeople.com/profiles/paul-volcker-10285.php

Last Updated

- November 08, 2019

---

---

---