Nikol Pashinyan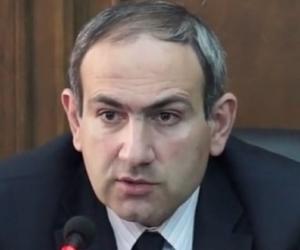 Quick Facts
Nationality: Armenian
Famous: Journalists Prime Ministers
Age: 43 Years, 43 Year Old Males
Sun Sign: Gemini
Also Known As: Nikol Vovayi Pashinyan
Born in: Ijevan
Famous as: Prime Minister of Armenia
Height: 1.78 m
political ideology: Armenian National Congress (2008–2013), Civil Contract (2013–), Impeachment Union (2007)
Family:
Spouse/Ex-: Anna Hakobyan
Continue Reading Below
Nikol Pashinyan is a former Armenian journalist and editor who led a successful political movement against the Serzh Sargsyan government and became the 20th Prime Minister of the Republic of Armenia on May 8, 2018. He had previously founded the Armenian-language political daily newspaper, 'Haykakan Zhamanak'. It was the spiritual successor of 'Blog' daily, which he previously worked for, but was shut down by the authorities. He served as the chief editor of his daily for a longtime, and later gave up the post after being elected an MP. The independent newspaper, which boasts of providing free, objective and timely information on the events in Armenia's social and political life, became known as the country's most fearless news outlet, gaining immense public support. Through the newspaper, he regularly expressed his highly critical views of the governments of Robert Kocharyan and Serzh Sargsyan. He was one of the leading figures during the March 1, 2008 protests, following which he had to stay underground for 16 months before surrendering and being jailed for almost two years. According to his former classmates, Pashinyan had been energetic and righteous since his student years, and had an appreciation for troublemaking.
Recommended Lists:
Recommended Lists:
Continue Reading Below
Childhood & Early Life
Nikol Pashinyan was born on June 1st, 1975 in Ijevan, Armenian SSR, Soviet Union. In the early 1990s, he moved to the capital, Yerevan, to study journalism.

A bright student, he got straight A's in his class, but was unable to finish his studies after the authorities expelled him for missing classes. His classmates later revealed to news outlets that the actual reason why he was kicked out was that he brought up corruption allegations against superiors in an article published in a newspaper.

Recommended Lists:

Recommended Lists:

Career

In 1994, Nikol Pashinyan began his career as a journalist, working for several daily newspapers like 'Newspaper Day' and 'Molorak' ('Planet'), and worked as the Chief Editor of the 'Oragir' ('Diary'/'Blog') daily between 1998 and 1999. After 'Blog' was closed by the authorities in 1999, Pashinyan, with his own efforts, established the new daily newspaper, 'Haykakan Zhamanak', which is seen as a logical continuation of the 'Blog' daily.

He remained the chief editor of 'Haykakan Zhamanak' till the Armenian presidential election protest of March 1, 2008, following which he went into hiding, giving the post to Anna Hakobyan. After his release from prison, he briefly served as the chief editor in 2011 before leaving the post due to being elected as MP in May 2012.

He was politically aligned with Armenia's first president, Levon Ter-Petrosyan, who served his term from 1991 to 1998, and supported him when he decided to run during the February 2008 presidential elections. After Ter-Petrosyan lost to Republican Party chairman Serzh Sargsyan in a disputed vote, he led a series of mass protests against voting fraud.

The Armenian security forces violently dispersed the protesters, attacking them with guns and grenades while they were sleeping, according to witnesses, and claimed that they were thwarting an attempted coup. The death of 10 people during the handling of the protesters by the security forces caused Pashinyan to call for a proper investigation into the deaths and appropriate punishment.

During a crackdown on the opposition, Ter-Petrosyan was captured at Freedom Square and put under house arrest, but Pashinyan was able to go into hiding and remain underground for several months. In a later interview to a state-run TV channel, he mentioned that it was "shameful" that the National Security Service could not locate him while he spent most of the time hiding in Yerevan.

After the authorities announced that the political prisoners detained during the March 1, 2008 protests will be offered general amnesty, he came out of hiding and surrendered himself to Armenian police on July 1st, 2009. However, he had to spend nearly two years in prison till the amnesty measure was passed by the National Assembly of Armenia, amidst continuous anti-government protests, in late May 2011.

On May 31, 2011, soon after his release, he took part in an Armenian National Congress rally hosted by amnestied ANC supporters. There he mentioned that snap elections were the only possible option for restoring Armenians' confidence in their government.

Continue Reading Below

Along with six other politicians and activists, he started a new political group called Civil Contract on December 9, 2013. The group sought to force Serzh Sargsyan to resign and Pashinyan confirmed that the group will take part in the upcoming parliamentary elections.

On April 22, 2018, Sargsyan issued a veiled threat to Pashinyan mentioning that he should have learned from the March 1, 2008 incident. The threat was interpreted as a confession of his involvement in the killings. According to opposition activist Mikayel Hovhannisyan, the president's ill-advised reference was like a rallying call even for people who had never been to a demonstration to come forward in support of the protesters.

Pashinyan, heading the 'Merzhir Serzhin' (or reject Serzh) campaign, staged a number of anti-government protests. It sparked a chain of protests and marches against Sargsyan's third consecutive term as the most powerful figure in the government of Armenia.

Serzh Sargsyan finally resigned on April 23, 2018 amidst rising opposition protests, and the government soon crumbled down. First, Deputy Prime Minister was appointed as the Acting Prime Minister, but within a couple days, Pashinyan's allies revealed his intention to become the interim Prime Minister as the candidate "chosen by the people".

His first attempt for the position was rejected in the parliament on May 1, 2018 as all representatives of the Republican Party, except for Feliks Tsolakyan, voted him down. However, on his second attempt on May 8, 2018, he gained the backing of the ruling Republican Party and won his premiership bid by 42 out of 59 votes.

Recommended Lists:

Recommended Lists:

Major Works

Nikol Pashinyan has led a successful political movement to overthrow Prime Minister Serzh Sargsyan, whose reign he had rejected as illegitimate. Despite constant harassments from the government, defamation lawsuits, and even an assassination attempt, the fearless and upright journalist went on to become the Prime Minister of the Republic of Armenia on May 8, 2018.

Personal Life & Legacy

Nikol Pashinyan is married to Anna Hakobyan, his colleague at 'Haykakan Zhamanak', whom he had first met while studying journalism. The couple have four children together, including son Ashot and daughters Arpi and Shushan.

During the time when Nikol was underground for 16 months, Anna had taken charge of the newspaper. She mentioned in a recent interview that a security services officer had moved into their apartment to check if he showed up.

Trivia

Nikol Pashinyan luckily survived from an accident that exploded his car parked just outside the 'Haykakan Zhamanak' office in downtown Yerevan on November 22, 2004, at 8:40 pm. While the police quickly closed investigations, reporting mechanical issues, Pashinyan claimed that it was an assassination attempt orchestrated by wealthy businessman, Gagik Tsarukyan, whom he had accused of illegally cutting trees to build a resort.

On the January 20, 2015 issue of his daily newspaper, 'Haykakan Zhamanak', he published black images instead of a photo, advertisement and crossword. He did this to mourn the death of 6-month-old Seryozha Avetisyan, the seventh victim of the mass murder of the Avetisyans family which had happened a week ago on January 12, 2015.

Translate Wiki

to Spanish, French, Hindi, Portuguese

Article Title

- Nikol Pashinyan Biography

Author

- Editors, TheFamousPeople.com

Website

- TheFamousPeople.com

URL

-

https://www.thefamouspeople.com/profiles/nikol-pashinyan-40776.php

Last Updated

- May 10, 2018

---

---

---