Mary I of England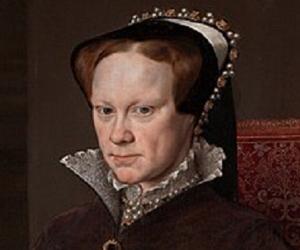 Quick Facts
Birthday: February 18, 1516
Nationality: British
Famous: Empresses & Queens British Women
Died At Age: 42
Sun Sign: Aquarius
Also Known As: Mary Tudor, Bloody Mary
Born in: Palace of Placentia
Famous as: Queen of England and Ireland
Family:
Died on: November 17, 1558
place of death: St James's Palace
Founder/Co-Founder: Queen Mary's Grammar School
Continue Reading Below
Mary I was the Queen of England and Ireland from 1553 until 1558. Daughter of King Henry VIII and Catherine of Aragon, she was the only child of the couple to survive past infancy. Inability to produce a male heir led King Henry to annul his marriage to Catherine, which in turn made Mary I the illegitimate child of the King. As such, she was removed from the court. A chain of events led to her succession after the death of her half-brother, Edward VI. In 1553, she was crowned as the Queen of England. After her appointment, Mary married Prince Philip in order to prevent her half-sister, Elizabeth from direct line of succession. However, the marriage was largely unpopular. During her reign, Mary established the Roman Catholic faith and brought about a strict Heresy law which persecuted people of the protestant faith. This mass persecution brought about much discontent amongst her subjects and gained her the nickname, 'Bloody Mary'. Adding to the woes was military losses in France, poor weather, and failed harvests during her reign. With no child of her own, Mary, upon her death, was succeeded by her sister Elizabeth as the Queen of England.
Recommended Lists:
Recommended Lists:
Continue Reading Below
Childhood & Early Life
Mary I was born to King Henry VIII and Queen Catherine of Aragon on February 18, 1516 at Palace of Placentia, Greenwich, London. Three days later, she was baptized as a Catholic. She was the only child of the couple to survive infancy.

Queen Catherine provided Mary much of her early education. The young girl was well versed in Latin, French, Spanish and Greek and proficient in music and dance.

In 1525 she was sent to Wales to preside over the Council of Wales and the Marches. She even received royal prerogatives reserved primarily for the Prince of Wales. Three years later, she returned to London.

The period of adolescence was tough for Mary as the rising conflict between her parents took a toll on her health. She suffered from constant stress and depression. Mary was unable to meet her mother who was sent away from court.

Recommended Lists:

Recommended Lists:

Accession & Reign

The inability of her mother to produce a male heir led to the separation of her parents. In 1533, her father, King Henry VIII married Anne Boleyn. With this marriage, the marriage of Catherine and King Henry VIII was declared void. Mary as such was deemed as the illegitimate child of King Henry VIII. From being Princess Mary she was known as 'The Lady Mary'.

Mary's refusal to accept Anne Boleyn as the Queen of England strained her relationship with her father as well. Her movements were restricted that caused her great discomfort. The personal turmoil further deteriorated her health which worsened in the days to follow.

In 1536, when Queen Anne was beheaded, Mary's half-sister Elizabeth was downgraded to the status of Lady as well. King Henry VIII's married his third wife, Jane Seymour. It was upon Seymour's request that the King reconciled with his daughters, Mary and Elizabeth. The two sisters resumed their place at the court and were granted household.

It was after Mary's acceptance into the court that a rebellion broke out in North England, led by Mary's former Chamberlain, Lord Hussey. Known as the Pilgrimage of Grace, the rebel campaigned for making Mary the legitimate heir of King Henry.

Following Queen Jane Seymour's death in 1537, Mary became the godmother to her half-brother, Edward. Meanwhile, King Henry married Anne and later Catherine Howard. In 1543, Henry married his sixth wife, Catherine Parr, who in turn brought Mary and Elizabeth to the line of succession through the introduction of the Act of Succession of 1544.

When King Henry died, Edward ascended the throne. During his reign, Protestantism prevailed. Religious differences crept in between Mary and her brother as she was a staunch Roman Catholic.

In 1553, King Edward VI died from lung infection. Fearing the restoration of Catholicism if Mary ascended the throne, Edward excluded both Mary and Elizabeth from the line of succession and instead named his cousin Lady Jane Grey as the Queen of England.

Continue Reading Below

Lady Jane Grey's rule as the Queen of England lasted for merely nine days. She was dethroned, following a swell in popular support for Mary. Following Grey's imprisonment, Mary ascended the British throne as the Queen of England on August 3, 1553

Upon being crowned as the Queen of England, Mary's first work was to find herself a suitable match and produce offsprings. This was basically to consolidate her religious reforms and avert her half-sister, Elizabeth from direct succession. After a lot of considerations, she finally betrothed Prince Philip of Spain, son of her uncle Holy Emperor Charles V.

Mary's decision to marry Philip invited lot of criticism and became a parliamentary topic for debate. After much discussion, conditions were imposed that limited Phillip's role in the royal matters. It was only upon fulfilment of the terms that the marriage between the two was guaranteed.

Following her enthronement, Mary carried out a number of reformations. She validated the marriage of her parents and abolished former King Edward's religious law. Furthermore, Church doctrine was restored to its original form.

It was under her rule that English Church returned to Roman jurisdiction. A strict Heresy Act was revived under which people of protestant faith were either executed by burning or exiled. Protestants were decaled as heretics. This built anti-Catholic and anti-Spanish feelings in the English people.

The marriage of Mary and Philip brought little benefit to the state. Philip spent most of his time on the Continent, away from England. Furthermore, England obtained no share in the Spanish monopolies in New World trade. Furthermore, an alliance with Spain directly resulted in England being dragged to military war with France.

In 1558, dissatisfaction amongst the English people rose when Calais, England's only remaining possession on the European mainland was taken over by the French forces. The annexation served as a big blow to Queen Mary's reputation and prestige.

During Mary's reign, instability in revenue and finances became dominant. Never-ending rain led to flood and famine. Additionally, there marked a decline in Antwerp cloth trade. Also, revenue generated from taxation, imports and dues were extremely low while spending was high.

Personal Life & Legacy

Ever since Mary's birth, King Henry VIII looked for potential future groom for her. Her marriage was proposed to a number of courtiers including Dauphin, Holy Roman Emperor Charles V, King Francis I, Henry Duke of Orleans and so on.

It was only after her accession to the British throne that marriage became a serious consideration for Mary, as she wanted to remove her sister Elizabeth from direct line of succession. As such, she betrothed Prince Philip of Spain, son of Holy Emperor Charles V.

Her decision to marry Philip was highly unpopular. Despite the negative response, she stuck to her decision and after much parliamentary debate and restrictions imposed, the two were allowed to marry. The marriage took place at Winchester Palace on July 25, 1554. The union did not produce any children.

In 1558, Queen Mary's health deteriorated. She died of influenza epidemic on November 17, 1558 at St James Palace. She was buried next to her mother at Westminster Abbey. Mary was succeeded by her half-sister, Queen Elizabeth.

Trivia

This Queen of England was popularly nicknamed Bloody Mary for her persecution of Protestants during the imposition of Heresy Act

Translate Wiki

to Spanish, French, Hindi, Portuguese

Article Title

- Mary I of England Biography

Author

- Editors, TheFamousPeople.com

Website

- TheFamousPeople.com

URL

-

https://www.thefamouspeople.com/profiles/mary-i-of-england-6456.php

Last Updated

- July 21, 2017

---

---

---