Martina Navratilova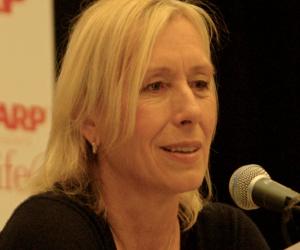 Quick Facts
Birthday: October 18, 1956
Nationality: American
Age: 62 Years, 62 Year Old Females
Sun Sign: Libra
Also Known As: Martina Navrátilová, Martina Šubertová
Born in: Prague, Czechoslovakia
Famous as: Former Tennis Champion
Height: 1.73 m
Family:
Spouse/Ex-: Judy Nelson, Julia Lemigova
father: Mirek Subert
mother: Jana Navratilova
siblings: Jana Navratilova
Continue Reading Below
Martina Navratilova is a former top-seeded Czech and American tennis player who remained virtually unchallenged during the 1970s and 80s. She was voted the greatest tennis player (female) by 'Tennis', a magazine devoted to the game, for an incredible 40 years, from 1965 to 2005. Navratilova took to tennis at a rather tender age of 4, when she bounced tennis balls against a concrete wall. By the time she was 7 she had become a regular at the courts, and later went on to become the uncrowned queen of the game. In addition to being an ace tennis player, she also dabbled in writing, and penned a series of works of fiction. The gay rights movement was dear to her heart, of which she was a vociferous supporter. Her parents parted ways when Martina was just three. Martina was probably destined to become an ace tennis player as it was in her genes. Her grandmother was an internationally recognized tennis player. Her stepfather Miroslav often accompanied her to the courts, and helped her work on her strokes.
Recommended Lists:
Recommended Lists:
Continue Reading Below
Childhood & Early Life
Martina Navratilova was born on October 18, 1956 in Prague, Czechoslovakia (the Czech Republic). Tennis ran in her blood as her mother too was an accomplished gymnast and a good tennis player.

Martina took tennis lessons from the Czech champion George Parma while she was just 9. Parma helped her refine her game and laid the foundations for a brilliant career in tennis.

Her first tennis coach was her stepfather Miroslav Navratil, to whose last name she added the suffix (feminine) 'nova'.

Her biological father Mirek, a professional ski-instructor committed suicide when she was just 9 and this left her devastated.

Martina has a sister named Jana and an older half-brother (Miroslav's son).

She won her first national level championship (Czechoslovakian) while she was just 15 years old.

Navratilova won her very first singles title as a professional in Orlando, Florida at the age of sixteen. She turned professional around this time.

Continue Reading Below

Recommended Lists:

Recommended Lists:

Career

Martina went on to win the national championship in her home country in 1973 when she was barely 15.

In order to get better exposure in the professional circuit, she left her homeland and defected to the U.S. She debuted as a professional tennis player in 1975 while she was still in her teens.

She reached the final of the Australian Open and the French Open but lost to Evonne Goolagoong and Chris Evert Lloyd respectively.

Navratilova won laurels in 1978 when she beat Chris Evert Lloyd at her first Grand Slam tournament at Wimbledon.

She went on to defend her Wimbledon title the next year as well by beating Lloyd.

The 1980s saw Martina Navratilova emerging as a dominant player in the women's tennis circuit.

In 1981 she won yet another Grand Glam (her third) during the Australian Open.

Continue Reading Below

The following year brought in twin delights in the form of the French Open and the Wimbledon crowns that Martina won effortlessly.

She lost just six matches during 1982-1984. She won 18 grand slam singles, 31 doubles and 10 Grand Slams in the mixed doubles category.

Of all her successes in the circuit, Wimbledon was probably the greatest, where she played 12 singles finals and won 9 titles.

In 2003 Navratilova won the mixed doubles at Wimbledon, and went on to repeat the feat by winning the U.S. open.

Recommended Lists:

Recommended Lists:

Awards & Achievements

She was declared female athlete of the decade collectively by the Associated Press, National Sports Review and United Press International.

She won the prestigious Flo Hyman Award instituted by the Women's Sports Foundation.

Continue Reading Below

She shattered Helen Wills Moody's record after winning her ninth Wimbledon singles championship.

Her contributions to tennis won her WTA's David Gray award in 1996.

She was declared the Team of the Year in 1977 at the WTA tour, along with Betty Stove, and Billie Jean King during 1978-79.

Martina became the Wimbledon champion during 1978-79, and went on to become the Australian Open champion in 1981.

She was in WTA Team of the Year yet again during 1981-89 along with Pam Shriver.

Women's Sports Foundation declared her sportswoman of the year consecutively from 1982 to 1984.

She won six Wimbledon championships in a row from 1982 to 1987.

Continue Reading Below

She was voted Female Athlete of the Year by Associated Press in 1983.

Martina won the French and U.S. Championships in 1984 and followed that up by winning the Australian Open Championship in 1985.

Recommended Lists:

Recommended Lists:

Personal Life & Legacy

In 1981, Martina Navratilova publicly admitted that she is a bisexual and lesbian. She also said that she was in a sexual relationship with Rita Mae Brown.

Between 1984 and 1991 Navratilova got into a long-term relationship with Judy Nelson whom she met in Fort Worth during a tournament.

She has co-written an instruction book on tennis along with Mary Carillo in 1982. She went on to pen her autobiography, which was co-written with George Vecsey, the then sports columnist at 'The New York Times'.

She is a gay activist and won the National Equality Award instituted by the Human Rights Campaign, the largest gay and lesbian group in the country.

Recommended Lists:

Recommended Lists: