Marquis de Lafayette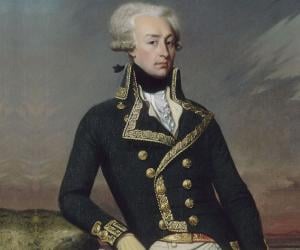 Quick Facts
Nick Name: The Hero of the Two Worlds
Birthday: September 6, 1757
Nationality: French
Famous: Military Leaders French Men
Died At Age: 76
Sun Sign: Virgo
Also Known As: Marie-Joseph Paul Yves Roch Gilbert du Motier de Lafayette, Marquis de Lafayett
Born in: Chavaniac, France
Famous as: French Aristocrat and Military Leader
Family:
Spouse/Ex-: Adrienne de Lafayette (m. 1774–1807)
father: Michel Louis Christophe Roch Gilbert du Motier
mother: Marie-Louise-Julie de la Riviere
children: Anastasie Lafayette, Georges Washington de La Fayette, Virginie Lafayette
place of death: Paris, France
Continue Reading Below
Marie-Joseph Paul Yves Roch Gilbert du Motier de La Fayette, Marquis de La Fayette, popularly known as 'Lafayette' in history, was a French aristocrat and a military officer. He fought in the American Revolution and was a leader of the Garde nationale during the time of French Revolution. After serving as a major-general in the Continental Army under George Washington, Lafayette returned back to France as a hero and proved to be the most important element in facilitating business and trade ties between America and France. He was against slave trade and believed in emancipation and liberation of all human beings, which was the issue that he addressed with the House of Delegates in the United States, for which he received much admiration. He was appointed commander-in-chief of the Garde nationale in response to growing violence in France during French Revolution and during Austrian attacks, he was captured by the Austrians but ultimately released after 5 years. During France's July Revolution of 1830, Lafayette refused the recommendation to become the French dictator - instead he supported Louis-Philippe's bid as a constitutional monarch. For his great services to both France and the United States, he is known as 'The Hero of the Two Worlds'. America honored him by naming many monuments and cities throughout the United States after him.
Recommended Lists:
Recommended Lists:
Childhood & Early Life
Lafayette was born at the chateau de Chavaniac, in Chavaniac, near Le Puy-en-Velay, in the modern department of Haute-Loire to Michel Louis Christophe Roch Gilbert Paulette du Motier, Marquis de La Fayette and Marie Louise Jolie de La Riviere.

His father was colonel of grenadiers and was killed in battle during the Seven Years War, and his mother and grandmother both died in 1770, and they left Lafayette a large inheritance.

He attended the College du Plessis (Lycee Louis-le-Grand) and in 1771, he started his training to become an officer at the Musketeers of military Household of King of France.

Continue Reading Below

Recommended Lists:

Recommended Lists:

Career

Lafayette was increasingly getting inspired to join the American Revolution after listening to various stories about it and finally in 1776, he arranged through an American agent in Paris, to enter the American service as a major general.

In 1777, he cruised to America, masquerading as a woman, even after he was threatened by the British government and was told that his ship will be seized and he would be imprisoned if he disobeys the orders.

The Continental Congress in America commissioned him as a major-general and George Washington accepted him as his aide-de-camp since making him a commander with control of a division was not possible as he was of foreign birth.

His first major warfare responsibility came with the Battle of Brandywine; he was shot in the leg. George Washington appealed to the doctors to take particular care of Lafayette, which made the bond between the two even stronger.

In 1778, he outmaneuvered the British army that was sent to incarcerate him at Bunker Hill, which was later renamed 'Lafayette Hill', and assembled an unsteady Continental attack at Monmouth Courthouse to force an impasse.

Lafayette returned to France in 1781 and was received at Versailles as a hero. He was made the marechal de camp and worked along with Thomas Jefferson to form trade ties between France and America.

He was againt the slave trade and on his return to America in 1784, he pressed the matter with the House of Delegates where he called for "liberty of all mankind" and advocated liberation.

King Louis XVI appointed Lafayette to the Assembly of Notables in 1786 to address the growing issue of France's fiscal crisis. Lafayette suggested lowering needless spending, especially buying of futile estates and gifts for courtiers.

Lafayette was made commander-in-chief of the National Guard of France - an armed force assembled to preserve order under the control of the Assembly in 1789. He led the National Guard army to Versailles after women marched there because of scarcity of bread.

Continue Reading Below

In 1790, Lafayette took the civic oath on the Champs de Mars, swearing to ''be ever faithful to the nation, to the law, and to the king; to support with our utmost power the constitution decreed by the National Assembly, and accepted by the king''

Lafayette had been responsible for the royal family's custody and when he nearly failed to do it in 1791 he was called a royalist and his stature continued to decline in the public eye after that.

Due to 'Flight to Varennes' and 'Champs de Mars Massacre', people's distrust in Lafayette continued to grow. He resigned from the National Guard and when he ran against Jerome Petion de Villeneuve in the mayoral election, he lost.

With the beginning of war against Austria and Prussia in 1792 Lafayette returned to the military life as commander of the army of the Ardennes. He was taken into custody and detained as a prisoner of war for next five years.

He was released in 1797, when Napoleon got hold of his discharge from the jail but he was still not permitted back into France. He returned back after a few years with military annuity and permission to live in Lagrange.

Lafayette was elected to the Legislative Chamber when Napoleon resigned in 1814 but after his return to the monarchy, Lafayette was made to hold the position as a leader of the opposition to Kings Louis XVIII and Charles X.

He visited America again in 1824, and the Congress rewarded him for his contribution in the American Revolution. He was called the 'Hero of Two Worlds' in France when he returned back.

Awards & Acheivements

On his trip to America in 1784, Lafayette was awarded with an honorary degree from Harvard, a portrait of Washington from the city of Boston, and a bust from the state of Virginia.

Continue Reading Below

As an honor for his contribution to the American Revolution he was made a natural born citizen of America.

Lafayette's whole life is an inspiration, a symbol of friendship between America and France, of a better world where rights and liberties are worth fighting for. His contribution in the American Revolution is his biggest work in life.

Personal Life & Legacy

Lafayette was married to 14 year old Marie Adrienne Fran�oise de Noailles, marquise de La Fayette, the daughter of Jean de Noailles, and Henriette Anne Louise d'Aguesseau.

Because both of them were very young at the time they got married, Adrienne's mother managed their courtship and kept them apart for a year. The couple had four children together: Henriette, Anastasie, Georges Washington and Virginie.

Lafayette died in Paris in 1834. He was buried next to his wife at the Picpus Cemetery and was given a military funeral in order to keep the public away. Crowds assembled together to protest their omission from Lafayette's funeral.

Trivia

Lafayette's wife's last words before dying were for Lafayette: ''Je suis toute � vous'' (''I am all yours'').

Lafayette was linked romantically to Madame de Simiane and the comtesse Aglae d'Hunolstein.

American President Andrew Jackson ordered that Lafayette be honored with the same funeral honors as John Adams and George Washington, which is why 24-gun salutes were fired from military posts and ships, each shot representing a U.S. state.

The U.S. government named Lafayette Park in his honor.

After the U.S. entered World War I, Colonel Charles E. Stanton visited the grave of Lafayette and uttered the famous phrase ''Lafayette, we are here.'' After the war, a U.S. flag was permanently placed at the grave site.

Lafayette was granted honorary United States citizenship by Congress in 2002.

Translate Wiki

to Spanish, French, Hindi, Portuguese

Article Title

- Marquis de Lafayette Biography

Author

- Editors, TheFamousPeople.com

Website

- TheFamousPeople.com

URL

-

https://www.thefamouspeople.com/profiles/marquis-de-lafayette-4969.php

Last Updated

- November 26, 2017

---

---

---