Marilyn Manson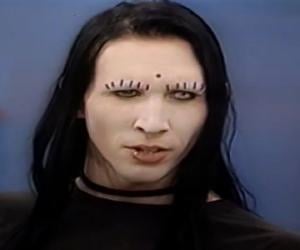 Quick Facts
Nationality: American
Age: 50 Years, 50 Year Old Males
Sun Sign: Capricorn
Born in: Canton, Ohio
Famous as: Musician, Songwriter, Actor
Height: 6'1" (185 cm), 6'1" Males
Family:
Spouse/Ex-: Dita Von Teese (m. 2005–2007)
father: Barbara Wyer
mother: Hugh Warner
U.S. State: Ohio
Personality: INFJ
More Facts
education: GlenOak High School, Heritage Christian School, Broward Community College
Continue Reading Below
The musician who shot to fame with his controversial yet super hit album 'Antichrist Superstar', Marilyn Manson is both highly popular and notorious among the masses. The singer known for his boldness and outrageous nature has earned as many detractors as his fans over the years with his politically incorrect lyrics and unconventional music. He had a difficult childhood as he was repeatedly molested by a neighbor. Growing up, he felt lonely and began to write poems and songs. For several years he struggled to make a living and in spite of being so talented, success evaded him. Eventually he got noticed and was able to launch his musical career. Born as Brian Hugh Warner, the American singer adopted the stage name "Marilyn Manson" when he began performing. From an early age he was eccentric and quirky. Even though his mother was religious, he harbored strong anti-Christian feelings which he expressed through his songs. His rebellious nature and refusal to adhere to religious norms endeared him to independent minded folks and irked the traditional ones. His weird dressing style added to his mystery and charm. He wore garish makeup and a stylized contact lens in one eye, with bright red lipstick lending him the creepy look that his fans love so much.
Recommended Lists:
Recommended Lists:
Continue Reading Below
Childhood & Early Life
He is the only son of Hugh Warner and Barbara Wyer. He is of mixed descent.As a young boy he was molested by a neighbor repeatedly and this caused him much trauma. He began writing poems and songs as a means of coping with his pain.

His parents sent him to the Heritage Christian School and he was also made to attend church regularly. This instilled in him an aversion for all things related to religion and he begged his parents to let him change his school. He then went to Glen Oak High School from where he graduated in 1987.

In 1990, he enrolled at the Broward Community College in Florida to study journalism. During this time he also began to write articles for a music magazine and started hanging out with other musicians.

Continue Reading Below

Recommended Lists:

Recommended Lists:

Career

Born as Brian Warner, he adopted the stage name 'Marilyn Manson' and formed the band Marilyn Manson & the Spooky Kids along with the guitarist Scott Putesky in 1989. The band name was later changed to Marilyn Manson.

After playing in clubs for four years the band finally got noticed by Trent Reznor in 1993 and he helped them release their debut album 'Portrait of an American Family' in 1994. It became a cult hit.

In 1995, the band released the Extended Play (EP) 'Smells Like Children'. The EP was full of songs related to drugs and childhood abuse. The controversial nature of the songs added to the band's appeal.

The year 1996 proved be a great one for the band. The release of the album 'Antichrist Superstar' catapulted the band, especially its frontman, to great fame. The album's anti-religion theme appealed to a lot to the rebellious youngsters who themselves were tired of religion.

He released the album 'Mechanical Animals' in 1998 as the second installment in a trilogy of which 'Antichrist Superstar' was the first one. The album reached the No. 1 spot in the US and was a critical as well as commercial success.

In 2000, he released the final album in the trilogy, 'Holy Wood (In the Shadow of the Valley of Death)'. The music was a combination of industrial and alternative metal styles. This album though much anticipated, failed to live up to the success of its predecessor.

The band brought out the Nazi themed album 'The Golden Age of Grotesque' in 2003. Like many of Marilyn Manson's albums, this one too sold well and went gold in Australia, France, Germany and the UK.

Continue Reading Below

The album 'The High End of Low ' was out in 2009. Debuting at No. 4 on the Billboard 200, the album spawned the hit singles 'I Want To Kill You Like They Do In the Movies' and 'Running to the Edge of the World'.

In 2012, the band released the album 'Born Villain' after a gap of three years. The album peaked at No. 10 on the Billboard 200 and was followed by the 'Hey Cruel World... Tour' to promote the album.

Along with his musical career Manson has also appeared in some movies. He usually plays minor supporting roles or appears in a cameo.

Recommended Lists:

Recommended Lists:

Major Works

He is best known for the album 'Antichrist Superstar' which was a rock opera concept album with controversial songs. The album went platinum in both the US and Canada and sold well in other countries also. It established Marilyn Manson's name as a highly popular rock star.

Recommended Lists:

Recommended Lists:

Awards & Achievements

He won the MTV Video Music Award for Best Cinematography in a Video for his music video 'The Dope Show' in 1999.

In 2000 he won the Metal Edge Readers' Choice Award for the Best Male Performer of the Year.

Personal Life & Legacy

He was once engaged to actress Rose McGowan though they eventually broke off.

He married Dita Von Teese in November 2005 after a four-year courtship. However the marriage did not last long and Dita filed for divorce the very next year citing Manson's alcoholism and infidelity as the reason for separation.

He was also romantically involved with Evan Rachel Wood and Lindsay Usich.

Trivia

This controversial rock star loves to paint in his free time and has even exhibited his paintings in a show called The Golden Age of Grotesque.

1. Lost Highway (1997)

(Mystery, Thriller)

2. Beat the Devil (2002)

(Adventure, Action, Comedy, Short)

---

3. The Heart Is Deceitful Above All Things (2004)

(Drama)

4. Party Monster (2003)

(Crime, Drama, Thriller, Biography)

---

---

5. Wrong Cops (2013)

(Comedy, Crime)

6. Jawbreaker (1999)

(Comedy, Crime, Thriller)

---

---

---

7. Rise (2007)

(Thriller, Action, Horror, Mystery)

Translate Wiki

to Spanish, French, Hindi, Portuguese

Article Title

- Marilyn Manson Biography

Author

- Editors, TheFamousPeople.com

Website

- TheFamousPeople.com

URL

-

https://www.thefamouspeople.com/profiles/marilyn-manson-2262.php

Last Updated

- July 24, 2017

---

---

---