Jules Dassin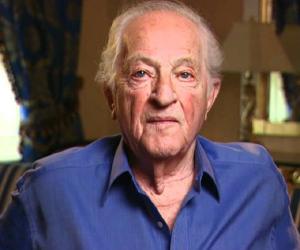 Quick Facts
Birthday: December 18, 1911
Nationality: American
Famous: Directors T V & Movie Producers
Died At Age: 96
Sun Sign: Sagittarius
Also Known As: Julius 'Jules' Dassin
Born in: Middletown, Connecticut, U.S.
Famous as: Film Director, Producer
Family:
Spouse/Ex-: Béatrice Launer (1937–1962; divorced), Melina Mercouri (1966–1994; her death)
father: Samuel Dassin
mother: Berthe Vogel
children: Dassin Richelle Dassin, Joseph Ira, Julie Dassin
place of death: Athens, Greece
U.S. State: Connecticut
Continue Reading Below
Jules Dassin was a distinguished American film director, actor, producer and screen writer who became a successful director in Europe after being blacklisted from Hollywood. His earlier association with the American 'Communist Party' saw him becoming a subject of Hollywood blacklist during the mid-20th century. Dassin had to leave the US in 1953 and by that time he had already become successful in carving a niche in Hollywood directing noir films like 'Thieves Highway', 'The Naked City', 'Brute Force' and 'Night and the City'. He moved to France and after struggling for a few years accepted to direct a low-budget film 'Rififi', which went on to become a huge success in France apart from garnering critical acclaim. The film fetched him the Best Director award at the 1955 'Cannes Film Festival' and also paved way for other opportunities. Some of his remarkable films followed including 'Never on Sunday', 'Topkapi', 'He Who Must Die' and 'La Legge', of which the last two were joint efforts with the Greek actress Melina Mercouri who starred in many of his films and later became his better-half. He also performed in many of his films. He directed 'Illya Darling', a Broadway musical. It was based on his film 'Never on Sunday' and starred Mercouri, who received a 'Tony Award' nomination for her performance. Dassin revived his career in Hollywood in the late 1960s with films like 'Uptight' and 'Promise at Dawn'.
Recommended Lists:
Recommended Lists:
Continue Reading Below
Childhood & Early Life
He was born on December 18, 1911, in Middletown, Connecticut, US, as Julius Samuel Dassin in the family of Russian-Jewish immigrants, Samuel Dassin and Berthe Vogel as one of their eight children. His father was a barber.

He was raised in Harlem and studied in the Bronx at the 'Morris High School' from where he completed his graduation in 1929.

For a while he went to Europe to take acting classes and later came back to New York. From 1934 to 1939 he remained an actor of the ARTEF Players (Arbeter Teater Farband) in New York, performing mostly in the plays of Sholom Aleichem playing character roles in Yiddish. However, he later switched from acting to writing and directing. He also penned down radio scripts for 'The Kate Smith Show'.

Dassin joined the American 'Communist Party' in the 1930s but left the party in 1939.

Recommended Lists:

Recommended Lists:

Career

He landed up in Hollywood in 1940 and for a while worked as an assistant director at RKO.

He made his directorial debut in 1941 with 'Metro-Goldwyn-Mayer' Studios Inc ('MGM'). He did several B-films for the studio including 'Nazi Agent' (1942), 'Reunion in France' (1942), 'Young Ideas' (1943), 'The Canterville Ghost' (1944), 'A Letter for Evie' (1945) and 'Two Smart People' (1946) among others.

Moving forward he left 'MGM' to join 'Universal Studios', one of the oldest and renowned film studios of Hollywood. There he turned his focus to more dramatic movies shifting from his earlier romantic comedies.

He directed the 1947 film noir 'Brute Force' that starred Burt Lancaster. This film marked the beginning of his working on a series of remarkable film noirs that he delivered during the post-war period. These included 'The Naked City' (1948) and 'Thieves' Highway' (1949). In no time he established himself as one of the leading filmmakers of America during that era.

Meanwhile in 1948 he was informed by American film producer and studio executive Darryl F. Zanuck that he would be a subject of Hollywood blacklist, however he had sufficient time to work on a film for '20th Century Fox'. Thus Dassin began his work on the film noir 'Night and the City', which was released in 1950. During the production of the film he was blacklisted in Hollywood which restricted him from entering the studio property for editing or for any other work on the film. However this ground-breaking film noir was highly acclaimed by the critics circle and was marked as one of his masterpieces in this genre.

The blacklisting posed a major career setback for Dassin who almost had no work for around next two years till Bette Davis inducted him to direct the Broadway musical revue 'Two's Company' in 1952.

In 1953 he finally left America and moved to Europe in France where initially he struggled due to his lack of fluency in French language and also because of very few connections.

Continue Reading Below

In order to sustain in a new country he agreed to direct the 1955 low-budget French crime film 'Rififi' starring Jean Servais, Carl Möhner and Robert Manuel. He himself performed as César le Milanais in the film. The most remarkable and memorable part of the film was the half-an-hour heist scene, which illustrated the crime part of the film in details without any music or dialogue. It is believed that this fictional crime has been imitated by actual criminals around the globe for committing such crimes.

'Rififi' earned praise from both the audience and the critics across France, the UK and the US. The film that saw a theatrical re-release in 2000 and 2015 and garnered praise from present day critics as well and is considered as one of the masterpieces in French film noir.

He met Greek actress Melina Mercouri at the 'Cannes Film Festival' in May 1955 with whom he did several films.

The 1964 heist film 'Topkaki' fetched him two 'Academy Award' nominations as director and screen-writer.

His other notable films included 'He Who Must Die' (1957), 'Never on Sunday' (1960), 'Phaedra' (1962), 'Uptight' (1968), 'Promise at Dawn' (1970) and 'A Dream of Passion' (1978).

Personal Life & Legacy

He married a Jewish-American violinist Béatrice Launer in 1937. The couple had three children, a son, Joseph Ira Dassin and two daughters, Richelle "Rickie" Dassin and Julie Dassin. Dassin divorced Béatrice in 1962.

Joseph Ira Dassin, more popular as Joe Dassin, was a well-known French singer of the 1960s and 1970s with hit numbers as 'Aux Champs-Èlysées', 'L'Eté Indien' and 'Bip Bip' to his credit. Richelle is a songwriter and Julie is an actress-cum-singer.

In 1966 he married Greek actress Melina Mercouri, who was ex-wife of Panos Harokopos. Dassin and Mercouri together had no children.

Dassin was regarded as a Philhellene and along with his wife Melina, who was a strict anti-fascist, he opposed the Greek military junta. Melina lost her Greek citizenship for this and the couple shifted to Manhattan.

The couple returned to Greece in 1974 after the end of dictatorship. Melina entered politics and eventually served as a Member of Parliament and also became a culture minister later, Dassin returned to the film world.

He advocated for the return of the Elgin Marbles to Athens and in this pursuit formed the 'Melina Mercouri Institution' in memory of his wife Melina, who died on March 6, 1994.

On March 31, 2008, he succumbed to complications caused due to flu attack at the Hygeia Hospital in Athens, Greece.

Translate Wiki

to Spanish, French, Hindi, Portuguese

Article Title

- Jules Dassin Biography

Author

- Editors, TheFamousPeople.com

Website

- TheFamousPeople.com

URL

-

https://www.thefamouspeople.com/profiles/jules-dassin-7716.php

Last Updated

- November 08, 2017

---

---

---