Juan Manuel Santos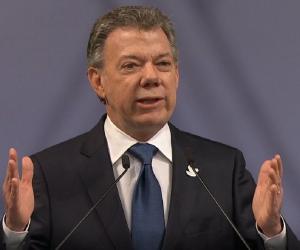 Quick Facts
Nationality: Colombian
Famous: Nobel Peace Prize Political Activists
Age: 68 Years, 68 Year Old Males
Sun Sign: Leo
Also Known As: Juan Manuel Santos Calderón
Born in: Bogotá
Famous as: President of Colombia
Height: 5'8" (173 cm), 5'8" Males
political ideology: Liberal Party (Before 2005)Social Party of National Unity (2005–present)
Family:
Spouse/Ex-: María Clemencia Rodríguez Múnera, Silvia Amaya Londoño
father: Enrique Santos Castillo
mother: Clemencia Calderón Nieto
siblings: Enrique Santos Calderón
children: Esteban Santos, María Antonia Santos, Martín Santos
Founder/Co-Founder: Social Party of National Unity
More Facts
education: 1973 - University of Kansas, 1975 - London School of Economics and Political Science, 1981 - John F. Kennedy School of Government, Harvard Business School, Tufts University
Continue Reading Below
Juan Manuel Santos is the current and 32nd President of Colombia. He was born to the rich and influential Santos family who had been the majority shareholders of the 'El Tiempo' newspaper from 1913 to 2007. He began his career in journalism at 'El Tiempo', but he always had an interest in politics. He embarked on a political career in the 1970's when he represented 'National Federation of Coffee Growers of Colombia' in London. He has also been extensively educated and received degrees from the University of Kansas, the London School of Economics and Political Science, and Harvard University. He also earned a couple fellowships. He returned to Colombia in 1981 and began working at the family newspaper. Ten years later, he was appointed to his first major political post, when he became Colombia's Minister of Foreign Trade. Somewhere around this time, he became interested in the 'Third Way', a political centrism that combines conservative free-market capitalism with liberal social policies. He served a number of different Presidents in different capacities until he was elected President himself in 2010. During much of his career, he has sought to stamp out terrorism, especially FARC, and bring prosperity to Columbia by promoting economic growth.
Recommended Lists:
Recommended Lists:
Continue Reading Below
Childhood & Early Life
Juan Manuel Santos is the third of four brothers; Enrique, Luis Fernando, and Felipe. His parents were Enrique Santos Castillo and Clemencia Calderón Nieto.

Santos spent most of his school years at the 'Colegio San Carlos' in Bogotá, which is a bilingual boy's school, that teaches the equivalent of first through twelfth grades. He graduated in 1969, from the 'Admiral Padilla Naval Cadet School', where he enrolled upon enlisting in the Colombian Navy.

In 1971, Santos left the navy with the rank of naval cadet NA-42 139. He then moved to the United States and went to the 'University of Kansas'. Two years later, he graduated with a Bachelors degree in Economics and Business Administration.

Moving to London after graduation, he joined the 'National Federation of Coffee Growers of Colombia' serving as a representative, at the organization's London headquarters. During his stay in the city, he spent two years at the 'London School of Economics and Political Science'. On graduation, he earned a Master's Degree in Economic Development, in 1975.

In 1981, he earned a Master of Public Administration degree from the 'JFK School of Government' at 'Harvard University'. He was also a Fulbright visiting fellow at 'Tufts University's' 'Fletcher School of Law and Diplomacy'.

Recommended Lists:

Recommended Lists:

Career

In 1981, he returned to Colombia and began working at 'El Tiempo', a national newspaper that his family had a controlling interest in, as a columnist and sub-director. Two years later, he became the director of the paper, and he kept that post for eight years. During that time, he was also a Nieman visting fellow at the Harvard Business School.

From 1991 to 1994, he served as Colombia's Minister of Foreign Trade during President César Gaviria Trujillo's administration. During his tenure, he supervised the proceedings of signing the free bi-lateral trade agreements with Mexico and Venezuela, a first for the country. He was also appointed President of the UNCTAD (United Nations Conference on Trade and Development) VII Conference.

In 1994, Santos founded the 'Good Government Foundation', which was intended to help and improve the Colombian government by making it more efficient and accountable.

He was also part of a negotiating team that tried to reach a peace agreement with FARC (Fuerzas Armadas Revolucionarias de Colombia) or Revolutionary Armed Forces of Colombia, a Marxist guerrilla group that has been active in the region for the past fifty years. A few years later, he was a leader of the 'Colombian Liberal Party'.

From 2000 to 2002, he served as the Minister of Finance and Public Credit, during the administration of President Andres Pastrana Arango.

In 2005, he founded the 'Social Party of National Unity'. The political party extended his support for Presidential candidate Álavaro Uribe.

In 2006, he served as the Minister of Defense during President Álavaro Uribe's administration, a post he held for the next three years. During this time, he increased the government's military campaign against FARC.

Continue Reading Below

In March 2008, he oversaw an air strike in Ecuador that killed FARC leader Raul Reyes and 25 of his followers, and angered Ecuador, which resented the Colombian intrusion into its airspace.

In July, 2008, he oversaw 'Operation Jaque' or 'Checkmate', a rescue operation of hostages that included the presidential candidate Íngrid Betancourt, eleven Colombian soldiers, and three American citizens. Although many hailed the operation as heroic, some criticized its use of the International Red Cross' emblems, since doing so violated the Geneva Conventions.

In May, 2009, he resigned from his position as Minister of Defense. He then began campaigning for his Presidential nomination.

In June, 2010, he was elected President of Colombia. He assumed duties after an inaugural ceremony held two months later. As President, he continued military attacks on FARC, but he also emphasized economic growth. Just months after his inauguration, the Colombia military killed FARC's military chief Mono Jojoy.

In August 2012, announced that the Colombian government had begun talks with FARC. In June 2014, he was re-elected as the President.

Major Works

His book, 'La Tercera vía: Una Alternativa para Colombia' (Third Way: An Alternative for Colombia), published in 1999, which he co-authored with Tony Blair, describes how politically centrist policies could benefit Colombia.

His autobiography, 'Jaque al Terror: Los años Horribles de las FARC' (Against Terror: The Horrible Years of the FARC), published in 2009, is an account of his struggles against FARC during his tenure as the Minister of Defense.

Awards & Achievements

The Latin American chapter of the 'World Jewish Congress', honored him with the 'Shalom Prize', for his efforts to establish peace in Colombia and worldwide. He was felicitated with the award in October, 2012.

Personal Life & Legacy

Santos married Silvia Amaya Londoño, a film director. They divorced three years later and had no children.

He married María Clemencia Rodríguez Múnera, in 1987. The couple first met when Santos was working with the 'El Tiempo' and they have three children, named Martín, María Antonia and Esteban.

Net Worth

As of February, 2015, Santos has a net worth of $215 million. He owes his fortune to a combination of stock investments and property holdings.

Trivia

Santos' full name is sometimes given as Juan Manuel Santos Calderón. In keeping with Spanish naming traditions, the first family name comes from his father, while the second come from his mother.

The famous politician owns a restaurant chain, the "Fat Santos Burger," and a football team called the Bogotá Angels.

Translate Wiki

to Spanish, French, Hindi, Portuguese

Article Title

- Juan Manuel Santos Biography

Author

- Editors, TheFamousPeople.com

Website

- TheFamousPeople.com

URL

-

https://www.thefamouspeople.com/profiles/juan-manuel-santos-5605.php

Last Updated

- October 02, 2017

---

---

---