Joy-Anna Duggar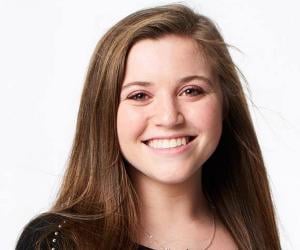 Quick Facts
Birthday: October 28, 1997
Nationality: American
Famous: Reality TV Personalities American Women
Age: 22 Years, 22 Year Old Females
Sun Sign: Scorpio
Also Known As: Joy-Anna Forsyth
Born in: Tontitown, Arkansas
Famous as: Reality TV Star
Height: 5'5" (165 cm), 5'5" Females
Family:
Spouse/Ex-: Austin Forsyth (m. 2017)
father: Jim Bob Duggar
mother: Michelle Duggar
siblings: James Duggar, Jana Duggar, Jason Duggar, Jedidiah Duggar, Jeremiah Duggar, Jessa Seewald, Jill Duggar Dillard, Jinger Duggar, John-David Duggar, Joseph Duggar, Josh Duggar, Josiah Duggar, Justin Duggar
children: Gideon Forsyth
U.S. State: Arkansas
Continue Reading Below
Joy-Anna Duggar is an American reality TV personality who shot to limelight with her family's reality show, '19 Kids and Counting'. Joy is the ninth child of Michelle and Jim Bob Duggar, who have 19 children in total. She is the fifth daughter of the couple, which has nine daughters and 10 sons. Joy first started appearing in the show in 2008 when it was titled, '14 Children and Pregnant Again'. However, the family expanded and the name of the show had to be changed. Joy is now married to Austin Martyn Forsyth and has a son with him. She currently stars in the family spin-off series, 'Jill & Jessa: Counting On,' which has been rechristened, 'Counting On'. The Duggars caught the public attention with their overwhelming family size of 21 members, including parents. Going against the trend, the senior Duggars chose not to use contraceptive and instead relied on God's blessings when it came to family planning. The decision eventually earned them a reality show on TLC that ran until it was scrapped in 2009 over sexual misconduct allegations. Interestingly, the names of all the Duggar children (including the non-surviving ones) start with the letter, 'J'. The show, which revolved around the daily life of the Duggars, debuted on September 2008, garnering around 2.3 million views per episode.
Recommended Lists:
Recommended Lists:
Rise to Stardom
You must be living under a rock if you haven't heard of the ever-expanding Duggar family. Joy-Anna Duggar is the ninth of 19 children born in the 'super-sized' family. She is famous for starring in TLC's reality shows, '19 Kids and Counting' and 'Jill & Jenna Counting On'. Interestingly, Joy first appeared in '19 Kids and Counting' when it was called, '14 Children and Pregnant Again'. Apart from being a well-known reality star, Joy also has quite a remarkable social media presence with her husband Austin. Their joint Instagram account currently has over 600k followers, while their YouTube channel also has a few thousand subscriptions.

'19 Kids and Counting' brought the Duggars immense fanfare and appreciation apart from, of course, more family members. While the show was airing, three children were born in the Duggar family, three got married, and four grandchildren were born. Although the entire series was extremely popular, the most viewed episodes were the ones in which the Duggars gave details of how they managed to do laundry, dishes, cooking, and other day-to-day activities for such a bustling household. The series became by far TLC's most popular show, averaging 2.3 million viewers per episode in Season 10; and featuring in Nielsen's 'Cable Top 25'.

Joy is playing a prominent role in the family's spin-off show, 'Counting On,' which has been running since 2015. Though Jim and Michelle may not have any more children of their own, their family's expansion isn't likely to stop anytime soon, thanks to the growing number of grandchildren. Four grandchildren were born in the Duggar household while '19 kids and counting' was still running; two more kids have been born ever since 'Counting On' started airing. Currently, there are a total of 12 grandchildren in the clan. Apart from featuring in reality TV series, the Duggars have also penned a few books on their family life, including 'The Duggars: 20 and Counting' and 'A Love That Multiplies' by Michelle Duggar and Jim Bob Duggar; and 'Growing Up Duggar: It's All About Relationships' by Jana Marie Duggar, Jessa Seewald, Jill Duggar Dillard, and Jinger Duggar.

Recommended Lists:

Recommended Lists:

Family & Personal Life

Joy-Anna Duggar was born on 28 October 1997 in Tontitown, Arkansas, United States to Jim Bob Duggar and Michelle Duggar. Interestingly, her parents used birth control pills in the early years of their marriage, and chose to wait before starting a family. In 1988, their first child Joshua was born. Michelle resumed the use of oral contraceptives, but she still conceived. She, however, underwent a miscarriage. Upon learning that contraceptive pills can sometimes allow conception, they decided to stop using birth control altogether. After that, Michelle gave birth 17 times (twice to twins) over a period of two decades. After Joy's birth, her parents did not have another child for seven years. Johannah, the next Duggar offspring, is seven years her junior. As a child, Joy loved riding tandem bikes with her brothers. All of the Duggar children have been home-schooled. Their access to entertainment such as movies and television was limited.

Joy first met her husband Austin Martyn Forsyth at a home-schooling conference when both of them were children. They started dating in November 2016 and got engaged four months later. On 26 May 2017, Joy and Austin exchanged vows and got married. Three months later, the couple announced that they were expecting their first child. On 23 February 2018, their son Gideon Martyn Forsyth was born.

Recommended Lists:

Recommended Lists:

Translate Wiki

to Spanish, French, Hindi, Portuguese

Article Title

- Joy-Anna Duggar Biography

Author

- Editors, TheFamousPeople.com

Website

- TheFamousPeople.com

URL

-

https://www.thefamouspeople.com/profiles/joy-anna-duggar-43489.php

Last Updated

- January 16, 2019

---

---

---