Josef Mengele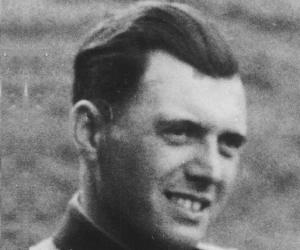 Quick Facts
Nick Name: Angel of Death, Todesengel
Nationality: German
Famous: War Criminals German Men
Died At Age: 67
Sun Sign: Pisces
Born in: Günzburg, Bavaria, Germany
Famous as: War Criminal
Family:
Spouse/Ex-: Irene Schoenbein, Martha Mengele
father: Karl Mengele
mother: Walburga Mengele
siblings: Alois Mengele, Karl Jr Mengele
children: Rolf Mengele
Died on: February 7, 1979
place of death: Bertioga
More Facts
education: 1935 - Ludwig Maximilian University of Munich, Goethe University Frankfurt
Continue Reading Below
Dr. Josef Mengele was a German SS doctor in charge of the medical team at the Auschwitz concentration camp where Jews were taken for extermination. He was nicknamed the 'Angel of Death' as he had tortured and killed thousands of men, women and children by subjecting them to horrible experiments using drugs, pressure chambers, blood transfusions, castrations, freezing chambers, lethal germs, sex change operations, removal of organs and surgeries without any anesthesia. He was very cruel to the children who arrived at the Auschwitz concentration camp and very few survived the horrors that were perpetuated on them. He specialized in twins aged from five and upwards and murdered them by dissecting them into pieces after the experiments were over. He injected chemicals into the eyes of the children in order to change the color of their eyes, stitched twins together, and removed organs and limbs by surgical procedures without using any anesthetic. Nobody arriving at the Auschwitz concentration could make out the evil that lay underneath the suave and polished appearance of this Nazi doctor. He was never arrested in spite of the efforts of the West German government, clandestine operations of Mossad and others and eluded capture for thirty-four years.
Recommended Lists:
Recommended Lists:
Continue Reading Below
Childhood & Early Life
Josef Mengele was born on March 16, 1911 in Gunzburg, near Ulm in Germany. His father, Karl Mengele, was a farming equipment manufacturer and his mother was Walburga Hupfauer.

He was the eldest among Karl's three sons. The other two were Karl and Alois.

He finished high school in April 1930 and went to study medicine at the Goethe University in Frankfurt.

He also studied philosophy at the University of Munich.

He earned his PhD in physical anthropology from the University of Munich in 1935

Recommended Lists:

Recommended Lists:

Career

Josef Mengele joined the 'Institute for Hereditary Biology and Racial Hygiene', Frankfurt, in January 1937 as an assistant to Dr. Otmar von Verschuer who was famous for his research on twins.

In 1937 he joined the Nazi Party. In 1938 he got his medical degree and joined the SS the same year.

He was drafted into the army in 1940 and volunteered to join the medical service of the Waffen-SS. During the summer of 1940 he became the medical expert for the RHSA or 'Rasse und Siedlungshauptamt' at their 'Central Immigration Office' situated in North East Posen.

Later he saw action on the Eastern Front while being a medical officer with the 'Wiking' Division of the SS Pioneer Battalion V.

He was wounded in battle and returned to Germany in January 1943 to join the 'Kaiser Wilhelm Institute for Anthrpology, Human Genetics and Eugenics'.

He was promoted to the rank of SS-Captain in April 1943.

He was transferred to Auschwitz on May 30, 1943 under garrison physician SS-Captain Dr. Eduard Wirths.

Continue Reading Below

He was given the responsibility of a medical officer looking after 'Gypsy camp' at Birkenau in the spring of 1943.

Several weeks after the liquidation of this camp, Mengele was appointed as the Chief Camp Physician of Auschwitz II or Birkenau in November 1943.

He was mainly responsible for selecting the persons who should be exterminated immediately in the gas chambers and the persons who should be allowed to live to work as laborers.

He had already been doing experiments on twins in the 1930s. At Auschwitz he got the free license to perform all sorts of horrible and agonizing experiments on the Jewish and Gypsy twins especially children which usually killed or maimed them for life.

Another of his pet experiments was on heterochromia where the color of irises in two eyes of a person differs from one another. He injected chemicals into the eyes to try change the color artificially.

He also conducted experiments on 'Noma' which is a type of gangrene that destroys the tissues and mucous membrane of the mouth.

He often forced the trained medical personnel available among the prisoners to do his dirty work. One example is Dr. Miklos Nyiszli who assisted Mengele under duress in his experiments. This person recounted his experiences at the camp in the book 'Auschwitz: A Doctor's Eyewitness Account' that was published in Hungarian language in 1946.

Continue Reading Below

Mengele had hoped to write a second post-doctoral thesis so that he could become a professor at some German university but ultimately failed to do so.

He fled from Auschwitz in January 17, 1945 shortly before the Soviet Army troops arrived at the camp.

He spent a few weeks at the Gross-Rosen concentration camp and then made his way westwards when this camp was also evacuated.

He was captured by American troops but was released by them as they did not know his identity as a war criminal.

He worked as a farmhand in Rosenheim, Bavaria from the summer of 1945 to the spring of 1949.

He migrated to South America with the help of his prosperous family and settled near Buenos Aires in Argentina.

The West German government issued an arrest warrant against him in 1959 and requested the government of Argentina to extradite him in 1960.

Continue Reading Below

He moved to Paraguay in 1959 and then to Brazil in 1960 after hearing the news that Adolf Eichmann had been arrested by the Isreali Intelligence Mossad the same year.

He lived near Sao Paolo for the rest of his life and drowned when he had a stroke while swimming at a resort in Bertioga, Brazil in 1979.

He was buried in a Sao Paolo suburb under the name of 'Wolfgang Gerhard'.

The German police tracked him down to his grave in 1985, exhumed the body and identified him after a forensic test.

A DNA test in 1992 confirmed that the exhumed corpse was indeed his.

Personal Life & Legacy

He got married to Irene Schönbein in 1939 and they separated in 1954.

He later got married to Martha Mengele (widow of his brother Karl) in 1958.

Josef Mengele died of a stroke while swimming on February 7, 1979.

Translate Wiki

to Spanish, French, Hindi, Portuguese

Article Title

- Josef Mengele Biography

Author

- Editors, TheFamousPeople.com

Website

- TheFamousPeople.com

URL

-

https://www.thefamouspeople.com/profiles/josef-mengele-7337.php

Last Updated

- July 26, 2017

---

---

---