Jean-Jacques Rousseau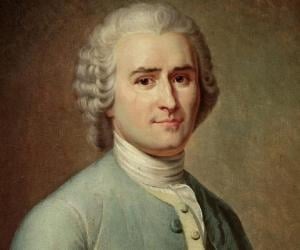 Quick Facts
Birthday: June 28, 1712
Famous: Writers Philosophers
Died At Age: 66
Sun Sign: Cancer
Born Country: Switzerland
Born in: Geneva
Famous as: Philosopher, Writer, & Composer
Family:
father: Isaac Rousseau
mother: Suzanne Bernard Rousseau
Died on: July 2, 1778
place of death: Ermenonville
Personality: INFP
City: Geneva, Switzerland
More Facts
education: Social contract theory, Romanticism
Continue Reading Below
Jean-Jacques Rousseau was a noted Swiss-born philosopher, writer and composer of the 18th Century Having lost his mother shortly after his birth, he was brought up by his father in an artisans' neighborhood up to the age of ten. After being abandoned by his father, he grew up under the care of his maternal uncle under humiliating conditions. At sixteen, a freak incident saw him move to Savoy, where he came in contact with the Baronnesse de Warens, under whose guidance he turned into a man of letters. Later he traveled to Paris and took up writing as his career option. Although he gained recognition both as a writer and composer by his late thirties, it was his much later works, 'Social Contract' and 'Emile', which earned him his place in world literature. Prosecuted by the state for challenging the authorities, he spent his last days moving from place to place. Later, his works inspired generations of reformers to bring about changes in their own countries' political systems.
Recommended Lists:
Recommended Lists:
Continue Reading Below
Childhood & Early Years
Jean-Jacques Rousseau was born on 28 June 1712 in Geneva, at that time, a city-state under Swiss Confederacy. His father, Isaac Rousseau, came from a middle-class family of watchmakers and was himself involved in that trade. He was also well-educated and had a taste for music.

His mother, Suzanne nee Bernard Rousseau, came from an upper-class family. She was raised by her uncle, Samuel Bernard, a Calvinist preacher and the house they lived in was a gift from him.The couple had two sons; François and Jean-Jacques.

Nine days after giving birth to her younger son, Jean Jacques, Suzanne died from puerperal fever. Thereafter, his father sold the house and moving out of the upper-class locality, they settled down in an artisan's neighborhood.

Living among the artisans, young Jean-Jacques learned to respect their trade. This was also the time when he watched the artisans agitating against the privileged class, which ran the city-state and thus became aware of class politics.

It is not known where or when he started his education. However, he later recalled how his father, intending to instill in them a love for reading, used to read out to them stories of adventures, often throughout the night.

Later they began to study a collection of ancient and modern classics. At the age of six, Jean-Jacques was introduced to the works of Plutarch, the noted Greek biographer and essayist and by the age of eight, he knew the latter's works by heart.

He was especially fond of 'Lives of the Noble Greeks and Romans'. As his father made watches, young Jean-Jacques would often read it out to him, acting out the characters that he was reading about.

Life changed dramatically at the age of ten, when his father abandoned him and fled Geneva to avoid imprisonment in a case of trespassing. Thereafter, his mother's family took up his responsibility, sending him away for two years to board with a Calvinist minister in a hamlet outside Geneva.

At the age of thirteen, he was appointed an apprentice to an engraver, who punished him heavily for his childish pranks. His woes came to an end when one Sunday evening in March 1728, he returned late from an evening walk and found the city gates closed.

Instead of waiting there till morning and resuming his duties with the engraver, sixteen-year-old Jean-Jacques Rousseau decided to try his luck elsewhere and moved on. Subsequently, he landed up at adjoining Savoy.

Recommended Lists:

Recommended Lists:

Continue Reading Below

In Savoy

At Savoy, Rousseau put up with a Catholic Priest, who introduced him to Françoise-Louise de Warens, a 29-year-old woman, paid by the King of Piedmont for proselytizing Protestants into Catholicism. She was a gorgeous woman with fine taste in arts and literature and Rousseau was easily influenced by her.

When he agreed to convert, he was sent to Turin for the completion of the process.In 1729, after spending sometime there unsuccessfully looking for jobs, he moved to Annecy and began living with Mdm. de Warens, initially as her son, but later as he reached twenty, as her lover.

Rousseau lived with Mdm. de Warens until 1742. Under her guidance, he became a man of letters and also a fine musician. He was mainly an autodidact and his studies ranged over every domain.

While reading, he carefully jotted down excerpts in a notebook. He also performed scientific experiments and made astronomical observations. In music, he studied scholarly works of noted musicians, gaining in-depth knowledge on composition and theory.

Recommended Lists:

Recommended Lists:

In Paris

In 1742, Jean-Jacques Rousseau left for Paris with the intention of presenting a new system of numbered musical notation at the Académie des Sciences. Although he believed that it would make his fortune, it was rejected as impractical. However, they praised his mastery over music.

In 1743, he found an ill-paying job as a secretary to the French ambassador to Venice, Comte de Montaigue. Although he quit the job within eleven months, the period was highly important because it was in Venice that he conceived the ideas that would later find expression in his 'Social Contract'.

On his return to Paris in 1744, Rousseau met another aspiring man from the province, Denis Diderot. Very soon, the two men struck up a friendship and became the center of a group of intellectuals, who gathered round the 'Encyclopédie, Ou Dictionnaire Raisonné Des Sciences, Des Arts Et Des Métiers'

In 1749, Rousseau entered an essay contest organized by the Academy of Dijon. The topic was "Has the progress of the sciences and arts contributed to the purification of morals?" He answered in negative and not only won the prize, but also earned a name for himself.

In 1750, he published his first major work, 'Discours sur les sciences et les arts' (A Discourse on the Sciences and the Arts). In it he established that man had become corrupted by society and civilization. He reverted to this theme off and on in his later works.

In 1752, he gained acceptance as a musician with his 'le devin du village'. It was played twice at Fontainebleau for Louis XV and in 1753, several times at the Opéra "Le devin du village (Village Soothesayer). After this, he became one of the most sought after men in Paris.

Recommended Lists:

Recommended Lists:

In Montmorency

In June 1754, Rousseau returned to Geneva and to gain its citizenship once again became Protestant. Also in the same year, he completed his second major work, 'Discours sur l'origine et les fondements de l'inégalitéparmi les hommes' (Discourse on the Origin and Basis of Inequality among Men.)

Soon he realized that he would not be able to publish his works under his own name freely in Geneva. Therefore, in 1755, he had 'Discours sur l'origine de l'inégalité' published from Holland.

Sometime thereafter, he moved to an estate on the edge of the Montmorency forest on the invitation of its owner Mme. d'Épinay. Here he met Sophie d'Houdetot, d'Épinay's cousin and a houseguest and fell in love with her.

The affair lasted only for four months; but it partly inspired him to write his famous novel 'Julie, ou la Nouvelle Héloïse' (1761). It also caused a break with his landlady, Mme. d'Épinay as well as their mutual friend Denis Diderot. However, he did not leave Montmorency.

In February 1758, Rousseau moved to a rented house in the Mont-Louis Park, and then shifted to the Petit Chateau of the marshal of Luxembourg, continuing his work on 'Julie, ou la Nouvelle Héloïse', which he published in 1761. Thereafter, he had two major works published in quick succession.

In April 1762, he published his landmark work, 'Du contrat social ouPrincipes du droit politique' (The Social Contract, or Of the Social Contract, or Principles of Political Right). Next in May, his 'Émile, ou De l'éducation' (Émile, or Treatise on Education) came out.

'Émile' outraged both the Catholic and Protestants because it rejected original sin and divine revelation. The French Parliament issued an arrest warrant against him causing him to flee to Switzerland, where he put up in Bern. But here too he received little sympathy.

Both his 'Social Contact' and 'Émile' were condemned by the Swiss authorities and banned in Geneva. When he was told he could not live in Bern, he requested protection from Frederick the Great of Prussia and with his permission began to live in Môtiers.

Here Rousseau lived for two years. In December 1764, he drafted the constitution of Corsica on the request of James Boswell. But very soon, the local ministers became aware of his writings and vowed to drive him away from there.

On their instigation, people started pelting stones at him whenever he went out. Ultimately he was forced to leave Môtiers when his house was heavily stoned on the night of 6 September 1765. In the morning, it almost looked like a quarry.

Later Life

On leaving Môtiers, Jean-Jacques Rousseau first went to live at Ile de St.-Pierre, where he was assured protection. But his stay was short. On being told to leave the territory he moved to Strasbourg on October 29, 1765. Also in 1765, he started writing his autobiography, which was published posthumously as 'Confession'.

His next destination was England, where he lived till the middle of 1767, returning to France in May. Although the arrest warrant against him was still in place this time he was welcomed by many well-known people.

Around this time, Rousseau developed paranoia, believing that people wanted to murder him. Thereafter, he moved from place to place, ultimately settling in an unfashionable neighborhood in Paris in June 1769.

Continue Reading Below

Major Works

Jean-Jacques Rousseau is best remembered for his 1762 book 'Du contrat social ou Principes du droit politique' (Social Contract). In this work, he argued against the concept that monarchs were empowered by divinity. Instead, he established that the people were sovereign and they have the sole right to rule themselves.

'Émile, ou De l'éducation', also published in 1762, is another of his major works. It deals on the fundamental questions regarding the relationship between individual and society. In this work, he talks about a system of education that would help men to survive in this corrupt world.

Personal Life & Legacy

In 1745, Jean-Jacques Rousseau met Marie-Thérèse Levasseur, who came from a respected family, which had fallen into bad times. She was then working as a laundress and chambermaid at the Hotel Saint-Quentin, where Rousseau used to go for his meals.

They subsequently became live-in-partners and the two lived together till his death in 1778. From 1746 to 1752, she bore him five children, each of whom was given away to the Enfants-Trouvés foundling home, ostensibly because Rousseau's income from writing was too meager to support and educate them.

On August 29, 1768, they went through a marriage ceremony, which was not legally valid. Before that, he had also looked for his children; but could not find any trace of them.

Rousseau spent his last days at Marquis Girardin's cottage in his chateau in Ermenonville. He went there on 20 May 1778 and spent his time collecting botanical specimen, teaching botany to his host's son and music to his daughter. He was planning to complete a few of his unfinished works.

In the evening of 1 July 1778, Rousseau played his own composition of the 'Willow Song' from Othello on the piano and thereafter had a hearty meal with his host's family. On the morning of 2 July, he had an apoplectic stroke and died of cerebral bleeding on the same day.

On 4 July 1778, he was buried at the Île des Peupliers. It soon became a place of pilgrimage for his admirers. Subsequently on 11 October 1794, his remains were moved to the Panthéon in Paris.

Rousseau's works, especially 'Social Contract' and 'Emile', have inspired many political reformers in Europe and America, leading to the French and American Revolutions.

His influence on great thinkers like Kant, Schopenhauer, Schiller, Goethe, Marks, Tolstoy, Shelly and Byron is also very apparent from their writings.

Translate Wiki

to Spanish, French, Hindi, Portuguese

Article Title

- Jean-Jacques Rousseau Biography

Author

- Editors, TheFamousPeople.com

Website

- TheFamousPeople.com

URL

-

https://www.thefamouspeople.com/profiles/jean-jacques-rousseau-233.php

Last Updated

- April 02, 2017

---

---

---