Harilal Gandhi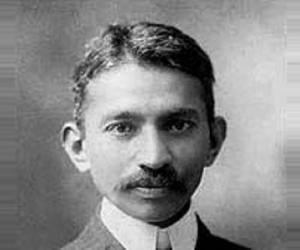 Quick Facts
Born: 1888
Nationality: Indian
Famous: Indian Men
Died At Age: 60
Also Known As: Harilal Mohandas Gandhi
Born in: New Delhi
Famous as: Mahatma Gandhi's Son
Family:
Spouse/Ex-: Gulab Gandhi
father: Mahatma Gandhi
mother: Kasturba Gandhi
siblings: Devdas Gandhi, Manilal Gandhi, Ramdas Gandhi
children: Kantilal Gandhi, Manorama Mashruwala, Rami Parikh, Rasiklal Gandhi, Shanti Gandhi
City: New Delhi, India
Continue Reading Below
Harilal Mohandas Gandhi was the eldest and the most rebellious son of Mahatma Gandhi, a prominent leader of the Indian independence movement against British rule. Born in India, Harilal lived in Gandhi's elder brother, Laxmidas' household, growing up without paternal supervision as his father was then working as a barrister in South Africa. As was alarmingly common among the young Indian men of affluent families of that age, he took concubines and developed an addiction to alcohol. Gandhi then asked him to come to South Africa to join him in his struggles at the Phoenix Ashram. Harilal could not adapt to the simple austere lifestyle that Gandhi had imposed on himself and those around him. In 1911, he severed all ties with his family and returned to India. He went back to his old practices, embezzling, stealing, and soliciting prostitution in public places, and was arrested several times. He converted to Islam for a brief period before converting back to Hinduism upon the request of his mother. At his father's funeral, he was recognized by only a few people due to his derelict appearance. Devastated, alone, and a destitute, he himself passed away four months later.
Childhood & Early Life
Harilal was born in 1888 to Mohandas Karamchand Gandhi (a.k.a. Mahatma Gandhi) and Kasturba Gandhi in New Delhi, British India, before his father travelled to London to study law and jurisprudence. He was the eldest surviving child of his parents and spent his early years in the Indian environment. He did not get to know much about his father until his return in 1891.

For the next two years M.K. Gandhi remained in the country but left India again in 1893, this time for South Africa, as his law practice back home was not a successful one. Soon after, Kasturba relocated to South Africa as well. Harilal had three brothers, Manilal, Ramdas, and Devdas, the latter two being born in South Africa.

With both parents living abroad, Harilal stayed with his uncle in Rajghat. The family was financially well off, so he did not have to worry about money. His life, however, lacked the strict framework of parental guidance, despite his uncle's earnest attempts to provide him so.

Hence, his education suffered and he was not able to pass the Matriculation examination. He let his life be dictated by his friends, who took him to brothels and introduced him to alcohol. Around this time, he married a girl named Gulab without informing his father.

Life in South Africa

After learning about his son's academic failure and wayward lifestyle, Gandhi urged Harilal to come to South Africa to the Phoenix Ashram and help him in his struggles against racism. But once he got there, Harilal realised that the realities waiting for him were much different than what he had initially imagined. His father had renounced all earthly luxuries and virtually living the life of an ascetic. He was not only required to do the same, but also treated on par with everyone else in the Ashram.

It baffled and wounded Harilal; he could not understand his father's objectives. Both he and his mother were dismayed by Gandhi's decision of letting the so-called "untouchables" stay with them and making everyone take turns to clean the common toilets utilized by all. Used to a life of comfort and decadence, Harilal was ill-fitted for the life on a farm and to perform manual labour.

He had aspirations to follow his father's footsteps and go to London to study law and jurisprudence but did not possess the educational acumen for it, having never passed the Matriculation examination. In 1910, he implored his father to use his acquaintances among South African industrialists to get him assistance. Gandhi refused and an infuriated Harilal cut all ties with his family and travelled back to India in 1911.

Return to India & Later Life

Harilal Gandhi lived with his wife and their children and sat for the Matriculation exam multiple times without success. He was drinking and frequenting the brothels again, keeping no less than three concubines in Ahmedabad. At first, the Gandhi family in India bore his expenses but that was not enough. He was eventually broke, snubbed by the concubines and hunted by debtors. He reached out to his father who had returned to India in 1915, asking for money to start his own business.

Gandhi, himself a penniless public servant, asked him to join the Indian independence movement and quit his bad habits. But he knew his son and despite all his faults, loved him. Showing leniency, he recommended Harilal to a company in Calcutta (present day Kolkata).

His experience in Calcutta was not much better. He swindled money from the company he worked in to start his own business. When the owners became aware they informed Gandhi, who, shocked and dejected, told them to do what they thought was best. Harilal was taken into custody by the police

He came back to Gandhi upon his release, seeking refuge. Gandhi welcomed his son back, hoping imprisonment had taught him a few lessons. It was not the case. He resorted back to his old ways, raising shares by using his father's name and starting fake businesses. His victims filed a complaint to the government. There were speculations that Gandhi himself had embezzled people. Overwhelmed by the allegations, Gandhi had to condemn Harilal in public.

In the months following this, Harilal was arrested several times for quarrel, petty thefts, cheating, and prostitution in public places. He was abusive to his wife, who fled to her mother's house with their children. Harilal followed her there and the abuse continued. Heartbroken and bedridden, she died in a flu epidemic.

He and Gulab had three sons, Kantilal, Rasiklal and Shantilal and two daughters, Rani and Manu. Rasiklal and Shantilal did not survive infancy. The responsibility of the surviving children fell on Gandhi as Harilal became completely detached from them after his wife's death.

Harilal was looking to marry his wife's sister. In a letter written in June 1935, Gandhi confronted him about the matter. He was not averse to the marriage itself, as she was a child widow. However, knowing his son's undisciplined life and miserable financial situation, he did not take any steps to arrange his remarriage.

For some reason, Harilal had previously sought his father's permission to use alcohol as a remedy for malaria. Gandhi wrote back that it was better to embrace death than consume alcohol for any reason.

In the late 1930s or early 1940s, Harilal embraced Islam and adopted the name Abdulla Gandhi. It is said that he did this because the Muslim leaders had promised to settle his debts. The leaders of the Pakistan Movement took him all across the country dressed in Muslim attire and made him abuse his father. But when his mother pleaded, he became a Hindu again with the help of Arya Samaj.

When India became independent in 1947, Harilal was living like a beggar in the streets. Gandhi was assassinated on January 30, 1948. He came to his father's final rites and is said to have cried for his wrongdoings, but hardly anyone realised who he was.

Death & Legacy

Following his father's death, a grief-stricken and impoverished Harilal was diagnosed with tuberculosis. He was suffering from liver disease after years of heavy drinking, and even possibly syphilis. He was found unconscious in Kamathipura and was taken to the Sewri TB Hospital. He did not reveal his identity to the hospital staff and died a lonely death on June 18, 1948.

It was only after his passing that some papers were found in his pocket with a relative's phone number on it. His family was contacted. His daughters, Manu and Rani, and Manu's husband Surendra Mashruwala, alongside his carers, attended his late-night cremation.

His granddaughter, Nilam Parikh, authored his biography 'Gandhiji's Lost Jewel: Harilal Gandhi,' published by National Gandhi Museum in 2001, and distributed by Radha Publications. His life is the subject of two other prominent nonfiction works, 'Harilal Gandhi: A Life' by Chandulal Bhagubhai Dalal and 'Mahatma Vs Gandhi' by Dinkar Joshi.

Trivia

A Bollywood film inspired by Dalal's book, titled 'Gandhi, My Father' was released in 2007, with Akshaye Khanna as Harilal and Darshan Jariwala as Mahatma. The film won three National Awards in 2008 including the Best Supporting Actor award for Jariwala's performance.

Translate Wiki

to Spanish, French, Hindi, Portuguese

Article Title

- Harilal Gandhi Biography

Author

- Editors, TheFamousPeople.com

Website

- TheFamousPeople.com

URL

-

https://www.thefamouspeople.com/profiles/harilal-gandhi-33672.php

Last Updated

- April 11, 2019

---

---

---