George Michael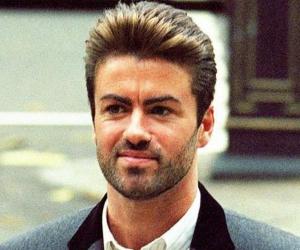 Quick Facts
Nationality: British
Famous: Pop Singers Record Producers
Died At Age: 53
Sun Sign: Cancer
Also Known As: Georgios Kyriacos Panayiotou
Born in: East Finchley
Famous as: Singer
Height: 1.83 m
Family:
Spouse/Ex-: Kenny Goss
father: Kyriacos Panayiotou
mother: Lesley Angold Panayiotou
siblings: Melanie Panayiotou, Yioda Panayiotou
Died on: December 25, 2016
place of death: Goring-on-Thames
City: London, England
More Facts
education: Bushey Meads School
Continue Reading Below
Georgios Kyriacos Panayiotou, popularly known as George Michael, was an English singer, songwriter, and record producer. One of the leading pop stars of the 1980s and 1990s, he won a Grammy for best album of the year in 1987. Rising to fame as one of the music duo Wham!, which he formed when he was a teenager, he achieved his first worldwide hit in 1984. Since then, he had scored a number of hit singles and albums. He also achieved success as a solo artist with his debut solo album 'Faith'. He was one of the best-selling music artists of his era, registering sales of more than 80 million records worldwide as a solo artist. Growing up in and around London, he developed a passion for music at an early age. While in high school, he and his friend Andrew Ridgeley bonded over their love for pop music. Both dropped out of school and started a band which was short-lived. But soon they landed a recording deal and named themselves Wham! After several successes with Wham!, he broke away from the group to pursue a solo career. As a solo artist, he bagged his first Grammy Award for a duet with Aretha Franklin. On the personal front, he had had a few encounters with the law. A great philanthropist, he had contributed considerable time and money to various charities. He died of heart and liver diseases in 2016, at the age of 53.
Recommended Lists:
Recommended Lists:
Continue Reading Below
Childhood & Early Life
George Michael was born on June 25, 1963, in East Finchley, London. His father, Kyriacos Panayiotou, was a Greek Cypriot who immigrated to England in the 1950s. He was the owner of a restaurant. His mother, Lesley Angold, an English woman, was a professional dancer. He had two elder sisters, Yioda and Melanie.

He grew up in Kingsbury, London, where his parents had bought a house. He attended Roe Green Junior School and Kingsbury High School.

When his family moved to Radlett, he attended Bushey Meads School in Bushey, where he befriended Andrew Ridgeley. The two bonded as both wanted to pursue careers in music. He worked as a DJ and played at local clubs and schools.

Michael and Andrew both dropped out of high school and formed a band called The Executive. The band was short-lived; it could play only a few gigs before it was disbanded.

Recommended Lists:

Recommended Lists:

Career

In 1981, George Michael formed the band Wham! with Andrew Ridgeley. They released their first album 'Fantastic' on July 9, 1983, which reached No. 1 in the UK. The pop duo then produced a series of singles including 'Young Guns', 'Wham Rap!' and 'Club Tropicana', all of which became popular Top 10 hits.

Their second album, 'Make It Big', was released in 1984. It reached No. 1 in the US, the UK, and Australia. Many of its singles individually became quite popular not only in the UK and the US, but also in 23 other countries. In 1985, he bagged his first Ivor Novello Award for Songwriter of the Year from the British Academy of Songwriters, Composers and Authors.

Wham!'s tour of China in April 1985 made history, as they were the first British band to visit Communist China and perform Western popular music. Before Wham!'s tour to China, many kinds of music were banned in the country. Thus, their visit attracted worldwide media coverage for Wham!

As the lead vocalist and the main songwriter of Wham!, Michael was getting more attention and popularity. In 1986, after the recording of 'Music from the Edge of Heaven', he parted ways with the group to start a solo career.

In 1987, he earned his first Grammy Award as a solo artist for the duet 'I Knew You Were Waiting', with American singer Aretha Franklin. The single reached number one on both the US Billboard Hot 100 and the UK Singles Chart.

Also in 1987, he released his debut solo album, 'Faith'. With this album, he tried to shed his teen heartthrob image, sporting a leather jacket and stubble. The album topped the UK Albums Chart, and on the US Billboard 200, it was at number 1 for 12 weeks. Many of its singles like 'Faith', 'Father Figure', and 'One More Try' reached number 1 in the US.

His second solo album 'Listen Without Prejudice Vol. 1' was released in 1990. It was a huge success in the UK, debuting at number 1 and remaining there for a week. It was in the top 20 for 34 consecutive weeks.

Continue Reading Below

In 1996, his album 'Older' was released, and its tracks, 'Jesus to a Child' and 'Fastlove', reached the top 10 in the US. Although this album didn't do as well as Michael's previous ones, it still earned him the award for Best British Male Singer at the BRIT Awards and the MTV Europe Awards.

'Songs from the Last Century,' his fourth album, was released in 1999. The album consists of old jazz and new interpretations of popular songs like 'Roxanne' and 'Miss Sarajevo'.

His album 'Patience' was released in 2004. It was considered his comeback album as there was a considerable gap between the release of this one and his previous one. The album contained six singles including 'Freeek!' and 'Shoot the Dog'. After this album, it was rumored that he would retire from the music business.

A documentary about his life and career, 'A Different Story', was released in 2005. The album 'Twenty Five', released in 2006, celebrated the 25th anniversary of his music career. It was his second compilation album. Debuting at number 1 in the UK, the album reached the top 5 in many other countries. It contained songs taken from his solo career as well as from his Wham! days.

In 2010, he performed a number of concerts across Australia. In February 2012, he made a surprise appearance at the Brit Awards in London and received a standing ovation.

At the time of his death, he was working on 'Freedom', another documentary about his life, which was scheduled to be released in March 2017.

Recommended Lists:

Recommended Lists:

Major Works

George Michael's first solo album 'Faith' sold more than 25 million copies despite the ban on the single 'I Want Your Sex'. Due to its sexually suggestive lyrics, many radio stations in the UK and the US banned the song. MTV broadcast the video only during the late night hours. The song reached the American Top 40 chart and featured at number 2 on the US Billboard Hot 100 and number 3 on the UK Singles Chart.

Continue Reading Below

His solo album 'Without Prejudice Vol. 1' was also a major hit. He incorporated soul and jazz elements in the songs. With this album, he tried to create for himself a reputation of a serious singer and songwriter. He did not embark on any campaigns to promote the album nor did he release any music videos. The album was certified 4×platinum in the UK, selling 1.5 million copies in the UK alone and 8 million worldwide.

Recommended Lists:

Recommended Lists:

Personal Life

In 1998, George Michael came into news when he was arrested for "lewd" conduct in a public restroom at a park in Los Angeles. After the incident, he stated on the television that he was homosexual.

In February 2006, he had another encounter with the law, when he was arrested on suspicion of having illegal drugs in possession. In July 2006, he was accused of engaging in public sex at London's Hampstead Heath. In 2008, he was again arrested for possession of Class A and C drugs.

He was in a long-term relationship with Kenny Goss, an ex-flight attendant and sportswear executive. They broke up in 2009. In 2012, he began a relationship with celebrity hair stylist Fadi Fawaz, which continued till his death in 2016.

In May 2013, he sustained a serious head injury when he met with an accident and fell from his moving car. He was airlifted to the hospital.

He was a philanthropist, but he never wanted to make headlines for his involvement with charitable activities, which included paying for a woman's fertility treatments, volunteering at a homeless shelter, and helping a waitress pay her nursing school debts.

He also gave millions of dollars to charities like Childline, a counseling center for children in the U.K. In addition, he helped Macmillan Cancer Support and Terrence Higgins Trust for many years.

In 1984, he performed with the charity supergroup Band Aid to support the Ethiopian famine relief. Michael and Ridgeley donated the proceeds of their single 'Last Christmas' and 'Everything She Wants' to Band Aid's collections.

He was a LGBT rights campaigner and charity fundraiser for HIV/AIDS awareness campaigns. He was also a patron of the Elton John AIDS Foundation.

In 2014, he was a celebrity investor in a tax scheme called Liberty. He was also included in the Sunday Times Rich List 2015 of the wealthiest British musicians, and according to the list, he was worth £105 million.

On December 25, 2016, he was found dead at his home in Goring-on-Thames. He was then 53. Tests carried out to determine the cause of his death revealed that he had died of natural causes that resulted from heart and liver diseases.

| | | |
| --- | --- | --- |
| 1988 | Best Direction in a Video | George Michael: Father Figure (1987) |

Translate Wiki

to Spanish, French, Hindi, Portuguese

Article Title

- George Michael Biography

Author

- Editors, TheFamousPeople.com

Website

- TheFamousPeople.com

URL

-

https://www.thefamouspeople.com/profiles/george-michael-8446.php

Last Updated

- August 03, 2018

---

---

---