Gabriella Demartino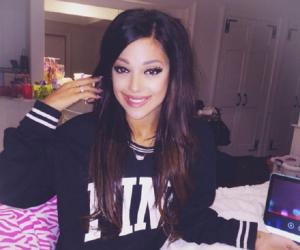 Quick Facts
Nick Name: Gabriella Nelida Demartino
Nationality: American
Age: 23 Years, 23 Year Old Females
Sun Sign: Taurus
Also Known As: Gabi
Born in: Pennsylvania
Famous as: Fashion & Beauty Vlogger
Height: 1.6 m
Family:
siblings: Alex, Anthony, Niki
U.S. State: Pennsylvania
More Facts
education: St. James High School
Continue Reading Below
The hot and sexy Gabriella, also known as Gabi from the 'Nick and Gabi' channel has anenormous fan following and is one of the most reputed beauty gurus of YouTube. Along with her twin, Niki, she runs a beauty vlog and beauty guide channel where they have over 4.7 million subscribers. She also has her own channel called 'Fancy Vlogs by Gab', which is her solo channel, and as the name suggests it contains her daily vlogs. On her personal channel she has almost a million subscribers already! She regularly keeps her fans updated with her Twitter account, where she has a generous 517K followers. She is currently dating Collin Vogt and has encouraged him to start his own YouTube channel, and delightfully appeared in his videos to get the ball rolling! She also runs another YouTube channel along with her sister Alex and Niki called '00RemakeGirls', which was actually her first channel.
Recommended Lists:
Recommended Lists:
Continue Reading Below
The Meteoric Rise to Stardom
Gabi began her first YouTube channel along with Niki and a few of their best friends called '00RemakeGirls' way back in 2012;their first video was 'Demi Lovato inspired curls tutorial'. People loved their video and started requesting for more. Gabi had always loved watching YouTube videos during her summer break. However, she never thought that she could turn so popular on YouTube. Slowly, the twins started making more videos, especially after high school. They attended college and at the same time also kept their channel updated. With their love of YouTube growing, Gabi decided to run a channel of her own. In her solo channel she keeps her fans postedabout her tours and shopping hauls and daily routine. If you think that Gabi is simply a fashion Guru, then you will be surprised to learn that she is also an excellent singer and writes lyrics for her songsalong with her sister. The scintillating ladies recently launched their music video titled 'First.' They also perform at live shows. Gabi hasbeen signed on by numerous brands to endorse their products.

Recommended Lists:

Recommended Lists:

Continue Reading Below

What Makes Gabriella Demartino So Special

Gabi is sizzling, beautiful, and youthful all at the same time! It doesn't come as a shock that she has done so well for herself!However, along with all her glam and fame, she also receives plenty of hate and ridicule. She has been called"fake, spoilt and egoistic."Sadly, her haters know little about her past.When Gabi was in school, her only friend was her sister. Though they were warm hearted girls, very few wanted to hang out with them, probably because they came from an affluent home. Thus their classmates didn't mingle with them. Fortunately they did manage to make a few lifelong friends, but they faced immense teasing and shaming in school, and were even named 'ugly.' Yet, Gabi and Niki have turned the tables around and consolidated their future with the recognition they have gathered on YouTube. They have learnt to ignore criticism and to do what they love.

Recommended Lists:

Recommended Lists:

Beyond Fame

Being the beauty that she is, Gabi is a typical girl who loves spending her time shopping, vacationing and looking stunning, and definitely loves her sisters and friends to accompany her. She loves singing as well and when not recording videos, she is probably penning down lyrics and creating her own songs. When it comes to food, she loves cupcakes. Her favorite color is pink, but also crushes over pastel shades. She aims to launch her own make up line someday!

Recommended Lists:

Recommended Lists:

Behind the Curtains

Gabi was born a couple of minutes after Niki, which makes her the younger twin. She has an older sister Alex and a younger brother Anthony. Since the three sisters are around the same age, they almost always hangout together. Both her parents are dentists. However, she doesn't share a very cordial relationship with her father, but loves her mother to bits! Gabi has changed school three times before she finally settled at St. James School. Her experience at the previous two schools was difficultbecause she tried to make friends but it always ended up with them calling her names and staying away from her. Ultimately she realized that her sister was the only one she could trust blindly. Gabi did manage to make a very close friend in high school;her name was Kimmy. However, Kimmy suffered from cancer and passed away at the age of 14. Gabi still visits her grave and prays for her. Gabi is religious and wants to have a happy marriage. She began dating Collin in 2016, after breaking up with Brandon, and plans to settle down with Collin in future.

Trivia

She recently ended her 5 year relationship with Brandon Grupe.

Last Updated : April 02, 2018

Translate Wiki

to Spanish, French, Hindi, Portuguese

---

---

---

Gabriella Demartino Fans Also Viewed