Emma Goldman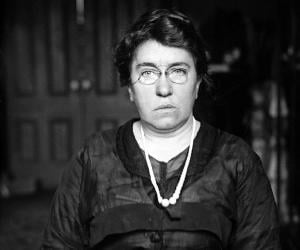 Quick Facts
Nationality: American
Famous: Quotes By Emma Goldman Atheists
Died At Age: 70
Sun Sign: Cancer
Born in: Kaunas
Famous as: Writer
political ideology: Anarchist
Family:
Spouse/Ex-: Jacob Kershner, James Colton
father: Abraham Goldman
mother: Taube Bienowitch
siblings: Herman, Louis, Moishe
place of death: Toronto
Ideology: Anarchists
Founder/Co-Founder: No-Conscription League, anarcha-feminism, Mother Earth
Continue Reading Below
Emma Goldman was an American anarchist of Russian origin who is credited to have contributed immensely towards the development of anarchist political philosophy in America and Europe. She was a well known writer and political activist who became drawn to the concept of anarchism after listening to a lecture by Johann Most, an orator and newspaper editor famous for his radical political views. Born in Russia, she emigrated to the U.S. as a teenager. She became involved in politics after the infamous Haymarket affair after which several prominent anarchists were sentenced to death. She was an outspoken orator and a prolific writer whose works cover a wide range of subjects like women empowerment, sexuality, politics, atheism, and workers' rights. She developed a lifelong professional and personal relationship with the anarchist writer Alexander Berkman with whom she planned to kill Henry Clay Frick in the wake of the Homestead Steel Strike. Even though the assassination attempt failed, she often found herself having brushes with the police because of her activism; she was arrested and imprisoned numerous times. A trained nurse, she worked hard for women empowerment and was held for disseminating information about birth control. A woman fiercely devoted to her cause, she was actively involved in her work till the very end.
Childhood & Early Life
Emma Goldman was born into an Orthodox Jewish family in Russia. Her mother Taube Bienowitch and father Abraham Goldman had a very troubled relationship which greatly bothered the young girl. She had two half-sisters and three brothers.

She had a difficult childhood as her father was very violent and used to beat up the children while her mother remained distant and aloof. She had a loving relationship only with her elder half-sister Helena.

She was a bold and rebellious youngster who tried her best to fight against violent authorities including her father and unscrupulous teachers.

Her father stopped her from going to school when she was a teenager and she took to independent education. She also began working in order to help her poverty stricken family.

Continue Reading Below

Recommended Lists:

Recommended Lists:

Later Life & Activism

She emigrated to the U.S. in 1885 where she lived with her sister and her husband. She took up work as a seamstress.

On 4 May 1886, several workers in Chicago's Haymarket Square were peacefully holding a rally in support of workers striking for an eight-hour day when someone threw a bomb that resulted in the deaths of seven police officers. Even though the actual bomber was never identified, several anarchists were convicted. This incident drew Goldman towards anarchism.

She moved to New York in 1889 where she met anarchist Alexander Berkman who introduced her to Johann Most, the editor of 'Die Freiheit'. Impressed after listening to Most's lecture on anarchism, she became his protege.

She delivered her first public lecture in 1890 under the guidance of Most whom she accompanied on many of his tours where they lectured together.

She formed a relationship with Alexander Berkman and the two planned to assassinate Henry Clay Frick, the manager of the Carnegie Steel Company in the wake of the Homestead Strike in 1892.

Frick was a fierce opponent of the workers' union, and Goldman who was deeply involved in union work wanted to support the workers by murdering their opponent. Their assassination attempt however failed and Berkman was imprisoned.

In 1893, the U.S. was gripped by a serious economic depression which led to high levels of unemployment. She spoke to a large gathering of the unemployed and was charged with 'inciting to riot' and imprisoned for this gesture.

She underwent medical training under a visiting doctor during her imprisonment to become a nurse.

She co-authored a book 'Anarchy Defended by Anarchists' with Johann Most in 1896.

Continue Reading Below

She founded the magazine 'Mother Earth' in 1906. The magazine contained articles on anarchist topics like women's empowerment, birth control, labor rights, governmental control, etc. Her friend Alexander Berkman served as its editor.

She spent the next several years touring the country delivering lectures and participating in anarchist agitations.

She joined hands with Margaret Sanger, an advocate of contraception, and published information about the various methods of contraception in the June 1914 issue of the journal 'The Woman Rebel'.

During 1915-16 she embarked on a nationwide tour and spoke about birth control and contraception for which she was often arrested.

The U.S entered the World War I in 1917 and the U.S. Congress passed the Selective Service Act of 1917, which required all males aged 21–30 to register for military conscription. Goldman and Berkman formed the No-Conscription League to oppose the draft. Both of them were arrested for conspiracy and imprisoned.

She and Berkman spent some time in Russia in exile during 1920-21 before moving to Berlin. She published two books about her experiences in Russia: 'My Disillusionment in Russia' (1923) and 'My Further Disillusionment in Russia' (1924).

She shifted to London in 1924 and then went to Canada in 1927.

Her autobiography 'Living My Life' was out in 1931. It was published in two volumes and received positive reviews from critics.

She went to Spain in 1936 in the wake of the Spanish Civil War where she supported the Spanish anarchists. She wrote for the newspaper 'Spain and the World' and joined hands with Rebecca West and Sybil Thorndyke to establish the Committee to Aid Homeless Spanish Women and Children.

Continue Reading Below

Recommended Lists:

Recommended Lists:

Major Works

She is most renowned as a great speaker and activist who fearlessly worked for the causes she believed in. She traveled throughout the world lecturing on a wide range of topics like anarchism, women's rights, sexuality, birth control, political reforms, and philosophy.

Recommended Lists:

Recommended Lists:

Personal Life & Legacy

She married Jacob Kershner in 1887. However, the marriage was short-lived and they divorced within a year.

She married a Scottish anarchist named James Colton in 1925.

She had a lifelong relationship with anarchist Alexander Berkman with whom she often participated in anarchist and political activities.

She suffered a stroke in February 1940 which left her partially paralyzed. She died in May the same year at the age of 70.

Recommended Lists:

Recommended Lists:

Trivia

She was once known as "the most dangerous woman in America".

Her character was portrayed by Maureen Stapleton in the 1981 film 'Reds' for which the actress won an Academy Award.

Translate Wiki

to Spanish, French, Hindi, Portuguese

Article Title

- Emma Goldman Biography

Author

- Editors, TheFamousPeople.com

Website

- TheFamousPeople.com

URL

-

https://www.thefamouspeople.com/profiles/emma-goldman-1346.php

Last Updated

- October 16, 2017

---

---

---