Christian Dior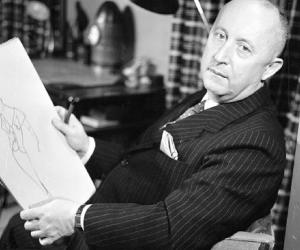 Quick Facts
Birthday: January 21, 1905
Nationality: French
Famous: Fashion Designers French Men
Died At Age: 52
Sun Sign: Aquarius
Born in: Granville
Famous as: Fashion Designers
Family:
father: Maurice Dior
mother: Isabelle cardamone
siblings: Bernard Dior, Ginette Dior, Jacqueline Dior, Raymond Dior
Died on: October 23, 1957
place of death: Montecatini
More Facts
education: Institut d'Etudes Politiques de Paris
Continue Reading Below
The brand Christian Dior personifies elegance, innovation and ingenuity. A leader in the world of haute-couture, the House of Dior is one of the biggest names in the world of fashion and much credit for everything that the brand reckons with goes to its founder, the legendary fashionista and fashion designer – Christian Dior. The man who envisioned it all, Christian Dior was a great dictator of style and fashion. His ensembles proudly affirm the glory of his artistic vision and his love for fashion. Dior came up with his iconic fashion house at a time when the world was still reeling under the challenges of the World War II. His 'New Look' celebrated ultra-femininity and opulence. He reintroduced the concept of luxury into women's fashion and focussed on elegance, structure and grandeur. Dior's infinitely feminine collection, though criticized earlier, became the talk of the town in no time. Though he designed under his own name for only a decade, his influence continues to reign and shall be felt for many more decades to come.
Recommended Lists:
Recommended Lists:
Continue Reading Below
Childhood
Christian Dior was born on January 21, 1905, in Normandy, France to a fertilizer manufacturer Maurice and his wife Isabelle Cardamone Dior. He was the second of the five children born to the couple.

When he was five, the Diors shifted base to Paris. Although young Dior aimed to pursue a career as an architect, he succumbed to the pressure of his father who envisioned Dior as a diplomat. Adhering to the latter's wish, he enrolled at the École des Sciences Politiques to begin his studies in political science.

Continue Reading Below

Career

It was in 1928 that Christian Dior's passion for art overruled his father's wishes. He left school and with the money received from his father, started a small art gallery. However, the gallery did not survive for long and during the Great Depression had to be shut down after his father lost control over the family firm, Dior Frères.

Following the closure of the art gallery, Dior was making ends meet by selling his fashion sketches. Years later in 1937, he was employed by fashion designer Robert Piguet, who gave him the opportunity to design for three Piguet collections. It was under Piguet that Dior learned the fine nuances of designing.

With the outbreak of the World War II, Dior left Piguet to serve in the army in the south of France. In 1941 he returned to Paris, and was hired by couturier Lucien Lelong. Lelong's fashion house was highly esteemed as it dressed up women of both the Nazi and the French collaborators.

In 1946, Christian Dior made the big leap of his career, a leap that eventually transformed the world of fashion and reaffirmed the status of Paris as the World's Fashion Capital. Backed by textile manufacturer and the richest entrepreneur of France, Marcel Boussac, Dior started his own fashion house, thus starting a legacy that has survived several decades.

With his very first collection, he showed his passion for art and his excellence over creating shapes and silhouettes. He introduced the 'New Look', replacing the fabric-conserving shapes of the World War II styles. Dior's style was a celebration of ultra-femininity and opulence. He introduced rounded shoulders, cinched waist, and full skirts. His bustier-style bodices, hip padding, wasp-waisted corsets and petticoats gave his models a very curvaceous form.

Interestingly, his designs were not openly accepted by the women who criticized his couture trend for being too voluptuous and heavy. Women had got so used to the limitations on the use of fabric during the war days that the profligacy of fabric seemed unnecessary. However, with time Dior's 'New Look' began to be well received.

By 1948, Christian Dior had become a household brand name to be reckoned with. By now he had successfully arranged lucrative licensing deals for fur, stockings, and perfumes, thereby getting into every aspect of fashion and style.

Continue Reading Below

His collections were mostly theme-based. While the Spring collection of 1953 had abundance of floaty and flowery prints, the 1955 Spring marked the ingress of 'A-line' fashion. Skirts/Dresses with undefined waist and smooth silhouette that widened over the hips and legs, resembling the capital letter 'A' marked the new 'in' thing of fashion.

After his handsome victory over women ensembles, Dior stretched his roots. He mastered the art of creating menswear, trompe-l'oeil detailing, and soft-to-hard juxtapositions, making them all a part of the modern wardrobe.

During the final phase of his career, he took a detour from his usual route. His over-the-top and flamboyant look gave way to a more limber silhouette and lifestyle, as he started designing chemises, narrow tunics, and sari-like wraps.

Major Works

Christian Dior successfully revolutionized women fashion in the post-war period and effectively re-established Paris as the centre of the fashion world. He gained phenomenal success and a fan following that crossed boundaries. In his little over a decade long career, he gained immense fame and recognition and became one of the most important couturiers of the century. His pompous dresses and opulent styles were highly sought after. Even today, his brand is synonymous with high-end fashion and style.

Awards & Achievements

In his lifetime, Christian Dior was nominated for Academy Award for Best Costume design in 1955 for 'Terminal Station' and posthumously for BAFTA for Best British Costume for 'Arabesque' in 1967.

He was nominated in 1986 for Best Costume Design in the 11th Cesar Award, for the film 'Bras de fer.'

Personal Life & Legacy

Christian Dior was holidaying in the town of Montecatini, Italy, when he suffered from a fatal heart attack on October 24, 1957 that took his life. Though the exact reason for his death is unknown, there are several theories to it.

Following his death, Marcel Boussac sent his private plane to Montecatini to bring back Dior's body to Paris. A funeral was arranged that was attended by about 2,500 people. Dior was buried in Cimetière de Callian, in Var, France. At the time of his death, Dior's house was earning more than $20 million annually.

His name has been mentioned in several songs by various singers and songwriters. Some of them include Morrisey's 'Christian Dior' song which was a B-side of his 2006 single, 'In the Future When All's Well', and Eva Peron's song 'Rainbow High' from the film 'Evita.'

In 2010, Kanye West released a song titled, 'Christian Dior Denim Flow.' West also mentioned the brand Dior in three other releases: 'Devil in a New Dress', 'Stronger', and 'Barry Bonds.'

Translate Wiki

to Spanish, French, Hindi, Portuguese

Article Title

- Christian Dior Biography

Author

- Editors, TheFamousPeople.com

Website

- TheFamousPeople.com

URL

-

https://www.thefamouspeople.com/profiles/christian-dior-1053.php

Last Updated

- December 28, 2016

---

---

---