Charles Barkley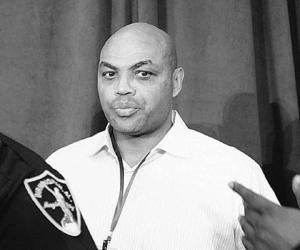 Quick Facts
Birthday: February 20, 1963
Nationality: American
Famous: Basketball Players American Men
Age: 56 Years, 56 Year Old Males
Sun Sign: Pisces
Also Known As: Charles Wade Barkley
Born in: Leeds, Alabama
Famous as: Basketball Player
Height: 6'6" (198 cm), 6'6" Males
Family:
Spouse/Ex-: Maureen Blumhardt (m. 1989)
father: Frank Barkley
mother: Charcey Glenn
children: Christiana Barkley
U.S. State: Alabama
More Facts
education: Auburn University (1981–1984), Leeds High School
awards: NBA All-Rookie Team
All-NBA Team
All-NBA Team

All-NBA Team
All-NBA Team
NBA All-Star Game Most Valuable Player Award
All-NBA Team
NBA Most Valuable Player Award
Best NBA Player ESPY Award

Continue Reading Below
Charles Wade Barkley is a former professional basketball player who is currently affiliated with the 'Inside the NBA' television show as one of its hosts. Regarded as one of National Basketball Association's most dominant players, Barkley played professionally for 16 years, during which he appeared as part of three different NBA teams: Philadelphia 76ers, Phoenix Suns, and Houston Rockets. Barkley developed an interest in basketball when he was a child and played the sport through high school. Despite having a good record, he did not garner any significant interest from the college scouts until the state high school semi-finals where his performance ultimately earned him recruitment by the Auburn University. Barkley played three seasons of college football and made himself available for the NBA Draft in 1984. Over the course of his highly successful career, he was included in the All-NBA First Team five times, the All-NBA Second Team five times, and the All-NBA Third Team one time. In 1993, he was named NBA's Most Valuable Player of the season. As part of the national squad, he won two gold medals at the 1992 and 1996 Summer Olympics and one gold medal at the 1992 FIBA Americas Championship. He retired in 2000 and since then, has built up a successful career as an NBA analyst.
Recommended Lists:
Recommended Lists:
Continue Reading Below
Childhood & Early Life
Charles Barkley was born on February 20, 1963, in Leeds, Alabama, to Charcey Glenn and Frank Barkley. He has two brothers named John Glenn Barkley and Darryl Barkley. As a child, he was deeply influenced by his surroundings and developed an interest in basketball like any other youth. Soon enough, he began to demonstrate his potential.

He studied at Leeds High School. As a junior, he did not find a spot in the varsity team and was designated to the reserve partly because of his stature (he stood at 5 ft. 10 in and weighed 220 pounds). However, he grew six inches within the span of one summer and during his senior year, became a starter in the varsity team.

As a senior, he registered 19.1 points and 17.9 rebounds in average per game and marshalled his team into the state semi-finals.

Despite his substantial improvements, he failed to attract the attention of any scout. This changed after the state high school semi-finals in which he registered 26 points against Bobby Lee Hurt of Butler High School.

One of the assistants of Auburn University's head coach, Sonny Smith, was present at the game. Deeply impressed, he reported back about Barkley by saying, "a fat guy... who can play like the wind".

Recommended Lists:

Recommended Lists:

College Career

Charles Barkley enrolled at Auburn University in 1981, pursuing a degree in business administration. Smith immediately made him part of Auburn's basketball program, the Auburn Tigers.

Barkley had problems controlling his weight throughout his college life, as he would have during his professional career. However, he excelled in the court and after three years, had the average of 14.8 points on 68.2% field goal shooting, 9.6 rebounds, 1.6 assists and 1.7 blocks per game.

In 1984, he appeared in the NCAA Tournament for the first and only time, scoring 23 points on 80% field goal shooting, 17 rebounds, four assists, two steals, and two blocks. About a year after his retirement from professional basketball, on March 3, 2001, Auburn honoured him by retiring his no. 34 jersey.

Some controversies about his time at Auburn arose many years after he left the college. In 2010, Barkley revealed that he had demanded, and was provided, money from sports agents.

He defended himself saying that the money he asked from the agents was "chump change" and then enquired, "Why can't an agent lend me some money and I'll pay him back when I graduate?" He has since maintained that he had paid back all the money he had gotten after he signed his first NBA contract.

Recommended Lists:

Recommended Lists:

Professional Career

Charles Barkley did not play the senior season for Auburn. Instead, he made himself available for the 1984 NBA draft. Eventually, Philadelphia 76ers chose him as their fifth pick in the first round. The 76ers had a team mostly comprised of veterans that season. While they were the winners of the 1983 World Series, they had performed poorly in the 1983-84 season.

Barkley and Moses Malone, the legendary basketball player who was named MVP three times, developed an almost protégé-mentor relationship. Malone helped him with his weight issues and taught him how to prepare and condition oneself prior to a game.

Continue Reading Below

In his first season in professional basketball, Barkley played 82 games, started 60 of those, and scored 14.0 points per game in average. The 76ers made it to the playoffs, where Barkley appeared in 13 games, started two of those, and scored 14.9 points per game in average.

During the 1985-86 season, Barkley's game drastically improved under the tutelage of Malone. He started all 80 games he appeared in the regular season and scored 20.0 points per game in average. During the playoff series, Barkley played 12 games and scored an impressive 25 points per game in average.

He was 76ers' starting power forward. Although they were ultimately defeated by the Milwaukee Bucks in the Eastern Conference Semifinals, Barkley's performance earned him a spot in the All-NBA Second Team.

In the months leading up to the start of the 1986-87 season, 76ers traded Malone to the Washington Bullets which meant that Barkley had to step as the de facto leader of the team in the court. He did so splendidly.

In his third season with the 76ers, he played 68 matches, starting 62 of those and scoring 23.0 points and 14.6 rebounds in average per game. He appeared in five games in the playoffs, scoring in average 24.6 points per game. This was also the first season when he made it to the NBA All-Star team.

At the start of the following season, Julius Erving retired and Barkley took his position as 76ers' new franchise player. On November 30, 1988, he became the first player in the history of the league to register a 40-point, 20-rebound, five-assist and five-steal performance when he scored 41 points, 22 rebounds, five assists, and six steals in a 114-106 win against the Portland Trail Blazers.

In this season, Barkley also registered the highest points per game in average (28.3) of his career during the regular season. He continued his good form in the playoffs but only got to play five games before they were eliminated.

Continue Reading Below

Barkley continued to play for the 76ers until the 1991-92 season. By the time he was traded to the Phoenix Suns in exchange for Jeff Hornacek, Tim Perry and Andrew Lang, he had become a household name across the country and had already secured himself an astounding legacy but as the future events would prove, the best years of his basketball career were yet to come.

He debuted for the Suns on November 7, 1992, in a game against the Los Angeles Clippers. Scoring 37 points, 21 rebounds, and eight assists, he led the Suns to a 111-105 victory. During the regular season, he played 76 games, started all of those, and scored 25.6 points per game in average.

He appeared in 24 games in the playoffs, started all of those, and scored 26.6 points per game in average. He led his team to the NBA finals where they lost to Michael Jordan's Chicago Bulls. For his performance, Barkley earned the Most Valuable Player accolade in 1993.

He would play for three more seasons for the Suns before he was traded to Houston Rockets in 1996. His first season with the Rockets did not go that well as he was constantly plagued with injuries. The second season was not much different. Despite this, he continued to play well and led his team into the playoffs. This was his last post-season appearance.

The 1999-2000 season was Barkley's final season in the NBA. He appeared in 20 matches, started 18 of those, and scored 14.5 points per game in average. On December 8, 1999, he suffered a ruptured left quadriceps in a match against the 76ers.

Following this injury, it seemed his career was at an end. However, not wanting the injury to be the final moment of his career, Barkley returned for one more match. On April 19, 2000, he appeared in a home game against the Vancouver Grizzlies, closing his illustrious career as an athlete on a high note.

International Career

Barkley was part of the US "Dream Team" at the 1992 Barcelona Summer Olympics. They defeated Croatia in the men's final to win the gold medal. Barkley was also part of the team that won the gold medal at the 1996 Summer Olympics, hosted in Atlanta, Georgia, the US. The "Dream Team" also participated and won the 1992 FIBA Americas Championship.

Post-Retirement

Since his retirement, Charles Barkley has become a well-respected commentator and analyst, who serves as one of the crew members on 'Inside the NBA'. He has worked at Turner Network Television (TNT) and is part of their expert panel for pre-game and halftime shows. He also appears in special NBA events. In May 2017, he began hosting 'American Race' on TNT.

While Barkley had described himself as a Republican for years, in 2014, during a broadcast on Monday Night Football, he revealed himself to be an Independent. During the 2008 presidential election, he supported Barack Obama.

He is a vocal supporter of gay rights. In October 2008, he told reporters that he was planning to run for the Governor of Alabama in 2014, but decided not to do so in 2010.

Personal Life

Charles Barkley met his future wife Maureen Blumhardt in a City Avenue Restaurant sometime in the 1980s. At the time, she was a part-time model in the Bucks County, Pennsylvania as well as a legal aide for a non-profit organization. They married in 1989 and their daughter, Christiana, was born in the same year.

Regarded as one of the most controversial, outspoken, and dominating players in the history of basketball, Barkley is among the few true legends of the game that have never won an NBA championship.

Throughout his career, he held the view that athletes should not be seen as role models. He repeatedly told parents and teachers that instead of looking at him to raise their kids, they themselves should be the role models.

On March 26, 1991, Barkley was playing for the 76ers against the New Jersey Nets (now Brooklyn Nets) in New Jersey, when an audience member started to heckle him with racial slurs.

In response, Barkley tried to spit on the person but it landed on a little girl. He was subsequently suspended without pay for a game and fined $10,000. Barkley apologised and reached out to the girl and her family. They eventually became friends and he would often send them tickets to the games.

In February 2009, Barkley was sentenced to ten days in jail and fined $2,000 for two DUI-related counts and one count of running a red light.

Trivia

Barkley published his memoir, 'I May Be Wrong, But I Doubt It' in 2002 through Random House.

Translate Wiki

to Spanish, French, Hindi, Portuguese

Article Title

- Charles Barkley Biography

Author

- Editors, TheFamousPeople.com

Website

- TheFamousPeople.com

URL

-

https://www.thefamouspeople.com/profiles/charles-barkley-9385.php

Last Updated

- August 03, 2018

---

---

---