Stephen Curry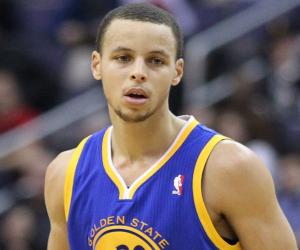 Quick Facts
Nationality: American
Famous: Basketball Players American Men
Age: 31 Years, 31 Year Old Males
Sun Sign: Pisces
Also Known As: Steph Curry, Steph, Wardell Stephen Curry II
Born in: Akron, Ohio, United States
Famous as: Basketball Player
Height: 1.9 m
Family:
U.S. State: Ohio
More Facts
education: Davidson College
awards: NBA Most Valuable Player Award
NBA Championship ring
NBA All-Rookie Team
NBA Sportsmanship Award
Continue Reading Below
Stephen Curry is an American professional basketball player who represents the Golden State Warriors in NBA. The first child of one of the best 3-point shooters in NBA history, Dell Curry, he has been named the greatest shooter by many players, as well as analysts. He has won the 'NBA Most Valuable Player Award' twice in a row, including one unanimous win, a first in NBA history. He led the Warriors to their first championship in four decades, and also helped his team break the record for the most wins in an NBA season. He earned the Southern Conference 'Player of the Year' title twice by setting the all-time scoring record for both Davidson and the Southern Conference. He also set the NCAA record for most three-pointers made in a season during his second year in college. Renowned for his shooting skills, he holds the NBA record for most three-pointers made in a regular season, a record that he himself broke twice. He and his teammate, Klay Thompson, are known by the nickname "Splash Brothers" for their record breaking combined three-pointers in a season.
Recommended Lists:
Recommended Lists:
Continue Reading Below
Childhood & Early Life
Wardell Stephen Curry II was born on March 14, 1988, in Akron, Ohio, to former NBA player, Dell Curry, and his wife, Sonya, who played volleyball at Virginia Tech. He is the oldest child of his parents and has a brother named Seth, also a professional basketball player signed to Dallas Mavericks, and a sister named Sydel, who plays volleyball at Elon University.

His father played for the Cleveland Cavaliers, at the time of Stephen's birth, but later became a member of the Charlotte Hornets in Charlotte, North Carolina, where Stephen spent most of his childhood. His father used to take both him and his brother to his practice sessions.

The family briefly stayed in Toronto after his father became a member of the Toronto Raptors team. During this time, Stephen led the Queensway Christian College boys' basketball team to an undefeated season. After the family moved back to Charlotte, he enrolled at Charlotte Christian High School. However, due to his frail stature, he was overlooked by most coaches who avoided recruiting him.

After school, despite his wishes to join Virginia Tech, where his father spent his college years, he was rejected by the coach, Seth Greenberg. Curry finally enrolled in Davidson College in November 2005 after being convinced by the coach, Bob McKillop, who first realized his potential when he watched him play at the age of 10.

Recommended Lists:

Recommended Lists:

College Career

After joining Davidson College, Stephen Curry played his first collegiate game against Eastern Michigan. While he could only score 15 points in the game, committing 13 turnovers, he showed his mettle in the next game against Michigan, scoring 32 points. He became the second scorer in the nation with an average of 21.5 points per game and earned the title of Southern Conference freshman of the year that season.

He followed up his record-breaking 122 three-pointers as a freshman in the first season with an even more prominent performance in the 2007-08 season. He led Davidson Wildcats to their first NCAA Tournament since 1969, and continued their winning streak for 22 games.

During his junior year, he became Davidson's all-time leading scorer with 34 points and also scored a career-high 44 points against Oklahoma on November 18, 2008. He surpassed the previous school leader, John Gerdy, in total points and became the NCAA scoring leader that season.

Professional Career

Stephen Curry left Davidson College without completing his senior year to play NBA. He was chosen by the Golden State Warriors as the seventh overall pick in the 2009 NBA draft.

Showcasing his shooting skill right from the beginning, he hit a record 166 three-pointers as a rookie in the league history. However, repeated injuries and the fact that he played for a weak team mostly kept him out of limelight during the next two seasons.

During the 2012-13 season, he recovered fully from his ankle sprain and along with teammate Klay Thompson, he earned the nickname "The Splash Brothers" for their record combined three-pointers in a season. During the season, he individually scored 272 three-pointers to set an NBA record.

During the next season, he made his first All-Star appearance in February 2014 for the West and was later selected to his first All-NBA Team. He also became the leading three-pointer scorer for the Warriors, surpassing Jason Richardson.

Continue Reading Below

He broke his own league record for maximum three-pointers made in a season during the 2014-15 season, achieving 286 three-pointers. In 2015, he helped the Warriors win their first championship since 1975 and was named the Most Valuable Player of the year by NBA.

In the next season, he helped his team win 24 consecutive matches, which culminated in 73 total wins, an all-time NBA record. Curry, despite suffering an injury, led the Warriors to their second straight NBA Finals, but even his record of 27 three-pointers made in a finals match failed to save the game for the team.

He continued to break a number of records during the 2015-16 season, including his own record, once again, to take the new maximum three-pointers tally to 402. He also became the first player in NBA history to be selected the Most Valuable Player unanimously.

Curry broke numerous three-point NBA records in the 2016–17 season and surpassed 300 three-pointers for the second time in NBA history, finishing with 324. His team clinched a playoff berth by February 25, 2017, becoming the fastest team to do so in NBA history.

Achievements

Stephen Curry is renowned for his shooting accuracy and for leading the league in both three-pointers taken and made during three seasons. He set the record for 272 three-pointers during the 2012–13 season, and then surpassed his own record in 2015 and 2016 with 286 and 402 three-pointers respectively.

Stephen Curry became the first player in NBA history to be named Most Valuable Player by unanimous vote in May 2016. With this win, he also made it to the list of 11 players who have won the title two consecutive years.

Personal Life & Legacy

Stephen Curry married his college sweetheart, Ayesha Alexander, on July 30, 2011, in Charlotte. They first met in a church youth group when they were teenagers. They live in Alamo, California, with their two daughters Riley Elizabeth Curry and Ryan Carson Curry.

He is a devout Christian and often expresses his faith in God during his matches as well as his speeches. He also has a tattoo of First Corinthians, 13:8 in Hebrew on his wrist.

Curry became aware about the epidemic of malaria from Davidson teammate Bryant Barr during his school days. For three years since 2012, he decided to donate three insecticide-treated mosquito nets for every 3-pointer he made to the United Nations Foundation's 'Nothing But Nets' campaign. In 2015, he met President Barack Obama in the Oval Office and delivered a five-minute speech in support of the president's Malaria Initiative.

Trivia

Stephen Curry might be a star on the basketball court, but his mother still keeps him under strict discipline. She fines him $100 for each turnover he commits after his third in each game.

Translate Wiki

to Spanish, French, Hindi, Portuguese

Article Title

- Stephen Curry Biography

Author

- Editors, TheFamousPeople.com

Website

- TheFamousPeople.com

URL

-

https://www.thefamouspeople.com/profiles/stephen-curry-13932.php

Last Updated

- May 17, 2017

---

---

---