Boris Tadić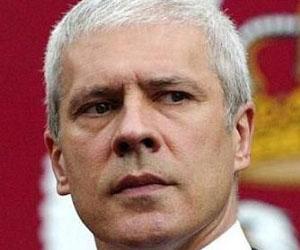 Quick Facts
Birthday: January 15, 1958
Nationality: Serbian
Famous: Presidents Serbian Men
Age: 61 Years, 61 Year Old Males
Sun Sign: Capricorn
Born in: Sarajevo
Famous as: Former President of Serbia
Height: 6'2" (188 cm), 6'2" Males
Family:
Spouse/Ex-: Tatjana Tadić, Veselinka Zastavniković
father: Ljubomir Tadić
mother: Nevenka Tadić
siblings: Vjera Tadić
children: Maša Tadić, Vanja Tadić
More Facts
education: University of Belgrade Faculty of Philosophy, University of Belgrade
awards: European Prize for Political Culture (2007)
Medal For the Contribution to the Victory of Russian Federation (2008)
Steiger Award of Rhine-Ruhr (2010)
North–South Prize of the Council of Europe (2011)
Continue Reading Below
Boris Tadić was the 3rd President of Serbia. Born to a philosopher father and a psychologist mother, he was an intelligent child and was raised in an intellectually rich environment. After obtaining a degree in social psychology, he tried his hands in various fields; he worked as a journalist, military psychologist and as a professor of psychology before finally entering politics. He was one of the members who laid the foundation of the Democratic Party which was a part of the grand coalition of political parties that were opposing the monopoly power of Slobodan Milošević. He served on several posts in the party until being appointed the leader and presidential candidate of the party in the 2004 elections. He won the elections and became the 3rd president of Serbia, a post he retained in the following presidential elections in 2008, with support from most of the other political parties. As the President of Serbia, he carried out economic reforms and liberalized key sectors such as telecommunication, aiming to make his country more attractive to investors. In 2012, he resigned as President in order to trigger an early election and to ensure that the presidential election coincide with the parliamentary election. But he lost the presidential election to Tomislav Nikolic.
Recommended Lists:
Recommended Lists:
Childhood & Early Life
He was born on January 15, 1958, in Sarajevo, the capital of the People's Republic of Bosnia and Herzegovina, to Ljubomir, a philosopher, and his wife, Nevenka, a psychologist.

When he was three years old, his family moved to Belgrade where his father got a job at the newspaper 'Liberation'. He received his elementary education and matriculated from the 'First Belgrade Gymnasium' in Dorćol.

Later, he attended the 'University of Belgrade' and graduated from the Faculty of Philosophy with a degree in psychology. While in college, he was arrested for 'participating in the demonstrations demanding that arrested students be released from detention' and was imprisoned for a month.

Recommended Lists:

Recommended Lists:

Career

He started his career as a journalist, then worked as a military clinical psychologist and later served as a professor of psychology at the 'First Belgrade Gymnasium'. He also worked as a lecturer of political advertising at the Faculty of Drama, University of Belgrade.

In 1990, he became one of the co-founders of the Democratic Party (DS) and the organization that succeeded it, the Socialist Party of Serbia (SPS). The primary objective of this political formation was to bring to an end the monopoly power of the then President Slobodan Milosevic and call for democratic elections.

In 2000, he was appointed as the Minister of Telecommunications in the Federal Republic of Yugoslavia and served as the Minister of Defense of Serbia and Montenegro from March 2003. He also served as a Member of Parliament of the Democratic Party in the parliament and later on as its vice-speaker.

He served two terms as the deputy leader of the Democratic Party before being elected as the new leader in 2004, following the assassination of Zoran Đinđić. As the newly elected Democratic Party leader, he was nominated as the party's candidate for the 2004 presidential elections.

In the 2004 elections, he defeated his opponent, Tomislav Nikolić of the nationalist Radical Party. On July 11, 2004, he took office as the President of Serbia.

Since the adoption of the new Constitution of Serbia, early presidential elections are required under the constitutional law. Therefore, presidential elections were held in 2008 in which the party re-nominated him as their candidate.

In February 2008, he won the presidential elections against Nikolić again and took oath at the inauguration ceremony on February 15, 2008 in the National Assembly of Serbia.

On April 5, 2012, he submitted his resignation which led to an early call for presidential election that coincided with the parliamentary election. This time, he lost to Tomislav Nikolić from the Serbian Progressive Party, and was highly criticized for resigning early from his post which led to his defeat.

Following his defeat in the 2012 presidential election, he stepped down as the party's leader, and took up the position of the 'Honorary President' of the party.

Continue Reading Below

In early 2014, after losing the internal re-elections in the Democratic Party to Dragan Đilas, he resigned from his position of honorary president and left the party.

Recommended Lists:

Recommended Lists:

Major Works

As the president of Serbia, he devoted himself to promoting the privatization of public services and stabilizing the economy of Serbia for better future prospects.

Awards & Achievements

In 2007, he received the 'European Prize for Political Culture' awarded by the Swiss Foundation 'Hans Ringier' of the Ringier Publishing House.

In 2008, he was presented with the 'Quadriga Award', an annual German award sponsored by Werkstatt Deutschland, a non-profit organization based in Berlin.

In 2009, he was awarded the '40 Years of Revolution Medal' of Libya.

In 2011, he was awarded the 'North-South Prize' by the Council of Europe.

In 2012, he was conferred with the 'Ilyas Afandiyev International Prize' of Azerbaijan.

Personal Life & Legacy

From 1980 to 1996, he was married to Veselinka Zastavniković, a journalist. They had no children and later got divorced.

Later, he married Tatjana Rodić, with whom he has two daughters.

Trivia

In 1998, he founded the Centre for modern skills, an NGO dealing with political and civil education, and the development of the political culture and dialogue.

Translate Wiki

to Spanish, French, Hindi, Portuguese

Article Title

- Boris Tadić Biography

Author

- Editors, TheFamousPeople.com

Website

- TheFamousPeople.com

URL

-

https://www.thefamouspeople.com/profiles/boris-tadi-5736.php

Last Updated

- November 10, 2017

---

---

---