Betty Friedan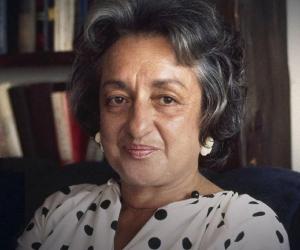 Quick Facts
Birthday: February 4, 1921
Nationality: American
Famous: Feminists American Women
Died At Age: 83
Sun Sign: Aquarius
Born in: Peoria, Illinois
Famous as: Feminist, Writer
political ideology: Feminist
Family:
Spouse/Ex-: Carl Friedan (1947–69; divorced)
Died on: February 4, 2004
place of death: Washington, D.C.
U.S. State: Illinois
Founder/Co-Founder: National Organization for Women (NOW)
Continue Reading Below
A leading voice of women's rights movement, Betty Friedan was a phenomenal woman, often credited with starting the second wave of feminism in the United States, in the 20th century. She had founded many organizations to raise awareness for bridging the gap between men and women in society. Having been a bright student throughout school, she graduated summa cum laude from college, majoring in Psychology. An ardent worker for newspapers, she wrote articles for columns since her school days, a passion that continued into college, and after. Later, she worked as a journalist for leftist publications and assignments. The jewels in the crown to her writing career were the six books published by her, including her autobiography 'Life So Far'. In all her books, she has tried to analyze the woman's role in society and put forth ideas for her liberation from being the subdued one. She also worked as a visiting professor in various colleges. Though her struggle was for women's equality, she was not in favor of feminism against men or the family. She sought for an agenda where the working woman was supported by child care, health care, housing and other facilities. She aimed for a political movement of women and men working towards a new society.
Recommended Lists:
Recommended Lists:
Continue Reading Below
Childhood & Early Life
Betty Friedan, christened Bettye Naomi Goldstein, was born on February 4, 1921, in Peoria, Illinois, to Miriam and Harry Goldstein, who were Jews hailing from Russia and Hungary. Her father owned a jewellery store while her mother was a housewife who started to work after Harry fell ill.

She went to Peoria High School and soon became involved with the school newspaper. She was active in Jewish and Marxist circles and used the newspaper as a mouthpiece to express her feelings of injustice, especially from anti-Semitism.

She was very active, decisive, and rebellious right from her younger days. In school, when her request to start her own column was turned down, she retaliated by starting a magazine of her own called 'Tide' with six other friends.

She attended the prestigious 'Smith College' for girls, in 1938 and bagged a scholarship in the first year for outstanding academic performance. In the second year, she wrote poetry which got published in the college magazines.

As the editor-in-chief of the college newspaper, she used the medium to promote social and political issues such as anti-war and Marxist views. She graduated 'summa cum laude' in Psychology in 1942.

She received a fellowship from the 'University of California' in Berkeley, to work along with famous psychologist Erik Ericsson. However, her increasing involvement with Marxism and other political issues took her to New York, where she delved into the world of journalism.

Continue Reading Below

Recommended Lists:

Recommended Lists:

Career

Betty Friedan began her career in journalism with 'The Federated Press' where she worked from 1943 to 1946. She moved on to 'UE News' and worked for six years before quitting when she was expecting her second child, after which she worked as a freelancer.

In 1957, as part of the 15th reunion at her alma mater college, she conducted a survey of college graduates. She focused on women's thoughts on education and careers, and wrote articles that discussed the problems faced by them in daily life.

Women, who had to forego their education and career for the sake of families, identified with her survey. She researched more on the topic and authored her first book 'The Feminine Mystique' in 1963.

In 1966, she founded the 'National Organization for Women' (NOW) and became its first President. Through this organization, she campaigned fiercely for the equality of women and lobbied for legal rights.

In the 1970s, 'NOW', under her leadership lobbied strongly for the Equal Rights Amendment and brought it into implementation. Many women activists who had not supported the act came forward after Betty Friedan's involvement in the movement.

On 26th August 1970, on the occasion of the 50th anniversary of the 'Women's Suffrage Amendment to the Constitution', she organized the 'Women's Strike for Equality'. An estimated 20,000 women were led down the streets of New York City by her, in support of equal job opportunities and child care centres.

Freidan helped set up 'National Women's Political Caucus' in 1971 and ran as a delegate to the Democratic National Convention. She stood in support of Congress-woman Shirley Chisholm but was unsuccessful.

Continue Reading Below

She founded the first 'Women's Bank and Trust Company' in 1973. In the same year, the Supreme Court legalized abortion and Freidan went ahead to form the National Association for the Repeal of Abortion Laws.

From her observations of her mother, her own self and other women, she sought to help women struggling with career and home through her next major book, 'The Second Stage' in 1982. By this time, she had begun to present a more moderate view on feminism, as compared to her earlier stance.

Though she was in support of legalizing abortion, she was opposed to it as being the focus of feminism. In 2000, she opined that organizations such as 'NOW' should not concentrate too much on abortion and must, instead, be a fight for the woman's freedom to choose childbirth.

Major Works

Betty Friedan's most popular book has been 'The Feminine Mystique', written in 1963, which revolved around women and the 'problem that had no name', which most women at that age were going through. In the book, she explores the lives of housewives who were largely unhappy in spite of leading comfortable lives and showed interest in education and careers of their own.

Her next book 'The Second Stage', published in 1981, dealt with the stage after feminism had been accepted as a change in the society, and had to be taken to the next level. The demand for feminism done with, she wanted the focus of feminism to shift to effective juggling of career and home, equal distribution of responsibilities and economic freedom.

'Life So Far – A Memoir' is her autobiography which was published in 2000. In the book, she wrote about how her life took its course and prompted her to adopt the path of feminism and fight for women's liberty.

Awards & Achievements

Freidan received the 'Humanist of the Year Award', in 1975 from the American Humanist Association, an educational organization that rewards people for their aspiration for greater good of humanity. A leading figure in the woman's movement in the United States, the award was given to Betty Friedan in recognition of her dedicated work on liberating women from the shackles of the home and family.

She received the 'Mort Weisinger Award' from the American Society of Journals and Authors in 1979. The society was established to help writers, journalists, authors and freelance writers in their efforts, and to reward those who made exceptional contributions in the field of writing.

Personal Life & Legacy

She married Carl Freidan, who was a theatre producer, in 1947. They had three children, Daniel, Emily and Jonathan, but she separated from Carl after twenty two years.

Freidan died of congestive heart failure on her 85th birthday, at her home in Washington D.C. She was given a fitting tribute at her funeral not only by her family members, but also by mourners from all over the world.

Trivia

In one of her famous books, this outspoken feminist compared housewifery to Nazi concentration camps. According to her, both housewives and concentration camp victims lost their identities and became dehumanized.

This founder of 'National Abortion Rights Action League' had stated that she was often beaten by her husband. However, she later admitted that the issue was blown out of proportion by the media and that her husband was not a regular wife-beater.

Translate Wiki

to Spanish, French, Hindi, Portuguese

Article Title

- Betty Friedan Biography

Author

- Editors, TheFamousPeople.com

Website

- TheFamousPeople.com

URL

-

https://www.thefamouspeople.com/profiles/betty-friedan-842.php

Last Updated

- October 31, 2017

---

---

---