Avicii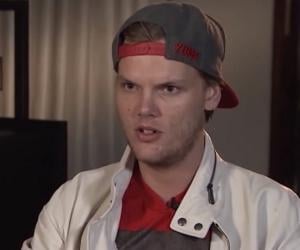 Quick Facts
Birthday: September 8, 1989
Nationality: Swedish
Famous: DJs Record Producers
Died At Age: 28
Sun Sign: Virgo
Also Known As: Tim Bergling
Born in: Stockholm
Famous as: Musician, DJ
Height: 1.80 m
Family:
father: Klas Bergling
mother: Anki Lidén
place of death: Muscat
Cause of Death: Suicide
Continue Reading Below
Tim Bergling, better known by his stage name, "Avicii," was a Swedish musician, DJ, remix artist, and record producer. Born and raised in Stockholm, he was one of the most popular musicians of his time. He showcased his music skills online to receive exposure. Avicii started making music at the age of 16 and began posting his singles on various online music forums. Soon, he caught the attention of a music label. In 2011, he achieved nationwide fame with his single 'Levels.' Two years later, he released his debut album, 'True.' His music touched a new level of experimentation, as he mixed electronic music with several genres of popular music and led the album to become a major commercial and critical success. The album made its way among the top 10 hits in more than 15 countries around the world, such as Sweden, US, and Australia. For the next few years, he toured around the globe, amassing a large fan following, and became one of the most popular DJs of this generation. However, Avicii suffered from serious mental-health issues and committed suicide on April 20, 2018.
Recommended Lists:
Recommended Lists:
Continue Reading Below
Childhood & Early Life
Avicii was born Tim Bergling, on September 8, 1989, in Stockholm, Sweden, to Klas Bergling and Anki Lidén. His mother was a small-time actor who had appeared in more than 50 Swedish films and TV series. He was one of the four children of his parents and was heavily influenced by his older brother, who also happened to be a musician and DJ.

Avicii started making music at the age of 16. Within a few months, he started posting his music on various online electronic music forums. He remixed a number of classic songs in his early years. His work reached the right people, and he soon started getting approached by well-known music labels. His music resembled that of the popular group 'Swedish House Mafia,' and that helped him earn a huge fan following.

Avicii was also inspired by the music of Daft Punk and Steve Angello. He blended deep bass house sounds with melodic sounds. His music was appreciated by DJ Tiësto and Pete Tong. Tiësto introduced Avicii to a number of professional DJs and also set up live shows for him, at small venues.

By 2010, Avicii had started working as a small-time DJ, remixing for artists such as Little Boots and Robyn. Meanwhile, he continued to release his own singles, such as 'Bromance' and 'My Feelings for You.' 'Seek Bromance,' the remixed version of his single 'Bromance,' with vocals by Amanda Wilson, was a huge success.

Recommended Lists:

Recommended Lists:

Career

His initial successes got Avicii acquainted with the right people in the music industry. By 2011, he had already finished working on his breakthrough single, 'Levels.' The song included vocals from the famous gospel-inspired 60s song 'Something's got a Hold on Me' by Etta James. 'Levels' made waves nationally and internationally and established Avicii in the mainstream music arena. The song made its place among the top 10 hits of many European countries and also made waves across the US.

Riding high on the success of 'Levels,' Avicii received the surprise of his life when he was approached by superstar DJ David Guetta, who suggested a collaborative track.

The collaboration resulted in the single 'Sunshine,' which became an instant international success. It was later nominated for the 'Grammy' award for the 'Best Dance Recording.'

The same year, he also faced a slight controversy. A portion of his single 'Fade into Darkness' was allegedly used without his permission by Leona Lewis, on her single 'Collide.' Leona did not credit Avicii, and the entire matter went to court. Subsequently, Leona's lawyer offered Avicii a collaborative album with his client. Avicii accepted the offer, and the matter was resolved.

At the 2012 'Ultra Music Festival' in Miami, Avicii released his new track, 'Girl Gone Wild' with Madonna. At the same event, he released another single, 'Superlove' with Lenny Kravitz. The same year, he gained two million likes on his 'Facebook' page. Following this, he released a track titled 'Two Million' and made it free for download on the music-streaming platform 'SoundCloud.'

Over the next few months, he released some more successful singles, such as 'Silhouettes,' 'Dancing in my Head,' 'Stay with You,' and 'Let it Go.' The last two songs were from his debut studio album, which he announced he would release in 2013. Meanwhile, his success streak continued in 2012, with several new collaborations. He collaborated with Nicky Romero for the single 'I Could Be the One,' which became a major hit with the American audiences. The song was featured on several American reality shows and European radio shows.

In early 2013, Avicii released 'Wake Me Up,' one of his most meaningful and most successful singles to date. The song topped the charts in more than 20 countries across the world and is known as his most successful single. In mid-2013, he announced in an interview that his debut studio album, 'True,' would be available for sale by the end of that year. He also gave a glimpse into the album by saying that he had heavily used the new genre "folktronica," a blend of folk music and electronic music.

Continue Reading Below

'Wake Me Up' became the fastest-selling single in the UK by the end of July. The single also made a record for staying on the top of 'Billboard's 'Dance/Electronic' music chart for 14 weeks. Avicii released more singles from the album in the following months, only increasing the curiosity about his album.

The album 'True' was released in late 2013 and featured several established artists, such as Nile Rodgers and Adam Lambert. A few more songs from the album, such as 'Hey Brother' and 'Addicted to You,' became successful, and the album was certified "platinum" by the 'Recording Industry Association of America' (RIAA). The following year, Avicii released the club remix version of the album, 'True: Avicii by Avicii.' The same year, he collaborated with Chris Martin from the legendary rock band 'Coldplay,' for the single 'A Sky Full of Stars.'

In late 2015, Avicii released his second album, 'Stories,' and merged pop music with electronic sounds. The album reached the top of the 'Billboard' dance chart. Some of his other successful singles from this period were a remix of Nina Simone's classic jazz song 'Feeling Good,' 'Tracks of my Tears,' 'Divine Sorrow,' and 'Heaven.'

Due to frequent live tours, he became exhausted. In 2016, he announced that he would be retiring from live shows. His last live performance was in Ibiza.

Personal Life & Death

Avicii was known to be a heavy alcoholic, and the habit had impacted his health. In 2012, he was diagnosed with acute pancreatitis and had his gall bladder and appendix removed. Despite the health concerns, he kept touring continuously and risked his mental and physical well-being.

By 2017, he started talking about depression and suicidal thoughts openly. Depression is highly prevalent in artists, and Avicii became one of its latest victims. The pressure and the lack of privacy that fame brought, perhaps, contributed to his failing mental health.

On April 20, 2018, his lifeless body was found in his hotel room near Muscat, Oman. A few days later, his family revealed that he had cut himself and bled to death. With Avicii's suicide, another bright star of the music industry dimmed forever. The concept of the "tortured artist" had once again made its presence felt. He was 28 years old at the time of his death, but his music shall always remain ageless and immortal.

Translate Wiki

to Spanish, French, Hindi, Portuguese

Article Title

- Avicii Biography

Author

- Editors, TheFamousPeople.com

Website

- TheFamousPeople.com

URL

-

https://www.thefamouspeople.com/profiles/avicii-41242.php

Last Updated

- July 17, 2018

---

---

---