Aaron Rodgers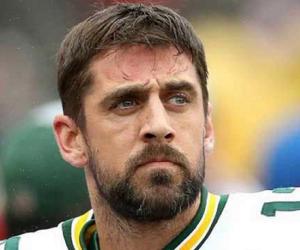 Quick Facts
Birthday: December 2, 1983
Nationality: American
Famous: American Football Players American Men
Age: 35 Years, 35 Year Old Males
Sun Sign: Sagittarius
Also Known As: Aaron Charles Rodgers
Born in: Chico, California, United States
Famous as: American football quarterback
Height: 1.88 m
Family:
father: Edward Wesley Rodgers
mother: Darla Leigh Pittman Rodgers
siblings: Jordan Rodgers, Luke Rodgers
U.S. State: California
Founder/Co-Founder: Suspended Sunrise Recordings
Net worth: $30.5 Million as of Sep 20, 2016
More Facts
education: University of California, Berkeley
Continue Reading Below
Aaron Charles Rodgers is a professional American footballer who plays for the Green Bay Packers of the National Football League. He became well-known especially after he led his team to a Super Bowl championship in 2011. Born in Chico, California, Aaron was a football enthusiast from quite an early age. From the age of two, he was able to silently sit through and enjoy an entire NFL game—a rare trait for a toddler! He was also involved with other sports such as baseball and basketball as a young boy. Though he was expected to be picked by the San Francisco 49ers during the 2005 NFL draft, the team drafted another player Alex Smith instead of him. Rodgers was instead picked by the Green Bay Packers. Throughout his career, he has proved his worth with his amazing skills as well as records. His records include 'Best touchdown to interception ratio in NFL history' and 'Most consecutive games without multiple interceptions'. Rodgers is also known for his philanthropic works. He raised $50,000 for the MACC fund which contributes towards cancer research.
Recommended Lists:
Recommended Lists:
Continue Reading Below
Childhood & Early Life
Aaron Charles Rodgers was born on 2 December 1983, in Chico, California in the United States. His father, Edward Wesley Rodgers, works as a chiropractor, and his mother's name is Darla Leigh. He is of English, Irish, and German ancestry. He is the second of three sons.

From an early age, he received inspiration form his father, who himself used to be a footballer, playing for the Chico State Wildcats for three years. Rodgers learnt fast and by the time he was five, he could throw a football through a hanging tire.

Rodgers attended several schools, such as Vose Elementary High School and Pleasant Valley High School. As a talented player, he set a variety of records.

After completing his high school graduation, he attended the Butte Community College, located in Northern California. Later, he received an athletic scholarship from the University of California. There, he played for the California Golden Bears football team for a year.

He played well for the team, and led it to several victories. In the Insight Bowl, he was named 'Most Valuable Player'. He set a school record as well, for consecutive completed passes with 26 touchdowns and tied an NCAA record with 23 consecutive passes completed in a game.

Recommended Lists:

Recommended Lists:

Career

In the 2005 NFL Draft, Aaron Rodgers was selected by the Green Bay Packers, based in Green Bay, Wisconsin. Though he had a great desire to be picked by the San Francisco 49ers, they had instead picked Alex Smith.

In August 2005, he agreed to a five-year deal with the Packers which was worth $7.7 million. Despite his brilliant skills, very little of him was seen in his rookie season.

After the retirement of Brett Favre in 2008, Rodgers became the starting quarterback for the 2008 season. Passing for over 4000 yards and throwing for 28 touchdowns in his first season, Rodgers proved to be one of the best quarterbacks in the league.

His performance in the 2009 season was equally brilliant, and he was named NFL Offensive Player of the Month for October 2009 when he passed for 988 yards, and completed 74.5 percent of his passes as well.

In 2010, he was named the 'FedEx Air NFL Player of the Year' due to his excellent passing performance during the season. Along with setting numerous NFL records in both 2010 and 2011, he successfully led his team to victory in the 2011 Superbowl.

Over the next few years of his career, he maintained his spot successfully among the top performers in the successive seasons.

He helped lead the Packers to a NFL North Title in 2016. He finished the season with 401 completions and 610 attempts, 65.7% completion percentage, 40 touchdown passes, seven interceptions, a passer rating of 104.2, and 369 rushing yards, along with four rushing touchdowns. He was also ranked on the NFL Top 100 Players of 2016, as the sixth best player.

Awards & Achievements

Aaron Rodgers has been honored with several awards throughout his career, such as the 'NFC Offensive Player of the Year' award (twice, in 2011 and 2014), and the 'FedEx Air NFL Player of the Year award (twice, in 2010 and 2014).

Some of his achievements are 'Best touchdown to interception ratio in the History of NFL' (4.13), 'First player in the history of NFL to pass for over 4000 yards in each of the first two seasons as starting quarterback', and 'Most Consecutive Games with at least three touchdown passes and no interceptions' (4).

Personal Life & Legacy

Aaron Rodgers dated actress and model, Olivia Munn, from 2014 to 2017.

He has two brothers, one of whom played as a quarterback for Vanderbilt University as well as with the Jacksonville Jaguars and Tampa Bay Buccaneers for a short while.

He currently lives in Suamico in Wisconsin. He is a Christian and has said that he tries to follow Jesus by example.

Translate Wiki

to Spanish, French, Hindi, Portuguese

Article Title

- Aaron Rodgers Biography

Author

- Editors, TheFamousPeople.com

Website

- TheFamousPeople.com

URL

-

https://www.thefamouspeople.com/profiles/aaron-rodgers-12058.php

Last Updated

- June 18, 2017

---

---

---