Zhang Ziyi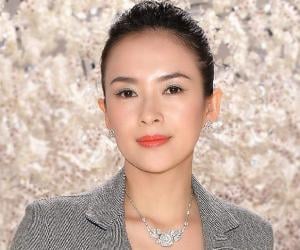 Quick Facts
Birthday: February 9, 1979
Nationality: Chinese
Famous: Millionaires Models
Age: 40 Years, 40 Year Old Females
Sun Sign: Aquarius
Also Known As: Ziyi Zhang
Born in: Beijing, China
Famous as: Actress
Height: 1.65 m
Family:
Spouse/Ex-: Wang Feng (m. 2015)
father: Zhang Yuanxiao
mother: Li Zhousheng
siblings: Zhang Zinan
children: Wang Xingxing
More Facts
education: Central Academy of Drama
Continue Reading Below
Zhang Ziyi is a well-known Chinese model and actress. Considered as one of the "Four Dan" (most bankable) Actresses of the country, she has appeared in the films 'Crouching Tiger, Hidden Dragon', 'The Road Home', 'Musa', 'My Wife is a Gangster 2', 'Jasmine Women', 'Love for Life', 'My Lucky Star' and 'The Wasted Times'. Ziyi is also known for her appearances in the movies 'Hero', 'Rush Hour 2', 'The Banquet' and 'House of Flying Daggers'. Her most critically acclaimed work is 'The Grandmaster', for which the actress received 12 different Best Actress awards and became the most awarded actress for a single Chinese film. Ziyi's performance in the flick 'Memoirs of a Geisha' too brought appreciation to her and even earned her a BAFTA Award for the Best Actress in a Leading Role as well as a Screen Actors Guild Award under the category Outstanding Performance by a Female Actor in the Leading Role. The Chinese beauty, who is the ambassador of companies and brands including Omega Watches, Visa, Maybelline and Garnier, was among the Top 5 in Forbes' 'Celebrity 100 list' from 2004 to 2010. Ziyi is also the spokesperson for a child care organization. Besides these, she is the Global Ambassador of China's Special Olympics. The Actress also served as an ambassador and image ambassador at the ScreenSingapore 2011 film festival and 1st Beijing International Film Festival respectively.
Recommended Lists:
Recommended Lists:
Continue Reading Below
Childhood & Early Life
Zhang Ziyi was born on 9 February 1979 in Beijing, China, to Li Zhousheng, a kindergarten teacher and Zhang Yuanxiao, an accountant and later economist. She has an older brother, named Zhang Zinan.

At the age of eight, Ziyi started learning dance. Later on, she joined the Beijing Dance Academy at age 11.

At age 15, she won the national youth dance championship and started appearing in TV commercials in Hong Kong. At the age of 17, she entered the Central Academy of Drama in Beijing.

Recommended Lists:

Recommended Lists:

Career

In 1998, Zhang Ziyi was offered her first acting role by director Zhang Yimou for his film 'The Road Home'. She then appeared in the 2000 martial arts movie 'Crouching Tiger, Hidden Dragon'.

Soon after this, the actress acted in the American flick 'Rush Hour 2' in 2001. The same year, she appeared in the movies 'The Legend of Zu' and 'Musa'.

Then Zhang co-starred in the film 'Hero' alongside in Tony Leung in 2002. This flick was a huge success and was even nominated for the Oscars and Golden Globe awards.

The following year, the Chinese beauty appeared in the movie 'My Wife is a Gangster 2'. This was followed by her performance in the romantic drama flick '2046'.

Then Zhang acted in the films 'House of Flying Daggers' and 'Jasmine Women'. Next came the movie 'Princess Raccoon' in which she played Princess Tanuki. This movie, directed by Japan's Seijun Suzuki, premiered at the Cannes Film Festival.

Displaying her talent for musical tap-dancing, the Chinese actress then played the role of Sayuri in 'Memoirs of a Geisha'.

In the year 2006, she appeared in the Chinese film 'The Banquet'. A year later, she lent her voice to the character of Karai in the American animated movie 'TMNT'.

Continue Reading Below

In 2008, Ziyi did the film 'Forever Enthralled'. After this, she performed in 'Horsemen', 'Sophie's Revenge' and 'The Founding of a Republic'.

Then she got featured as Gu Changwei in the AIDS-themed movie 'Love for Life' in 2011. A year later, she starred in the Chinese-Korean co-production 'Dangerous Liaisons'.

Zhang Ziyi then reprised her role of Sophie in the sequel of 'Sophie's Revenge', titled 'My Lucky Star' in 2013. After this, she starred in the romantic epic 'The Crossing'.

In 2015, she produced the flick 'Oh My God' and also made a cameo appearance in it. She next appeared in the romance anthology movie 'Run for Love' and the crime epic 'The Wasted Times'. In the coming future she will be seen in the science fiction thriller film 'God Particle' in 2018.

Recommended Lists:

Recommended Lists:

Major Works

In 2013, Zhang Ziyi worked with Tony Leung and Wong Kar-wai in the film 'The Grandmaster'. The performance of Ziyi in the movie was her best performance in the history of her career according to critics. The film also earned the actress several "Best Actress" awards across Asia.

Recommended Lists:

Recommended Lists:

Awards & Achievements

In 2001, Zhang Ziyi was ranked No. 2 in FHM's '100 Sexiest Women´ list (Taiwan edition). The same year, she won the 'Best Supporting Actress' award at 6th Golden Bauhinia Awards function for 'Crouching Tiger, Hidden Dragon.' Her performance in the flick also earned a 'Young Artist Award' that year.

The actress was placed in the list of '25 Hottest Stars Under 25' by the Teen People Magazine in 2001 and 2002.

Continue Reading Below

From 2004 to 2010, Ziyi was ranked in the Top 5 in 'Forbes China Celebrity 100' list (each year).

She was placed in the list of '50 Most Beautiful People' by 'People' magazine in 2005. The same year, she won the 'Outstanding Actress' award at 11th Huabiao Awards function for 'House of Flying Daggers.' That year Ziyi also received the 'Best Actress award' at the 24th Hong Kong Film Awards and 11th Hong Kong Film Critics Society Awards respectively for her movie '2046.'

The Chinese beauty was once listed in TIME's World's list of '100 Most Influential People'.

In 2007, she was voted #1 in E!'s list of Sexiest Action Stars. The following year, Ziyi was honored with 'Outstanding Contribution to Chinese Cinema' award at the 11th Shanghai International Film Festival.

In 2011 the Chinese star won 'Film Achievement Award' and 'Best Actress' award at Huading Awards function and Shanghai Film Critics Awards function respectively for her movie 'Love for Life.'

Zhang Ziyi earned an Order of Arts & Letter at Ordre des Arts et des Lettres Award in 2013. The same year, she won several 'Best/outstanding Actress' trophies at different awards functions including the 15th Huabiao Awards, 10th Huading Awards, 56th Asia-Pacific Film Festival and 50th Golden Horse Film Festival and Awards, to name a few.

Personal Life

In 2007, Zhang Ziyi received Hong Kong residency through Quality Migrant Admission Scheme.

She got married to rock musician Wang Feng in March 2015. In December the same year, she gave birth to their daughter Wang Xingxing.

Trivia

She is a former spokesmodel/spokesperson for Tag Heuer, Maybelline, Pantene, Coca-Cola and Lenovo.

She was a jury member at the 2006 Cannes Festival.

In 2012, a Chinese website Boxun falsely claimed that the actress was paid $100 million to sleep with some Chinese officials. The following year, Ziyi sued the website for defamation. At last, Boxun agreed to pay an undisclosed amount to her as well as issue a front page apology. Ziyi had also won similar cases against Next Media.

1. Crouching Tiger, Hidden Dragon (2000)

(Fantasy, Adventure, Action, Romance)

2. Rush Hour 2 (2001)

(Thriller, Comedy, Crime, Action)

---

3. Ying xiong (2002)

(History, Action, Adventure)

4. Memoirs of a Geisha (2005)

(Drama, Romance)

---

---

5. House of Flying Daggers (2004)

(Action, Romance, Drama, Adventure)

6. The Cloverfield Paradox (2018)

(Thriller, Sci-Fi, Mystery, Horror)

---

---

---

7. 2046 (2004)

(Romance, Drama, Sci-Fi)

8. The Grandmaster (2013)

(Action, Drama, War, Romance, Biography)

---

---

---

---

| | | |
| --- | --- | --- |
| 2001 | Best Fight | Wo hu cang long (2000) |

Translate Wiki

to Spanish, French, Hindi, Portuguese

Article Title

- Zhang Ziyi Biography

Author

- Editors, TheFamousPeople.com

Website

- TheFamousPeople.com

URL

-

https://www.thefamouspeople.com/profiles/zhang-ziyi-8659.php

Last Updated

- November 17, 2017

---

---

---