Vitaly Zdorovetskiy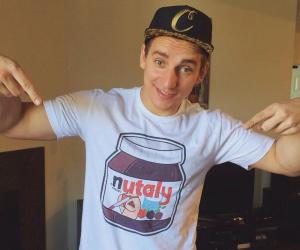 Quick Facts
Nationality: American, Russian
Age: 26 Years, 26 Year Old Males
Sun Sign: Pisces
Also Known As: VitalyzdTV
Born Country: Russia
Born in: Murmansk, Murmansk Oblast, Russia
Famous as: You Tube Personality
Height: 1.80 m
Family:
mother: Elena Vulitsky
More Facts
education: Park Vista Community High School
Continue Reading Below
Vitaly Zdorovetskiy is one of the very few famous Russian born American You Tube personalities. Better known by his user name, VitalyzdTV, he is popular as a prankster, comedian and budding actor. His main video channel has over 1.2 billion views and 9.2 million subscribers, while his vlog has more than 225 million views and 1.8 million subscribers. His parents migrated to America while he was in high school and young Zdorovetskiy first tried his hand at professional skateboarding. He made his entry into You Tube with videos of his skateboard stunts, but had to give it up due to a series of injuries. At the age of 18, he worked in an adult film with Diamond Kitty, for the adult entertainment company 'Bang Bros' in 2011. However, adult film industry was not his cup of tea and Zdorovetskiy turned his attention to comedy and pranks instead. Vitaly is known to go to any length to get his footage for his videos. In fact, he has been arrested on more than one occasion while shooting for his videos. His partners Roman Atwood and Dennis Roady along with Vitaly are notorious on You Tube and plan to take the next step to the big screen with some humorous movies.
Recommended Lists:
Recommended Lists:
Continue Reading Below
The Meteoric Rise To Stardom
In 2012, he made his first successful video called 'Miami Zombie Attack Prank!', where he dressed up like a zombie and travelled through the poorest of Miami neighbourhoods, scaring random unsuspecting bystanders as he pretended to be a cannibal. His actions and the startled reactions of his subjects were a great hit with viewers on You Tube, so much so, that by January 2015 the video had over 30 million views. The prank was so popular that a sequel was produced in Columbus, Ohio, that received over five million views within a week.

Recommended Lists:

Recommended Lists:

In 2015, he shot for his prank 'Russian Hitman', where he pretended to plant a briefcase with a bomb and told people that they had just 60 seconds to save their lives. One of his subjects did not take the joke too well and reported him to the police. Zdorovetskiy got arrested, but little did the man know that he had done him a favour, as after his arrest the popularity of the prank soared on You Tube and it became one of the most watched channels.

Besides scaring people, his videos have also done a lot of good. His Video 'Extreme Homeless Man Makeover', released in July 2013, resulted in a homeless man getting a job and reuniting with his family in real life. He even got offers from dental surgeons to fix the man's teeth for free, which was featured on television news including 'Good Day LA Fox' morning show. VitalyzdTV became the third most watched channel in a week, with 45 million views, when he released his video 'Gold Digger' that features a woman who rebuffs his advances, till she is made to believe that he owns a Lamborghini Gallardo sports car.

Another of his viral videos featured him dressed up as 'Leatherface' from 'The Texas Chain Saw Massacre', sawing off the leg of a Hanhart syndrome patient with a chain saw in public. He has done many crazy things in life like climbing up onto the Hollywood Sign with a placard to say that he is back, streaking during the NBA Finals, crashing the stage of the 6th Annual Streamy Awards and taking off his pants on stage. After his movie 'Hard Right', his latest venture is 'Natural Born Pranksters' where he co-stars with his good friends, Roman Atwood and Dennis Roady. Lionsgate has officially acquired worldwide distribution rights for the film.

Continue Reading Below

Behind The Curtains

Zdorovetskiy was born on March 8. 1992 in Murmansk, Russia and shortly thereafter moved to Odessa, Ukraine with his parents. Later, his family migrated to America and lived in Florida, where he finished his last two years of schooling at Park Vista Community High School. Right from his school days, he was known to be the clown of his class. It was his grandmother who encouraged him and bought him a camera to make his own videos.

Currently he lives in Loss Angeles, California with his mother. He is the only child of his parents and very little is known of his father who is a businessman. He is presently single and not dating anyone in particular. His career in show business is on the rise and he proudly shows it with his Jaguar F-Type V8 S Sports car.

Last Updated : August 10, 2018

Translate Wiki

to Spanish, French, Hindi, Portuguese

---

---

---

Vitaly Zdorovetskiy Fans Also Viewed