Brent Rivera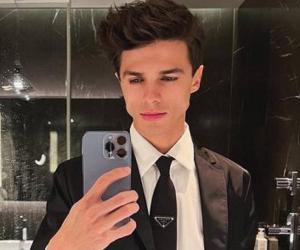 Quick Facts
Nationality: American
Age: 21 Years, 21 Year Old Males
Sun Sign: Capricorn
Born in: Huntington Beach, California
Famous as: YouTuber, Viner
Height: 1.80 m
Family:
siblings: Brice (Brother) and Blake, Lexi (Sister)
U.S. State: California
Net worth: $2.5 million as of Jun 6, 2016
Continue Reading Below
Brent Rivera is a well-known American Social Media Personality across several platforms; however he shot to fame and popularity for his activities as a YouTuber and Vine Star. He had that X-factor since childhood when he began acting at eleven years of age. This ever so cute and endearing young lad, whose fans especially girls, are crazy about him, always wanted to become an entertainer. He proved his mettle through his immense popularity as a YouTuber and Vinestar that many youngsters and even many other Social Media Personalities would long for. In 2009 Rivera created his YouTube account that presently has over 2.2 million subscribers. However the even bigger thing happened when he created his Vine channel in 2013 which presently has a whooping count of over 8.5 million followers. This popular Vine star also has great fan following in both his Instagram account and Twitter account. Once the YouTube fans went ecstatic when Lilly Singh alias Superwoman, a popular YouTuber, rapper, actress and comedian had a pleasant conversation with Rivera on Twitter with regard to collaboration.
Recommended Lists:
Recommended Lists:
Continue Reading Below
The Meteoric Rise to Stardom
This Los Angeles teen who is not even a so-called celebrity or ever been featured in any film or TV program is a real heartthrob for umpteen numbers of his fan following, particularly girls who go crazy for him. Receiving millions of likes on his photos on Instagram has become a common phenomenon for him. Although the exact reason for his immense popularity cannot be linked with any particular aspect of this youngster—whether it's the videos he posts or his killer looks or something else—it is a clear fact that he is the blue-eyed boy for his fans who shower him with thousands of favourites and likes each time he uploads something. One of his tweets on January 2014 that conveyed "Goodnight" and had a non-emoji smiley face with it received over 3000 favourites and around 500 re-tweets.

Recommended Lists:

Recommended Lists:

His most viewed YouTube video is a sweet and funny one that consists of five relatable things that possibly makes his fanbase go crazy about him. The video has been viewed for more than 170,000 times. His YouTube channel 'MrBrent98' that mainly consists of posts which many a times contain contents like his observations on something or his current endeavours and stuffs like performing sketches presently has over 2.2 million subscribers. However this is not all. The colossal success that he amassed is from the Vine account 'thebrentrivera' that he created in 2013 and presently boasts of a whooping count of over 8.5 million followers. The Vines he posted received millions of likes and revines apart from thousands of comments. For example the 'Modern Family'-infused Vine received more than 220,000 likes and 200,000 revines. It also received around 10,000 comments.

Recommended Lists:

Recommended Lists:

He is also a gifted singer. His song, 'Doubt Your Doubts' was released on ITunes on November 2014. He was tagged as "Best Dressed" at the 2015 MTV Music Awards. His friends and associates from the social media include Cameron Dallas, Nash Grier, Lilly Singh, Shawn Mendes, Chris Collins and Chloe Lukasiak among others. He is a member of the global network, Fullscreen Network that brings together brands, content creators and fans. He has worked with several brands with Coca-Cola being one of the first ones.

By early 2016 he had a net worth of almost $1 million. The pace with which this youngster is stepping up the popularity chart it will not be too much to say that Rivera has an inkling of what his fans and other viewers want to watch and would definitely reach greater heights in his career.

Continue Reading Below

What Makes Brent So Special

He is very caring towards his fans and holds them dear to his heart, treating them like family. This gesture of Brent Rivera makes him more adorable and endearing. He also has a good sense of what his fans and viewers wish to watch thus enabling him to connect even more deeply with them.

Behind The Curtains

He was born on January 9, 1998, in Huntington Beach, California. He has three siblings, sister Lexi and two brothers Brice and Blake. Not much is known about his personal life though his tweets sometimes suggest that he is single. Good news for you, girls!

Last Updated : March 12, 2018

Translate Wiki

to Spanish, French, Hindi, Portuguese

---

---

---

Brent Rivera Fans Also Viewed