1
NFKRZ
(Russian Social Media Personality and YouTuber)
Birthdate: January 24, 1998
Sun Sign: Aquarius
Birthplace: Chelyabinsk, Russia
Birthdate: March 11, 1987
Sun Sign: Pisces
Birthplace: Ukraine
Better known as CrazyRussianHacker, which is also the name of his YouTube channel, Taras Kulakov left his job at Walmart after gaining fame on the internet with his "life hacks." The Ukrainian YouTuber has previously been a professional swimmer. He is known for his signature sunglasses and his towering height.
3
Zhong
(Russian Social Media Celebrity, TikTok and YouTube Star)
Birthdate: March 14, 2000
Sun Sign: Pisces
Birthplace: Moscow, Russia
Birthdate: March 8, 1992
Sun Sign: Pisces
Birthplace: Murmansk, Russia
Russian-American YouTuber Vitaly Zdorovetskiy abandoned his dreams of becoming a skateboarder due to an injury. Known for his prank videos, he later launched the porn site Vitaly Uncensored. His bizarre antics, such as running onto the field and streaking, have got him banned from attending major sports events.
5
Like Nastya
(Russian-American Social Media Personality and YouTuber)
Birthdate: January 27, 2014
Sun Sign: Aquarius
Birthplace: Krasnodar Krai, Russia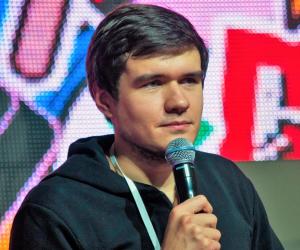 Birthdate: May 24, 1991
Sun Sign: Gemini
Birthplace: Sterlitamak, Russia
Birthdate: July 22, 1986
Sun Sign: Cancer
Birthplace: Lipetsk, Russia
Russian-American YouTuber Maria Viktorovna, better known as GentleWhispering, became the first ASMR content creator to reach a million subscribers on YouTube. A certified massage therapist, she gained interest in ASMR and relaxing videos during her battle with depression following her divorce and later earned fame with her whisper videos.
Birthdate: October 21, 1995
Sun Sign: Libra
Birthplace: Vladikavkaz, Russia
Birthdate: June 22, 1994
Sun Sign: Cancer
Birthplace: Ukraine
Birthdate: May 25, 1997
Sun Sign: Gemini
Birthplace: Tyumen, Russia
Birthdate: March 31, 1999
Sun Sign: Aries
Birthplace: Russia
12
Dasha Taran
(Russian Model, Vlogger, Instagram, YouTube, and TikToker Star)
Birthdate: October 12, 1999
Sun Sign: Libra
Birthplace: Russia
Birthdate: September 1, 1992
Sun Sign: Virgo
Birthplace: Russia