Tyler Winklevoss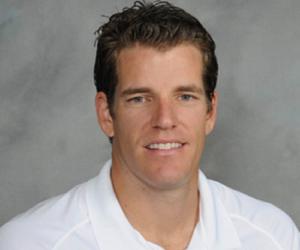 Quick Facts
Nationality: American
Famous: Venture Capitalists Internet Entrepreneurs
Age: 37 Years, 37 Year Old Males
Sun Sign: Leo
Also Known As: Tyler Howard Winklevoss
Born in: Southampton (village), New York
Famous as: Rower, Entrepreneur
Height: 1.96 m
Family:
father: Howard Winklevoss
mother: Carol Winklevoss
siblings: Cameron Winklevoss
U.S. State: New Yorkers
Founder/Co-Founder: ConnectU
More Facts
education: Christ Church, Harvard University
Continue Reading Below
Tyler Winklevoss is an American rower, entrepreneur and founder of the company Winklevoss Capital Management. He has an identical twin named Cameron Winklevoss, with whom he is very close. Both the brothers went to the same school and college, learnt to row at the same club and participated together in the same competition. If one of them were good in anything the other had to be good in that. It was while studying at Harvard, when they tried to set up social networking site with another friend, eventually enlisting the help of Mark Zuckerberg, to complete the programming. When Zuckerberg launched Facebook instead of completing their work, they sued him in court, receiving $65m as settlement. Later he and his brother studied MBA at Oxford University, England and on their return opened a venture capital company, concurrently investing heavily in cryptocurrency, namely, bitcoin, and became billionaires within a few years. In the midst of all these, they continued with rowing, competing in the men's pair rowing event at the 2008 Summer Olympics, becoming sixth out of the fourteen team that participated in the event.
Recommended Lists:
Recommended Lists:
Continue Reading Below
Childhood & Early Years
Tyler Winklevoss was born on August 21, 1981 in Southampton, New York. His father, Howard Edward Winklevoss, Jr., was a professor of actuarial science at the Wharton School, University of Pennsylvania. Later, his founded Winklevoss Consultants and Winklevoss Technologies and he is also the author of more than twenty books.

His mother's name is Carol Winklevoss née Leonard. He has an identical twin named Cameron Winklevoss. As children, they were inevitably stopped on the road to be asked who among them was elder. They could not answer the question because they were never told.

It is not known when, but sometime after their birth, the family shifted to Greenwich, Connecticut. Here, the boys began their education at Greenwich Country Day School. Musically inclined, they also started studying classical piano from the age of six, continuing with their lessons till they were eighteen.

For their high school education, they were sent to Brunswick School, an all-boys college-preparatory private school in Greenwich. Here Tyler developed an interest in classics, taking up Latin and Ancient Greek.

In 1994, at the age of thirteen, after teaching himself HTML, he set up a website designing business with Cameron. Operating from their bedroom, they started working for fees, receiving anything between couple of hundred dollars to several thousand for each site. Lacking in time, they soon wind it up.

Although their first business venture was a failure, the brothers were highly successful in other areas. In early 1997, at the age of fifteen, they joined Saugatuck Rowing Club on the Saugatuck River, excelling in that sport. Subsequently, they cofounded a rowing (crew in USA) program for their high school.

In the summer of 1999, Tyler and Cameron participated in the World Rowing Junior Championships in Plovdiv, Bulgaria as member of United States Junior National Rowing Team, competing in the coxed pair event. Concurrently, they were also good in academics and played soccer, lacrosse and tennis.

In 2000, both the brothers entered Harvard University with economics as their major. Here they continued to show equal interest in rowing and academics, very soon becoming members of prestigious Porcellian Club and the Hasty Pudding club.

At Harvard, Tyler and Cameron were coached by legendry rower, Harry Parker. By 2004, they graduated to six-seat eight-boat and started taking part in different competitions, winning 'Eastern Sprints' championship and the 'Harvard-Yale Regatta' in the same year.

In 2004, they also competed in the Lucerne Rowing World Cup, reaching the grand final, where they were placed sixth and in the Henley Royal Regatta, where they beat the Cambridge University Blue Boat. Also in the same year, they graduated from Harvard, earning their AB degree.

Recommended Lists:

Recommended Lists:

HarvardConnection

In December 2002, while Tyler and Cameron were studying economics at the Harvard University, they conceived the idea of opening a social networking site called HarvardConnection for Harvard students. In this, they were joined by Divya Narendra, who was then majoring in applied mathematics at Harvard.

In January 2003, they approached Sanjay Mavinkurve, another Harvard student, for programming work. But shortly after he had started the work, in Mavinkurve graduated from Harvard and left. Thereafter, they approached Victor Gao, another senior student and programmer.

Gao did not want to become a partner in the venture; deciding to work for HarvardConnection on work for hire basis, a condition, which the trio happily accepted. Eventually, he worked on the website code throughout the summer and fall of 2003, receiving a payment of $400.

By August 2003, they had created a prototype of HarvardConnection, completing the work on coding front-end pages, the registration system, a database, back-end coding etc. Possibly in November 2003, Gao left Harvard, suggesting that they should contact Mark Zuckerberg to complete the program.

Mark Zuckerberg had entered Harvard in 2002 and by 2003 he had developed his own programs like Coursematch and Facemash, becoming quite famous for them. On November 25, 2003, Tyler, Cameron and Narendra met Zuckerberg, where they explained to him about their project.

When Zuckerberg agreed to work on the project, the HarvardConnection team provided him with the details such as the private server location, password for the website and the code. It was understood he would finish the programming and receive sweat equity for his contribution.

On 30 November 2003, Zuckerberg confirmed via an email that he did not see any problem in launching the site. Thereafter, although he continued to assure the trio through emails that the work was progressing well he stopped working on HarvardConnection but concentrated on his own project.

Continue Reading Below

On February 4, 2004, Zuckerberg launched the facebook.com, a social networking site, initially for Harvard students; but it was so designed that it could later be expanded. The HarvardConnection team came to know about it on February 6, 2004 when they read the press release.

They also found out that Zuckerberg had left the HarvardConnection code as well as the registration incomplete and non-functional. Eventually on May 21, 2004, they launched HarvardConnetion, renamed as ConnectU; but it could not compete with the popularity of Facebook.

In September 2004, ConnectU filed a lawsuit against Facebook in Massachusetts court, alleging that its creator had copied their idea, delaying their work in order to launch his site first. He had never intended to provide them with the code. Facebook also filed a counter suit charging them with calumny.

In February 2008, after years of battling out in court, they finally reached an agreement, whereby Tyler and Cameron Winklevoss received $20 million in cash and $45 million in Facebook stock.

Recommended Lists:

Recommended Lists:

After ConnectU

In 2007, while the litigation was going on, Tyler and Cameron were included in the United States Pan American Team, competing at the 2007 Pan American Games in Rio de Janeiro, winning silver medal in coxless-four race and a gold medal in an eight-boat event at Rodrigo de Freitas.

In 2008, they participated in the Olympic Games as members of the United States Olympic Team, competing in the men's coxless pair event at the Shunyi Olympic Rowing-Canoeing Park in Beijing, reaching the Final through Repechage. They finished sixth out of the fourteen teams that took part in the Olympic.

In 2009, Tyler and Cameron entered Saïd Business School at the University of Oxford for their MBA degree. There they continued to pay equal attention to academics and rowing, waking at 6:30 am to accommodate intensive training session at Boat Club as well as long hours of classroom lectures.

Continue Reading Below

In March 2010, they rowed for the Blue Boat race in Oxford-Cambridge Boat Race on River Thames. Later in the same year, they received their MBA degree from Oxford and returned to the USA.

On December 21, 2009, while the Winklevoss brothers were still in England, Wayne Chang, the founder of i2hub Organization, launched a lawsuit against them, seeking 50% of the settlement for his involvement in setting up ConnectU. The lawsuit would however be dismissed in 2014.

In 2011, they once again sued Facebook, claiming that it had misrepresented the value of the stock that it had provided as part of the settlement. However, the judge refused to entertain the plea, saying it was time to close down the litigation. They initially thought of appealing against it, but later withdrew.

Bitcoin

In 2012, Tyler and Cameron Winklevoss founded a venture capital company in New York. Called Winklevoss Capital Management, it invests in different asset classes, especially providing guidance, infrastructure and capital to start up companies in their early stages.

They also invested heavily on digital virtual currency, popularly known as bitcoins. In April 2013, they bought approximately 10,000 bitcoins at $120 a coin, using $11 million out of the sixty-five million they got as Facebook settlement. Since then, they have not sold a single bitcoin, allowing their value to grow.

In 2015, they launched a cryptocurrency exchange called Gemini in order to facilitate buying and selling of bitcoins. It also enables the buyers to store their bitcoins safely in a password-protected site with a complex system of private keys for protection.

In June 2016, Gemini became the world's first licensed ether exchange. Later it began operations in Canada and U.K and by 2017 it began to handle $300 million of transactions daily. Tyler as well as his brother have by then become billionaires.

Translate Wiki

to Spanish, French, Hindi, Portuguese

Article Title

- Tyler Winklevoss Biography

Author

- Editors, TheFamousPeople.com

Website

- TheFamousPeople.com

URL

-

https://www.thefamouspeople.com/profiles/tyler-winklevoss-15351.php

Last Updated

- April 05, 2018

---

---

---