Tori Amos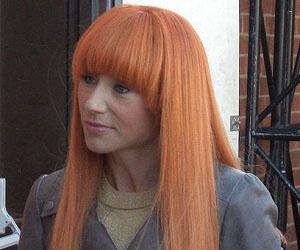 Quick Facts
Nationality: American
Age: 55 Years, 55 Year Old Females
Sun Sign: Leo
Also Known As: Myra Ellen Amos
Born in: Newton
Famous as: Musician and Singer
Height: 5'2" (157 cm), 5'2" Females
Family:
Spouse/Ex-: Mark Hawley
father: Edison Amos
mother: Mary Ellen Amos
siblings: Mike Amos
children: Natashya Lórien Hawley
Personality: INFP
U.S. State: North Carolina
Founder/Co-Founder: RAINN
More Facts
education: Richard Montgomery High School, Rockville, MD
Continue Reading Below
Tori Amos is an American pianist, singer-songwriter and composer. This hugely talented recording artist is a classically trained musician who is known in the music circuits for being one of the few alternative rock singers to use a piano as her primary instrument. From her early work in a band to a noteworthy solo career, she has had an immensely successful career and has achieved great heights in the world of music. She has never let her challenges, her own rebelliousness, creative or financial disagreements, or a record label's avarice, stand in the way of composing music in her own unique style. From recording in a church and using gospel choirs and drum programming, to incorporating bagpipes, harpsichord, harmonium, etc., her albums have thrown a curveball at the mainstream audience, and never failed to surprise and delight them. The lyrical content of her later works is so powerful and confrontational that it's said to help women deal with abuse and the ensuing emotional trauma of misogyny. While the fond listener grows fonder of her music, the critics are busy praising the intensity and uniqueness of her work. The theme of her many works ranges from American history, pornography, homophobia to religion and politics. Scroll through to read more about this artist whose fan base has remained intact for more than 30 years.
Recommended Lists:
Recommended Lists:
Continue Reading Below
Childhood & Early Life
Tori Amos was born on August 22, 1963, in North Carolina, to Mary Ellen and the Reverend Edison Amos. She began to play the piano when she was two and had started composing by five. After receiving scholarship, she joined the Preparatory Division of the 'Peabody Conservatory of Music'

By the age of 11, she had developed a taste for rock and pop music and refused to read sheet music. Following her expulsion, she began playing at gay bars and piano bars, chaperoned by her father.

In 1977, she won a county teen talent contest singing 'More Than Just a Friend'. After establishing herself in the piano player in the Washington D.C., she moved to Los Angeles to pursue a career in music.

Continue Reading Below

Recommended Lists:

Recommended Lists:

Career

In 1986, she established a music group known as 'Y Kant Tori Read', commemorating her days at the Peabody Conservatory.

In 1988, the Y Kant Tori Read's self-titled debut album was released. After the album bombed, she began working as a backup vocalist for other leading artists. Around that time, she wrote 'Distant Storm' for the film 'China O'Brien'. In the credits, the song is attributed to a band called, 'Tess Makes Good'.

Contractual obligation led her to record her breakthrough album 'Little Earthquakes', in 1992.

Her album 'Under the Pink', released in 1994, charted at number 12 on the Billboard 200 and was nominated for a 'Best Alternative Music Album' at Grammy.

In 1998, her album 'From the Choirgirl Hotel' was released; the album didn't incorporate Amos's trademark piano-based music. The debut sales exceeded 153,000 copies in its first week. The album received a Grammy nomination in the 'Best Alternative Music Album' category.

In 1999, her album 'To Venus and Back' was released and it received positive reviews. The album included the first major-label single available for sale as a digital download. It received a Grammy nomination in the 'Alternative Music Album' category.

In 2001, to fulfill contractual obligation with the record label 'Atlantic' she recorded songs written by men about women and reversed the gender roles to show a woman's perspective. This resulted in the Grammy-nominated album 'Strange Little Girls'. The album allowed her to withhold new track, as she felt that the Atlantic had not promoted her adequately.

Continue Reading Below

Her 2002 release, 'Scarlet's Walk', a sonic novel concept album, coupled with a cross-country concert tour, following 9/11 made a strong debut and reached certified gold status from the RIAA. A year later, she released 'Tales of a Librarian', a retrospective collection.

In 2005, in conjunction with the album 'The Beekeeper', Amos co-authored an autobiography titled, 'Piece by Piece' with rock music journalist Ann Powers. The book mentions Amos's interest in mythology and religion, exploring her songwriting process, rise to fame, and her relationship with Atlantic Records.

In 2006, to celebrate her 15-year solo career, her record labels released a two-disc-DVD-set, 'Fade to Red' and a five-disc-box-set titled, 'A Piano: The Collection'. They contained remastered album tracks, remixes, alternate mixes, demos, and a string of unreleased songs from album recording sessions.

In 2009, she released her tenth solo studio album and the seventh to make it to the top 10 of the Billboard 200, titled 'Abnormally Attracted to Sin'. Later that year, she released an album of reworked traditional carols called, 'Midwinter Graces'.

In 2010, she recorded vocals for 'Fatboy Slim' and released the highly exclusive live album, 'From Russia With Love'.

In 2011, she recorded her first classical music album, 'Night of Hunters', a set of tributes to greats, such as Bach, Chopin, Debussy, Granados, Satie and Schubert.

In 2012, she released 'Gold Dust' and formed 'Transmission Galactic', her own record label.

Continue Reading Below

In 2013, in collaboration with 'The Bullitts' she recorded a track 'Wait Until Tomorrow' from their debut album 'They Die by Dawn & Other Short Stories'. In 2014, she released her 14th studio album, 'Unrepentant Guidelines'.

Recommended Lists:

Recommended Lists:

Major Works

In 1996, she released 'Boys for Pele', an album that incorporated complex baroque music, which was nominated for a 'Best Alternative Music Album' at Grammy. Its transatlantic release reached number 2 on the Billboard 200 and the UK Top 40.

'The Beekeeper', released in 2005, and the following album 'American Doll Posse', released a couple of years later both debuted at #5 on the Billboard 200. These two releases cemented her place in an elite group of female recording artists who have successfully secured five or more US Top 10 album debuts.

Recommended Lists:

Recommended Lists:

Awards & Achievements

She has sold more than 12 million albums worldwide, performed more than 1,000 live shows since 1992, and received more than 8 Grammy nominations.

In 2003, the readers of the 'Rolling Stone' magazine voted her the fifth best touring act.

She was inducted into the 'North Carolina Music Hall of Fame' in October 2012.

Recommended Lists:

Recommended Lists: