Stephanie McMahon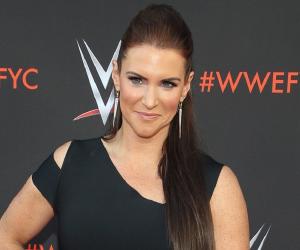 Quick Facts
Birthday: September 24, 1976
Nationality: American
Famous: Wrestlers American Women
Age: 42 Years, 42 Year Old Females
Sun Sign: Libra
Also Known As: Stephanie McMahon Levesque, Stephanie Marie McMahon
Born in: Hartford, Connecticut, United States
Famous as: Wrestler
Height: 1.75 m
Family:
Spouse/Ex-: Triple H
father: Vince McMahon
mother: Linda McMahon
siblings: Shane McMahon
children: Aurora Rose Levesque, Murphy Claire Levesque, Vaughn Evelyn Levesque
religion: Catholicism
U.S. State: Connecticut
Net worth: $25 million as of Oct 25, 2016
More Facts
education: Boston University
Continue Reading Below
Stephanie McMahon is an American businesswoman and a professional wrestler. The Chief Brand Officer of WWE, and on-screen commissioner of WWE television show Raw, Stephanie has proved that WWE is not just a man's world. Adweek has recognized her as one of the 35 most powerful women in sports. A woman firmly in charge, she is a fourth-generation wrestling promoter born in the McMahon family. In fact, she started working for WWE since she was in her early teens. Known to be a woman of iron will, and a difficult person to work with, she has been in and out of WWE several times due to severe conflicts with her father. After she married Triple H, The McMahon-Helmsley era started in WWE. She held the WWE Women's Championship once, and rose to become the general manager of SmackDown, a popular wrestling television program. After she lost the 'I Quit' match with her father, she left Raw and took a hiatus from WWE television. After a gap of several years, she returned to regular WWE shows in 2013. Since then, she has been acting as the ultimate "authority", making several shady rules while claiming them to be "the best for business".
Recommended Lists:
Recommended Lists:
Continue Reading Below
Childhood & Early Life
Stephanie McMahon was born on September 24, 1976, in Hartford, Connecticut. As the daughter of WWE chairman Vince McMahon and WWE CEO Linda, she was exposed to the wrestling industry since she was a toddler. Her elder brother is wrestler Shane.

She did her elementary schooling in Greenwich Country Day School, as her family had shifted to Greenwich after her birth.

When she was 13, she modeled for World Wrestling Federation (WWF) T-shirts and hats.

Like her brother Shane, she graduated from Greenwich High School in 1994, and earned a degree in Communications from Boston University in 1998.

Recommended Lists:

Recommended Lists:

Business Career

Stephanie McMahon made her first appearance on WWF (now WWE) at Rowdy Roddy Piper's Halloween party. She started working full-time for WWF in 1998. First she modeled for WWF sales and merchandise, and then became an account executive in WWF sales office in New York.

In her early years with WWF, she tried her hands on almost everything—from reception work to creative designing and television production, and also acted as a ring performer. She became the director of creative writing in 2002, and senior vice president in 2006.

In 2007, when she was the executive vice president of creative writing, she supervised the creative process for all social and digital media properties, television and pay-per-view programs, talent management and branding, live event booking and marketing.

In December 2013, she became the Chief Brand Officer, boosting WWE's brand reputation further, and serving as the lead ambassador of WWE. By now, she drew a salary of $775,000 for her corporate role and for her on-screen programs. She also held $77 million worth of WWE stock.

Recommended Lists:

Recommended Lists:

Wrestling Career

Since 1999, Stephanie has appeared on WWF television several times. SmackDown, the professional wrestling television program, started on April 29, 1999.

During this period, she was not in good terms with her father, and was eventually removed from her position. Refusing to resign from her post, she participated in a series of matches with A-Train and Brock Lesnar.

Although her mother supported her, yet she lost the job, and was replaced by Paul Heyman, an entertainment producer, and wrestling manager.

Continue Reading Below

Before she left her job in WWF, she debuted in an on-screen storyline involving her father and The Undertaker. In September 1999, she teamed up with wrestler Test, and defeated Jeff Jarrett and Debra.

In March 1999, Stephanie claimed the WWF Women's Championship after defeating Jacqueline. In June, she protected her title against Lita in a SmackDown edition. On the August 2000 episode of Raw, she lost WWF's Women's Championship to Lita.

She formed a team with her brother, called 'The Alliance', which was defeated by 'Team WWF' consisting of The Undertaker, Kane, Big Show, Chris Jericho & The Rock at the Survivor Series. Following the defeat, Shane and Stephanie were removed from WWF television.

Besides WWF episodes, she has also been featured on 'Opie and Anthony', ' The Howard Stern Show, and 'Jimmy Kimmel Live!'. In May 2000, she appeared at the 'WBCN River Rave'.

On January 22, 2001, at RAW, she and Triple H defeated Kurt Angle and Trish Stratus. In February, she defeated Trish Stratus again. In the same month, Stephanie McMahon and William Regal vs. Vince McMahon and Trish Stratus ended in a no contest.

In April 2001, she once again ended a march with Trish Stratus in a no contest. That same month at RAW, Team Extreme with Jeff Hardy, Lita and Matt Hardy, defeated Stephanie, Steve Austin and Triple H.

In November 2001, she appeared on a special episode of NBC's 'The Weakest Link', where WWF personalities compete against each other. While she made it to the final two, she finally lost to Triple H.

Continue Reading Below

In July 2002, she returned to WWF, now called WWE. On her return, she created the WWE Tag Team Championship, and signed Hulk Hogan to SmackDown, which created a conflict with her father again.

In 2003, the first ever 'Father-Daughter I Quit' match took place with Stephanie and her mother on one side, and her father and wrestler Sable on the other side. She lost the match, which led to her disappearance from WWE television for two years.

In 2005, she returned to WWE television. At the March 2006 episode of RAW, her pregnancy was visible. She defeated Shawn Michaels after drugging him backstage before the match. That year she became the general manager of SmackDown. On August 14, 2005, she appeared on the season five finale of MTV's 'Punk'd'.

On March 28, 2009, she appeared with her mother on Business News Network's 'The Market Morning Show'. On November 11, 2009, she also appeared on an episode of Food Network's 'Dinner: Impossible'.

From 2010-13, she made a few sporadic appearances in WWE. She appeared on November 2010 episode of Raw. In July 2012, she made another appearance on the 1000th episode of Raw.

Through a three-year contract with WWE in November 2013, she became a regular on its programing. Since then, she and her husband continue to rule the company, and never let any new talent go against their ideology. Consequently, she made several wrong decisions in the guise of "what is best for business."

Major Works

Despite all the allegations of her arrogance and dictatorship, it cannot be denied that Stephanie McMahon has enhanced the brand name of WWE, RAW, and SmackDown. She has successfully played a positive role in increasing WWE's status in various countries, including UAE. Throughout her career as the global Chief Brand Officer, she has helped to shape WWE's future.

Awards & Achievements

Stephanie McMahon won the Woman of the Year award in 2000, and Pro Wrestling Illustrated's 'Feud of the Year' in 2002 and 2013. She has a WWF Women's Championship and two Slammy Awards to her credit. She has also won the Legacy of Excellence Award in 2016.

Personal Life

Stephanie McMahon married Paul Levesque, well known as Triple H, on October 25, 2003, after dating for three years. They have three daughters—Aurora Rose Levesque who was born on July 24, 2006; Murphy Claire Levesque, born on July 28, 2008; and Vaughn Evelyn Levesque, born on August 24, 2010.

She has donated $2,700 to the presidential campaign of Chris Christie.

Translate Wiki

to Spanish, French, Hindi, Portuguese

Article Title

- Stephanie McMahon Biography

Author

- Editors, TheFamousPeople.com

Website

- TheFamousPeople.com

URL

-

https://www.thefamouspeople.com/profiles/stephanie-mcmahon-9862.php

Last Updated

- July 11, 2017

---

---

---