Smokey Robinson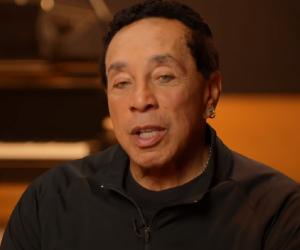 Quick Facts
Birthday: February 19, 1940
Nationality: American
Famous: African American Men African American Singers
Age: 79 Years, 79 Year Old Males
Sun Sign: Aquarius
Also Known As: William Smokey Robinson Jr.
Born in: Detroit, Michigan
Famous as: Singer
Height: 6'0" (183 cm), 6'0" Males
Family:
Spouse/Ex-: Frances Glandney (m. 2004), Claudette Rogers Robinson (m. 1959–1986)
father: William Robinson
mother: Flossie Robinson
siblings: Geraldine Burston, Rose Ella Jones
children: Berry William Borope Robinson, Tamla Claudette Robinson, Trey Robinson
City: Detroit, Michigan
U.S. State: Michigan
More Facts
education: Northern High School
awards: National Medal of Arts
Grammy Lifetime Achievement Award
Grammy Legend Award
Kennedy Center Honors
Continue Reading Below
William "Smokey" Robinson Jr. is an American singer-songwriter and record producer who achieved massive success both as a member of a group named The Miracles and as a solo performer. In an illustrious career that spanned over six decades, he has cemented for himself an unparalleled legacy. A native of the Motor City, he developed a deep interest in music quite early in his life and set up his first band, a doo-wop group named the Five Chimes. Over the course of the next few years, they went through several other names before settling on The Miracles'. In 1959, they signed a record deal with Tamla Records, which would later be incorporated as Motown. As one of their earliest clients, the group played an instrumental role in making the label an internationally popular brand and Robinson penned numerous hit songs for Motown's other artists as well. In 1965, The Miracles changed their name officially to Smokey Robinson & the Miracles. He took a hiatus from the business in 1972, returning a year later as a solo artist. Initially unsuccessful, Robinson soon won back his audience. In 1990, after the sale of Motown Records, he left the label and has since worked with other recording companies, including Universal and Verve. Talking about how he got the nickname "Smokey" in an interview in 2012, Robinson revealed it was originally used by his favorite uncle and godfather.
Recommended Lists:
Recommended Lists:
Continue Reading Below
Childhood & Early Life
William "Smokey" Robinson Jr. was born on February 19, 1940 in Detroit, Michigan, to Flossie and William Robinson. His father was an African American while his mother was of African American and French descent. He has two sisters, Geraldine Burston and Rose Ella Jones.

His family wasn't rich yet his parents supported the various pursuits of their son who was not only an above-average student but also was athletically gifted. He studied at Northern High School where he first began to demonstrate his musical talent. He later enrolled at a college to study electrical engineering but dropped out after two months to pursue a career in music.

He formed a doo-wop group named the Five Chimes with his childhood friend Ronald White and classmate Pete Moore. In 1957, they changed the group's name to The Matadors. Bobby Rogers joined the group in the same year. Soon, Bobby's cousin, Claudette, was brought in and in 1958, guitarist Marv Tarplin was added. They began performing at various venues in Detroit, later changing their name to The Miracles.

Recommended Lists:

Recommended Lists:

Continue Reading Below

Career

Initially, the Miracles was rejected by several music-production companies, including Brunswick Records. In August 1957, Robinson and the other members of the group were introduced to songwriter Berry Gordy, who would become Robinson's closest friend. Gordy instantly became a fan of his vocals and writing. The Miracles' first single 'Got a Job' was released on End Records.

In 1959, Gordy established Tamla Records and the Miracles became one of the first acts to sign with them. In 1960, their first hit single, 'Shop Around' was released. It reached number one on the Billboard R&B chart and later sold over a million copies.

The group would release eight studio albums as the Miracles with 'Hi... We're The Miracles' (1961) being their debut album. After they changed their name to Smokey Robinson & the Miracles, they put out 12 more albums. As a songwriter, Robinson contributed tracks like 'You've Really Got a Hold on Me', 'Mickey's Monkey', 'I Second That Emotion', 'Baby Baby Don't Cry', and 'The Tears of a clown'.

During his time with Motown, Robinson also penned songs for other artists as well. These include 'You Beat Me to the Punch,' 'My Guy,' 'The Way You Do The Things You Do', 'My Girl', 'Since I Lost My Baby,' 'Get Ready', 'When I'm Gone' and 'Operator' for singers and groups like Brenda Holloway, Mary Wells, and the Temptations.

Robinson was already looking to retire from the industry by 1969. Following the release of 'Flying High Together', his last album with the Miracles, he retired to help raise his two children with Rogers. In 1972, he and the group performed together for the last time in Washington, D.C. Almost 37 years later, on March 20, 2009, the group received their own star on the Hollywood Walk of Fame.

He returned to his musical career in 1973, releasing his first solo album, the eponymously titled 'Smokey', which contained the Miracles' tribute songs 'Sweet Harmony' and 'Baby Come Close'. A year later, 'Pure Smokey' was released. However, the album wasn't a success and many doubted Robinson's chances as a solo artist. Furthermore, he had been at the time serving as Motown's vice president and a considerable amount of his time was devoted to that. As a result, his songwriting suffered.

In the following years, he proved his critics wrong time and again. In 1990, he left Motown after the record label was sold to MCA. He put out only one album in the 1990s, the 1991 release 'Double Good Everything'. He has since released 'Food for the Soul' in 2004, 'Timeless Love' in 2006, 'Time Flies When You're Having Fun' in 2009, 'Now And Then' in 2010, and 'Smokey & Friends' in 2014. More recently, he released 'Christmas Everyday' in 2017.

Recommended Lists:

Recommended Lists:

Major Works

Robinson's seventh solo album, 'Love Breeze', was released through Motown in 1978. Arranged by Sonny Burke, the album contained eight tracks with four tracks on each side. Over the years, it has emerged to be Robinson's most revered work.

His 1987 release 'One Heartbeat' topped the Billboard R&B albums chart. It contained ten songs, of which 'Just to See Her' garnered Robinson a Grammy. Selling over 900,000 copies in the United States to date, the album has been certified Gold by the RIAA.

Recommended Lists:

Recommended Lists:

Awards & Achievements

Smokey Robinson won his first Grammy in 1988 for Best Male R&B Vocal Performance for the single 'Just to See Her' from the album 'One Heartbeat'. In 1991, he received the Grammy Legend Award and in 1999, he was awarded the Grammy Lifetime Achievement Award.

He was inducted into the Rock and Roll Hall of Fame in 1987 and the Songwriter's Hall of Fame in 1989.

The Howard University honored him with the Doctor of Music degree, honoris causa, at its 138th Commencement Convocation in May 2006.

On December 3, 2006, Robinson, along with Dolly Parton, Zubin Mehta, Steven Spielberg and Andrew Lloyd Webber, was honored at the Kennedy Center in the East Room of the White House.

Personal Life

Smokey Robinson has been married twice. He and his first wife, Claudette Rogers, also a member of the Miracles, wed on November 7, 1959. They were eager to start a family but a hectic touring life took its toll and Rogers suffered seven miscarriages. In 1968, their son Berry Robinson was born. A year later, Rogers gave birth to their daughter Tamla Robinson.

His 27-year-long first marriage was a troubled one. In 1974, they briefly separated after Robinson had an extramarital affair which later became the subject of the song 'The Agony & the Ecstasy'.

Robinson's third child, a son named Trey, was born in 1984 to a different woman during his marriage with Rogers. After this came to light, Robinson took responsibility for his action and filed for legal separation from Rogers. Their divorce was eventually finalized in 1986.

He married his second wife, Frances Gladney, in May 2002. He has not consumed red meat since 1972. He adheres to a practice known as transcendental meditation.

Trivia

Robinson and legendary singer Diana Ross were neighbors when they were growing up. He later revealed that they had briefly dated before his marriage to Rogers.

Translate Wiki

to Spanish, French, Hindi, Portuguese

Article Title

- Smokey Robinson Biography

Author

- Editors, TheFamousPeople.com

Website

- TheFamousPeople.com

URL

-

https://www.thefamouspeople.com/profiles/smokey-robinson-8925.php

Last Updated

- February 22, 2018

---

---

---