Sierra Furtado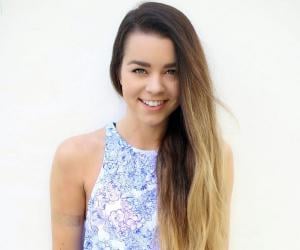 Quick Facts
Birthday: September 24, 1993
Nationality: Canadian
Age: 25 Years, 25 Year Old Females
Sun Sign: Libra
Born in: Montreal, Quebec
Famous as: YouTuber, Vlogger
Height: 1.63 m
Family:
mother: Louise
siblings: Amanda, Corbin
City: Montreal, Canada, Quebec, Canada
Net worth: $0.06 million as of Jan 28, 2017
Continue Reading Below
Sierra Furtado is a Canadian YouTuber who makes DIY make-up videos and vlogs. This comical "heiress" has won the hearts of millions of teens around the world for her quirky way of bringing some jaw-dropping results in makeup. Her channel has social advice, costume ideas and the random funny stuff about the other YouTube channels. Any teenager, who requires a little nudge towards the right direction when it comes to social convention, can visit her channel for advice. After looking at her channel, one might think how a person can manage time to do all this in a day, but this young girl manages to do all this and lots more. She also likes to travel places and in her videos she has talked about the places she has traveled to and has made vlogs about the same. She is now on a book tour for her fictional work, "Life Uploaded".
Recommended Lists:
Recommended Lists:
Continue Reading Below
The Meteoric Rise to Stardom
Sierra Furtado used to stay online watching YouTube for most of her days in Montreal, as she loves reading comments and interacting with the thriving online community of like-minded youngsters. Later in October 2012, she decided to create the Sierra Marie Makeup channel. In less than 3 months, she got 1000 subscribers who liked and interacted with her. Most were seeking advice on relationships, nutrition and so on. The number grew exponentially to 9000 in the following 3 months. Presently, the channel has 2.4 million subscribers and over 119 million video views. She became one of the most popular YouTubers in 2016 and was invited by Joey Graceffa to star in his 'Escape the Night' series for YouTube Red. She accepted the invite and can be seen in the show as 'The Heiress'.

Recommended Lists:

Recommended Lists:

Continue Reading Below

What Makes Sierra Furtado So Special

People love this YouTuber for her zany sense of comedy and on-fleek fashion ideas. Sierra is hilariously flirty at times although she can be really understanding and sensible enough to give out emotional advice to her viewers. Timing their progress to keep track of their effort towards success is something which people fail to do when they get famous suddenly, often basking in the spotlight. Sierra isn't a person who does that, she proved herself over from time to time. Not only is she good at fashion, her onscreen performance too is pretty impressive; you can see that in the YouTube Red series 'Escape the Night' by Joey Graceffa.

Recommended Lists:

Recommended Lists:

Beyond Fame

While most of us finding it hard to get time to do other things besides our work, Sierra Furtado is really good at time management. Even during her childhood, Sierra was interested in dancing and she went to dance classes till she was 18. She has also written a book called, "Life Uploaded", a fiction that depicts the story of a teen who balances her academics and her life online. The character in the book closely resembles Sierra and paints a picture of how hard it is to bridge the gap between online social life and reality.

Recommended Lists:

Recommended Lists:

Behind The Curtains

Sierra Furtado was born on in 24 September 1993, in Montreal, Quebec, to Angelo and Louise. Her father was a mechanic. She has an elder sister who is 5 years older than her. Sierra was raised in Kelowna and later moved to Vancouver where she went to a French Immersion preschool. She had a friend named Corbin at the age of 4. Sierra's mom and Corbin's dad had an affair as they worked at the same place. This led to the separation of Sierra's dad and mom. Sierra moved to Vancouver with her stepdad and mom long with her sister, where she grew up for most of her life. She was interested in dancing and went to Concordia University. She lived in Downtown Montreal during her time at the university. Sierra dated Josh Tryhane, he's the son of her birth mom's friend, another YouTuber born in Vancouver. They later broke up in 2015 and now she's dating a Wilhelmina model, Alex Terranova.

Recommended Lists:

Recommended Lists:

Trivia

Sierra was obsessed with Jonas Brothers during her high school days. She had 2 cats when she grew up and their names were Teddy and Rocky.

Last Updated : April 23, 2018

Translate Wiki

to Spanish, French, Hindi, Portuguese

---

---

---

Sierra Furtado Fans Also Viewed