Seth MacFarlane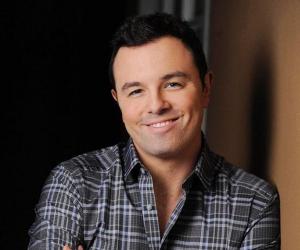 Quick Facts
Birthday: October 26, 1973
Nationality: American
Age: 45 Years, 45 Year Old Males
Sun Sign: Scorpio
Also Known As: Seth Woodbury MacFarlane, Stewie
Born in: Kent
Famous as: Television Producer & Film-maker
Height: 5'10" (178 cm), 5'10" Males
Family:
father: Ronald Milton MacFarlane
mother: Ann Perry Sager
siblings: Rachael MacFarlane
U.S. State: Connecticut
Founder/Co-Founder: Fuzzy Door Productions
More Facts
education: Rhode Island School of Design, 1991 - Kent School
Continue Reading Below
Seth Macfarlane is a popular American personality who has made his mark as a television producer, singer, lyricist, actor and film maker. Though his works are spread over different genres, he principally focusses on comedy and animation. Animation has been a passion for him since childhood; he began drawing cartoon characters when he was as young as two years old. This interest earned him work as a cartoonist with a local newspaper when he was only nine years old. Seth Macfarlane is also known to give frequent talks at various renowned universities across USA; a few of which are Stanford University, Harvard University, George Washington University, University of Texas and University of Toledo. He is a strong supporter of gay rights and has a strong commitment to humanist values and equal marriage rights for all. In his personal life, Seth Macfarlane is passionate about music and finds time to nurture this interest. His kind of music primarily includes traditional pop, jazz, swing, and big band. He is also a trained pianist. Seth Macfarlane has English, Irish and Scottish lineage.
Recommended Lists:
Recommended Lists:
Continue Reading Below
Childhood & Early Life
Seth Macfarlane was born on 26 October 1973 in Kent, Connecticut. His father Ronald Milton MacFarlane was a prep school teacher and mother Ann Perry was an admissions officer. He has a sister Rachael Ann Macfarlane who grew up to be a voice actress.

Seth Macfarlane completed his schooling in 1991 from the Kent School. He went on to pursue his passion for animation and filming at the Rhode Island School of Design from where he earned a Bachelor in Fine Arts degree.

Continue Reading Below

Recommended Lists:

Recommended Lists:

Career

During his final year at the Rhode Island School of Design, Seth Macfarlane created a film named 'Life of Larry' that was shared by his professor to the animation studio Hanna-Barbera. Seth Macfarlane was later hired at Hanna-Barbera in 1995 based on his ability to write.

In Hanna-Barbera, he worked on Cartoon Networks series and juggled roles between being a storyboard artist and a writer. During this period he worked on several cartoon series as 'Dexter's Laboratory', 'Johnny Bravo', 'I Am Weasel', 'Cow and Chicken'.

Seth Macfarlane also used to freelance writing projects for Nelvana Limited and Walt Disney Television Animation during this period. He has contributed towards the animated television series 'Jungle Book' and 'Ace Ventura: Pet Detective'.

In 1996, Seth Macfarlane made a sequel to 'Life of Larry' named 'Larry & Steve'. Fox Broadcasting Company saw the shorts of both and there began negotiations to convert the same into an animation series.

Though he took delight in his work at Hanna-Barbera, Seth Macfarlane found his real interest was in prime time animation as it dealt with humor in a different way. Fox Broadcasting Company asked him to prepare a pilot series in a limited budget that took six months for him to complete.

During his tenure at Hanna-Barbera, MacFarlane had first pitched ' Family Guy', adult animated sitcom to Fox Broadcasting Company . In 1998, Fox Broadcasting Company purchased 'Family Guy' and Seth Macfarlane became the youngest executive producer of television at age of 24. The series first went on air in 1999. Other than writing a few episodes, he also gave voice to the main characters.

The 'Family Guy' series became immensely popular and in 2005 Seth Macfarlane along with music composer Walter Murphy created a music album 'Family Guy: Live in Vegas'. Seth Macfarlane created another adult animated series 'American Dad!' the same year which went on to be equally successful and has completed 12 seasons till date.

Continue Reading Below

In 2007, Seth Macfarlane began the creation of his next animation sitcom idea 'The Cleveland Show'. The show focused on the central character of 'Family Guy' Cleveland Brown and his family. The show made its premier two years later in May 2009. In 2007, he was also the executive producer of action sitcom 'The Winner'.

In 2008, he released a series on web television called 'Seth MacFarlane's Cavalcade of Cartoon Comedy'.

Seth Macfarlane co-produced a science documentary television series 'Cosmos: A Spacetime Odyssey' along with Steven Soter and Ann Druyan in 2011. He made his directional debut with the feature film 'Ted' in 2012. He also produced, wrote the screenplay and starred in the movie.

In 2013, he announced that he would be working on the American sitcom 'Dads'. However the show was cancelled after the first season. The same year he hosted the 85th Academy Awards in Los Angeles.

In 2014, he hosted the Breakthrough Prize ceremony. The same year, Starz TV announced two seasons of the American sitcom 'Blunt Talk' where Macfarlane would serve as executive producer. The show began airing in August 2015.

In 2014, he co-wrote and acted in his second film 'A Million Ways to Die in the West'. The same year he wrote a novel based on the film. His upcoming projects include a television series called 'Bordertown' that is scheduled to be aired in 2016.

Continue Reading Below

Recommended Lists:

Recommended Lists:

Major Works

The adult animated sitcoms 'Family Guy' and 'American Dad!' are among his major works. 'Both the sitcoms have won numerous awards and have been running for several seasons.

Awards & Achievements

In 2000 Seth Macfarlane won the Primetime Emmy Award for Outstanding Voice for 'Family Guy'.

In 2002, he won the Primetime Emmy Award for Outstanding Music and Lyrics for 'You've Got a Lot to see' from 'Family Guy'.

In 2013, he earned the People's Choice Awards in the favourite movie category for 'Ted'.

Seth Macfarlane won the Critics Choice Awards for the Best Reality Series in 2013 for his work 'Cosmos: A Spacetime Odyssey'.

Personal Life & Legacy

In late 2012 reports stated that Seth Macfarlane was in a relationship with English actress Emilia Clarke. However, the affair was short lived and they broke up by March 2013.

Trivia

In 2008, Seth Macfarlane signed a US$ 100 million deal with Fox Broadcasting Company to extend his shows 'Family Guy' and 'American Dad!' for four years. This deal made him the highest paid television writer.

1. Logan Lucky (2017)

(Drama, Crime, Comedy)

2. Ted (2012)

(Fantasy, Comedy)

---

3. Sing (2016)

(Musical, Family, Comedy, Animation, Music)

4. Hellboy II: The Golden Army (2008)

(Horror, Action, Fantasy, Sci-Fi, Adventure)

---

---

6. A Million Ways to Die in the West (2014)

(Western, Romance, Comedy)

---

---

---

7. The Drawn Together Movie: The Movie! (2010)

(Animation, Mystery, Comedy)

8. Tooth Fairy (2010)

(Sport, Comedy, Fantasy, Family)

---

---

---

---

| | | |
| --- | --- | --- |
| 2017 | Outstanding Character Voice-Over Performance | Family Guy (1999) |
| 2016 | Outstanding Character Voice-Over Performance | Family Guy (1999) |
| 2002 | Outstanding Music and Lyrics | Family Guy (1999) |
| 2000 | Outstanding Voice-Over Performance | Family Guy (1999) |

| | | |
| --- | --- | --- |
| 2013 | Best On-Screen Duo | Ted (2012) |

ASCAP Film And Television Music Awards

| | | |
| --- | --- | --- |
| 2013 | Top Box Office Films | Ted (2012) |
| 2013 | Top Television Series | Family Guy (1998) |
| 2013 | Top Television Series | The Cleveland Show (2009) |
| 2013 | Top Television Series | American Dad! (2005) |
| 2013 | Top Television Series | Family Guy (1999) |

Translate Wiki

to Spanish, French, Hindi, Portuguese

Article Title

- Seth MacFarlane Biography

Author

- Editors, TheFamousPeople.com

Website

- TheFamousPeople.com

URL

-

https://www.thefamouspeople.com/profiles/seth-macfarlane-5138.php

Last Updated

- July 23, 2017

---

---

---