Samuel Johnson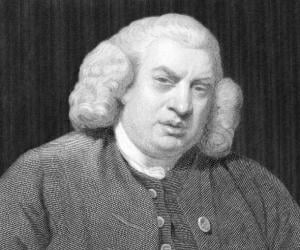 Quick Facts
Birthday: September 18, 1709
Nationality: British
Died At Age: 75
Sun Sign: Virgo
Born in: Lichfield, United Kingdom
Famous as: Writer
Family:
Spouse/Ex-: Elizabeth Porter
father: Michael Johnson
mother: Sarah Ford
Died on: December 13, 1784
place of death: London, United Kingdom
Diseases & Disabilities: Depression
More Facts
education: Pembroke College, Oxford
Continue Reading Below
Samuel Johnson was a prolific English writer, poet, essayist, critic, biographer and lexicographer. After attending a year in Pembroke College Oxford, he dropped out owing to financial constraints. However, he still went on to make an impact as a teacher and writer in his early career. He wrote several articles and biographies in 'The Gentleman's Magazine', and later wrote poems and the famous play 'Irene', but one of his most notable works came after an endeavour of nine years, when his book 'A Dictionary of the English Language' was published, the first of its kind to precede 'The Oxford Dictionary' which was published nearly 150 years later. Towards the latter end of his career, he became more of a literary critic and an essayist. Since childhood he suffered from the 'Tourette Syndrome' that caused frequent involuntary tics and odd physical gestures, yet his talent and wit transcended such physical barriers. He is also proclaimed as the greatest literary critic of all time.
Recommended Lists:
Recommended Lists:
Continue Reading Below
Childhood & Early life
Samuel Johnson was born on 18th September 1709 at Lichfield, Staffordshire in England. He was born at home with the aid of a man-midwife and a reputed surgeon. Though he wasn't a healthy baby, he gradually picked up health.

Samuel's parents, Sarah and Michael had a stable financial status, yet the couple weren't well off.

Misfortune struck their family when Samuel acquired scrofula commonly termed as the 'King's Evil' when he was a young boy. A surgery had to be performed which left irrevocable scars on his face and body in 1712. In a couple of years, his parents had another child and they named him Nathaniel.

His mother was his first teacher; she would make him memorise verses from the 'Book of Common Prayer' at the age of three. At seven, he attended 'Lichfield Grammar School'.

It was during this time that he gradually began suffering with tics. However, he was so intelligent that his parents took great pride in boasting about his achievements.

At sixteen he enrolled in the 'King Edward VI grammar school' and began writing poetry. He lived with his cousins since his school was near Pedmore, Worcestershire.

Upon returning home, he was faced with trying times. His father was in huge debt, thus Johnson had to assist his father by stitching books at his bookstore. However, by the grace of his aunt, Elizabeth Harriotts he was able to attend college since she left him money for his education after her death.

In 1728, he enrolled in 'Pembroke College, Oxford. However, his funds were insufficient and after attending for thirteen months he left.

Continue Reading Below

Recommended Lists:

Recommended Lists:

A Teacher & Writer

With time his Tourette syndrome got worse. Around the same time his father developed an inflammatory fever that claimed his life in 1731. Soon after, Samuel Johnson became an undermaster at the 'Market Bosworth' School.

He found happiness in teaching even though it was mundane at times. After leaving his job as a teacher at 'Market Bosworth' he wrote 'A Voyage to Abyssinia'. In 1735, he began working at a local school in Staffordshire.

In 1735 he opened his own school 'Edial Hall School', which was a private academy. However, he could gather only three students and had to shut it down.

In order to get his career rolling, he began writing his most appreciated work, the tragedy 'Irene'. In 1737, he moved to London and in October began writing for 'The Gentleman's Magazine'.

The following year, he published his first poem 'London' anonymously. For several years Samuel endured hardships along with his friend Richard Savage. On Richard's death in 1744, he wrote a moving biography of him named 'Life of Mr. Richard Savage', which became widely popular.

Recommended Lists:

Recommended Lists: