Sam Golbach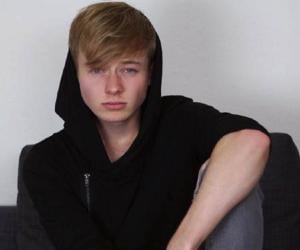 Quick Facts
Birthday: November 27, 1996
Nationality: American
Age: 22 Years, 22 Year Old Males
Sun Sign: Sagittarius
Born in: Leewood, Kansas
Famous as: Viner , YouTuber
Height: 1.72m
Family:
father: Kirk Golbach
mother: Cindy Golbach
siblings: Allison Goldbach
U.S. State: Kansas
More Facts
education: Blue Valley High School, Stilwell, Kansas
Continue Reading Below
Part of the dynamic duo 'Sam and Colby,' Sam Golbach is the fair-haired partner of the two. Together with fellow schoolmate and current roomie, Colby Brock, Sam took Vine by storm. The platform, which featured short format video hosting, made the two quite popular through their prank videos. Sam, like several others of his generation, has made a career out of producing funny, user engaging short videos to be posted on the Vine app. After Vine shut down, Sam moved his considerable talents to YouTube where he continued his prank videos. In the short time since he has moved his platform, he has acquired close to 73K subscribers. His fans love catching glimpses of his charmed life through his Instagram account which has about 274K followers. Even his Twitter posts reflect his funny side and 87.6K fans hang on to all his jokes there. With so much adoration from his fans and his videos being highly popular on social media platforms, Sam enjoys his fair share of revenues and also makes a living appearing in commercials and adverts. He, along with his partner/friend Colby, has moved to LA in order to advance their budding careers after graduating High School.
Recommended Lists:
Recommended Lists:
Continue Reading Below
The Meteoric Rise to Stardom
While in school, Sam Golbach, along with his friend, Colby, started discussing ideas to produce a number of videos that had the shock value to engage viewers. All of these were prank videos that basically included the duo causing trouble in all sorts of places, from a mall to the local Target store to the park fountain. They shot these pranks with their phone cam, kept them short and sweet, and started uploading them to Vine. Very soon they amassed quite a following, with one of their videos; "Following Fat People" gathering a record view of 10 million! In the video, Sam followed random people at a supermarket while playing the saxophone, often receiving quite the verbal bashing from their targets. By the summer of 2014, the account was receiving 5,000 to 6,000 followers per day on Vine. By the time Vine was taken down, they had more than 1.6 million fans. Sam then moved on to YouTube, where he continued to make more prank videos and also started making personal vlog entries on various subjects.

Recommended Lists:

Recommended Lists:

Continue Reading Below

What Makes Sam Golbach So Special

The things that make Sam Golbach so special are definitely his cute looks coupled with a killer sense of humor. He is funny and at the same time goofy in an irresistible boy-next-door sort of a way. His blue eyes and unruly blonde locks have the girls swooning, some even putting up strong displays of emotion just so they can meet him. His pranks are elaborate and extremely funny and they reveal a sharp brain behind the whole execution. At the same time, Sam is focused on making teaching, his other passion in life, a reality. Together with Colby, Sam has introduced The Life Project that focuses on teaching people build healthier life-skills through engaging videos and has been featured by news agencies like 'BBC,' 'Huffington Post,' etc.

Recommended Lists:

Recommended Lists:

Beyond Fame

Sam and Colby have been under scrutiny from social media police for their content which they often designate as juvenile, offensive and disruptive. While titles like "Following Fat People" caused protest from specific groups of people, disruptive pranks like placing a couch inside the elevator resulted in their being banned from the particular Oak Park mall. In November 2015, fellow YouTuber Sam Pepper played a prank on Sam that involved his best friend Colby being fake kidnapped and fake shot in the head. That video received a lot of admonitions from the media for spreading negative imagery across internet. Recently, Sam has changed his social media motto to "upward and onward" and aims to focus on the good aspects of life rather than just pranks and mischiefs.

Behind The Curtains

Sam hails from a small town in Kansas, USA called Leewood. Brought up by amazingly supportive parents Cindy and Kirk, Sam has an older sister named Allison. He went to Blue Valley High School along with his best friend Colby. He moved to Los Angeles to focus on his career late in 2015. In a video uploaded in January 2017, Sam introduced his girlfriend Katrina Stewart, who is a budding singer.

Last Updated : April 18, 2018

Translate Wiki

to Spanish, French, Hindi, Portuguese

---

---

---

Sam Golbach Fans Also Viewed